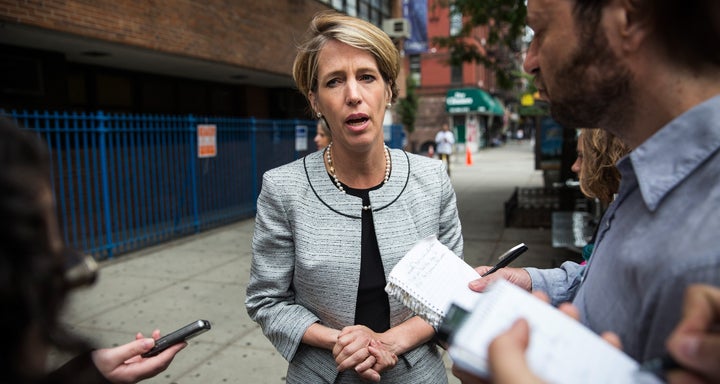 Teachout, best known for her 2014 primary challenge to New York Gov. Andrew Cuomo, is running to fill an open seat in a Hudson Valley district. She's an academic who specializes in antitrust issues and economic history, and sees big telecom companies as a threat to both consumers and workers.
"We really have the worst aspects of monopolization," she said. "This is bad for customers. It's also terrible for workers, which is what we're seeing with Verizon right now, because basically the company can say to customers as the company says to workers, take it or leave it. It doesn't have to provide good service, it doesn't have to take care of its workers."
Listen to our interview with Teachout on "So That Happened," the HuffPost Politics podcast. (The interview starts in the 14th minute.)   
Teachout said Franklin Delano Roosevelt's efforts to remake the economy after the Great Depression, and particularly after the Rural Electrification Act, inspire her politics.
"It lit up the country. It changed the economy of the country not just in the installations but in actually creating the possibility for economic growth everywhere," Teachout said.
Signed by FDR in 1936, the act began a process that eventually brought electricity to the vast majority of American farms, which had been underserved by power companies unwilling to invest in the infrastructure needed to carry electricity to sparsely populated areas.
"The Rural Electrification Act of the 21st century is broadband," she said. "Every farmhouse, every garage, every home, every business needs high-speed, competitive, affordable broadband."
Since the 1980s, the Federal Communications Commission has run a program called Lifeline that helps poor people get telephone access, which is crucial to securing employment. The service is popularly known to some conservatives as the "Obamaphone" program even though it started under Ronald Reagan. The commission voted in March to expand Lifeline to help poor people pay for broadband service, though the subsidy amounts to $9.25 per month.  
"I'm not against programs that certainly allow people to pay for tough bills, but that's a Band-Aid, that's not a fundamental solution," Teachout said.
Calling all HuffPost superfans!
Sign up for membership to become a founding member and help shape HuffPost's next chapter