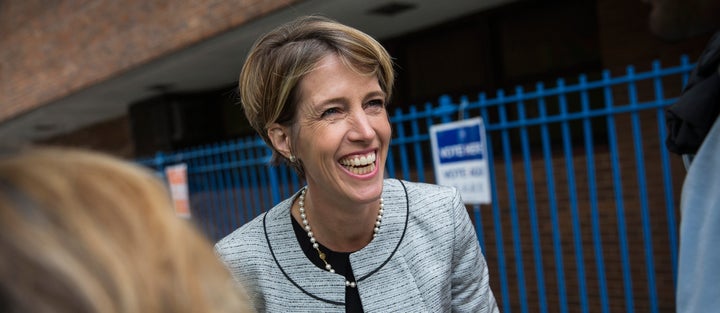 Progressive law professor Zephyr Teachout declared her congressional candidacy less than a week ago, but has already received campaign contributions from more than 3000 donors, according to the campaign, with an average donation of $30.
Teachout has long been an advocate of campaign finance reform, and is seeking to power her bid for New York's 19th Congressional District with small-dollar donations rather than big checks from corporate elites. It's a campaign strategy that reflects her policy worldview. Teachout isn't just a progressive -- she's an economic populist who believes corporate monopolies have come to dominate not only the marketplace, but American politics itself.
She is best known for her 2014 primary challenge to New York Gov. Andrew Cuomo (D), which vaulted her from a Fordham law professor unknown in electoral politics to a national figure who took more than a third of the total vote from the politically connected incumbent. Teachout spent almost no money on that campaign, and still won almost all of the Hudson Valley.
The 19th District is located squarely amid her base of support during the gubernatorial contest. It's a district that leans slightly Democratic, and where the incumbent, Rep. Chris Gibson (R), is not seeking re-election -- making it a top takeover target for Democrats.
Teachout's rapidly expanding fundraising base suggests staying power, too.
On Monday, Teachout will challenge candidates for the 19th District to a version of the pact Elizabeth Warren and Scott Brown agreed to in 2012 as part of an effort to keep outside corporate interests from influencing the election.
Brown and Warren, who competed for the U.S. Senate in Massachusetts that year, each agreed to donate to charity half the cost of any TV or Internet ad campaign that outside groups funded on their behalf. The deal was designed to curb super PACs, which are not subject to the individual contribution limits that official campaigns face, by requiring those campaign funds to be penalized in direct proportion to the size of any super PAC ad buys.
Small-dollar donations, of course, aren't as immediately lucrative for a campaign as big checks from big donors, even if those small-dollar amounts are coming in by the thousands. But they can be an early sign of longevity for a candidate, since campaigns can come back to smaller donors again and again for additional rounds of support. Individuals can spend up to $2,700 on a House primary, and up to $2,700 in the general election. With an average donation amount of $30, Teachout has plenty of headroom with her early supporters.
Zach Carter is a co-host of the HuffPost Politics podcast "So, That Happened." Subscribe here or listen to the latest episode below:  
Calling all HuffPost superfans!
Sign up for membership to become a founding member and help shape HuffPost's next chapter