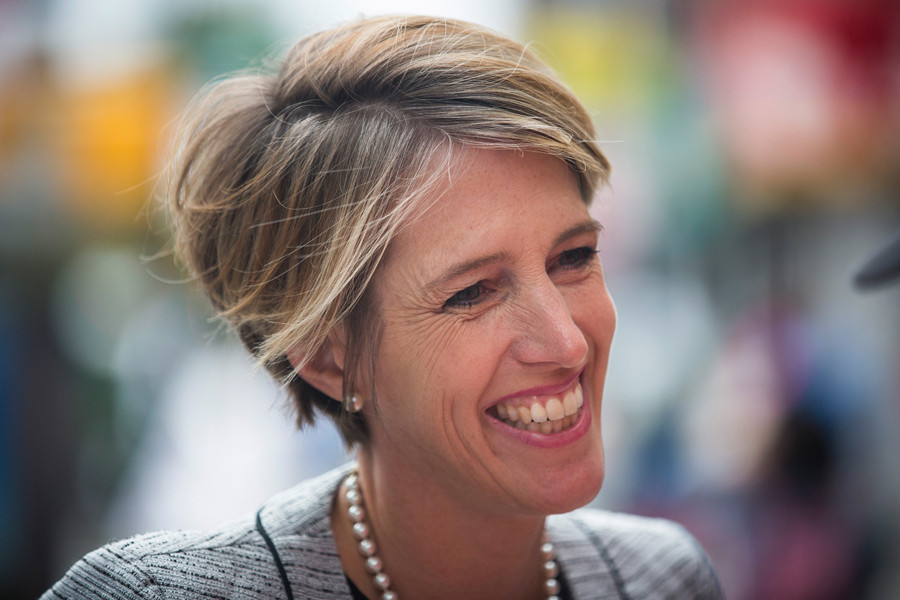 This article is part of a Huffington Post series, on the occasion of the site's 10th anniversary, looking at some of the people and issues that will shape the world in the next decade.
When Zephyr Teachout launched her insurgent campaign to unseat New York Gov. Andrew Cuomo (D) last year, she was a little-known law professor at Fordham University with the backing of a handful of New York unions. But her message -- that the country's political system is rigged in favor of big banks, corporations and the wealthy at the expense of ordinary citizens -- reflected the sentiment of a growing number of Americans.
Today, Teachout, 43, is a rising star in New York state politics. Though she lost her primary bid, her populist call to restructure the country's political and economic systems is garnering attention within the larger Democratic Party. From Massachusetts Sen. Elizabeth Warren's fight against the big banks to the Federal Communication Commission's recent net neutrality ruling to the upending of the Comcast-Time Warner Cable merger, the ideas central to Teachout's campaign are blooming nationwide.
Teachout is hardly leaving the fight to others, though. Since losing to Cuomo, she's barnstormed across New York in support of activists fighting public school budget cuts, pushed to ban fracking in the state and advocated for the public funding of electoral campaigns. She has already endorsed Tim Rogers, a candidate for mayor of New Paltz this year, and plans to support other local candidates in New York races. And she has worked to expand the Democratic Party's progressive ranks by encouraging those who don't think they can run for office to give it a shot, just like she did.
The Huffington Post spoke with Teachout in November at the New America Foundation in Washington, D.C., and more recently in Fort Greene, Brooklyn, where she lives. She made clear that her political life is just getting started. "I'm definitely going to run for office again," she said.
Born in Seattle, Teachout grew up in the small, rural town of Norwich, Vermont, across the Connecticut River from Dartmouth College. Her father, Peter Teachout, is a military veteran and constitutional law professor, and her mother, Mary Miles Teachout, is a state court judge.
A championship cross-country runner in high school, Teachout earned her bachelor's degree at Yale and considered attending divinity school before ultimately deciding to go on to Duke Law. After graduation, she worked as a special education teacher, a law clerk for a federal appellate judge and a staff attorney at the Center for Death Penalty Litigation in North Carolina. From 2006 to 2007, she served as the first national director of the pro-transparency Sunlight Foundation.
Teachout's first foray into national politics came in 2003, when she worked as director of online organizing for former Vermont Gov. Howard Dean's presidential campaign. In that role, she helped pioneer many practices that are now standard in political campaigns: She hired computer programmers for a presidential campaign, created an internal social network for supporters and raised huge sums from small donors online. In many ways, however, the technological innovations were beside the point. The real takeaway from the Dean campaign, Teachout said, was the importance of enabling people on the ground to organize themselves.
"The key lesson that I learned in Howard Dean's campaign was not about technology," Teachout said, "but it was about power."
Teachout considers herself a populist: "To me, it means that I believe that the people are smart," she said. Like Elizabeth Warren, she views economic policy and political power as intricately intertwined.
And she doesn't believe in just mildly adjusting the status quo through slightly higher tax increases on the rich and slightly better social insurance for the poor and middle class. Teachout wants to empower ordinary citizens by breaking up both the modern monopolies in industry and the big-money donor trusts that fund both political parties.
"One of the original sins in modern thinking is the separation of thinking about economics and politics," she said.
Her argument goes like this: Right now, the American economy is controlled by a fairly small number of mega-corporations. Those with great economic power hold corresponding amounts of political power. They exercise this power through lobbying, campaign donations, and public and private pressure. Consolidated economic power thus leads to consolidated political power and squeezes the options available to public policy makers.
To combat this economic and political situation, Teachout wants reformed antitrust laws to empower small businesses and entrepreneurs. It's an idea championed by the New America Foundation's Barry Lynn, with whom Teachout worked as a fellow from 2013 to 2014 and whose ideas she embraced.
Antitrust law seems like a forgotten policy weapon -- perhaps because its use was gutted by the Reagan administration. But signs of an antitrust revival are popping up every day within the Democratic Party, and Teachout has been on the forefront of this effort.
In her run against Cuomo last year, she vowed to block mergers like the then-proposed Comcast-Time Warner Cable blockbuster and promised to fight for New York's publishing industry in its battles with Amazon. She picked Columbia University law professor Tim Wu, the originator of the term "net neutrality," as her running mate for lieutenant governor. She supported stripping economically and politically powerful businesses of the tax breaks and subsidies they have pried from the government. And she took aim at regulations that aid large corporations by making it harder for ordinary people to compete.
In 2009, she had helped launch a small group called the Antitrust League -- originally dubbed The New Way Forward, but renamed after a similar century-old effort -- to push the issue on a national level. Since her gubernatorial run, she has traveled across New York and the country, delivering lectures and holding conversations with both experts and ordinary citizens about the idea. Antitrust isn't just a list of policy positions but "an ethos, a way of approaching things," she told economics blogger Yves Smith last year.
The antitrust ethos stretches all the way back to the nation's founding, Teachout explains.
"Thomas Jefferson wanted an anti-monopoly clause in the Constitution, and for most of American history, people have understood that you cannot have a truly responsive democratic power and radically concentrated industry," she said. "If you have monopolies ... they will take over government in so many ways."
One way that mega-corporations influence the government is through spending on lobbying and campaign contributions. It's an issue Teachout has studied closely. Last year, she published a book, Corruption in America, examining the history of political corruption from America's early days through the Supreme Court's recent campaign finance decisions -- including the 2010 Citizens United decision, which opened the floodgates to unlimited electoral spending, and the 2014 McCutcheon ruling, which eliminated aggregate contribution limits to allow wealthy donors to give as much as they please in each election cycle.
"The Supreme Court is totally out of touch," Teachout said.
Despite the high court's eagerness to remove restrictions on the political influence of the rich, Teachout sees areas in which the political power of regular people can be constitutionally boosted. Passing legislation to provide for publicly financed election campaigns in New York state was a central piece of her gubernatorial pitch, and she now sits on the boards of the pro-public financing groups Mayday PAC and Every Voice.
Supporting public financing for elections carried special weight in her challenge to Cuomo. The governor had angered liberals in the state by promising and then failing to pass a public financing bill, and doing little to prevent Republicans opposed to the legislation from retaking the state Senate. He sided with his hedge fund donors to provide more money to charter schools over fully funding public education. And he shuttered an anti-corruption panel when it began to look into his own campaign's spending.
"I felt like I was living my book so often, because one of the things the founders cared so much about was the corrupting force of centralized power," Teachout said about her campaign for governor.
Alongside her support for campaign finance reform, Teachout also calls for a more direct policy of limiting the size of corporations, so that those private actors will spend more time engaging in competition against each other and less in seeking favors from government.
Behind these proposals is an urgent desire to return power to ordinary people. Conservatives have succeeded in appealing to a public that feels increasingly disenfranchised, Teachout said, and Democrats need to do more to connect with Americans in this way and to spur them to action.
"The tea party has an answer to people who feel out of power," Teachout said. "They say, 'I can explain to you your experience. You are out of power because government has taken it away from you.' If the Democratic Party does not acknowledge people's basic experience of being out of power, it can't connect with people."
"So the populist answer is, 'You're right -- you're out of power. And you're out of power because these big companies are taking it all away from you,'" she said. "That's a real story that relates to what people have experienced."
There is no grand plan stuffed in Teachout's desk drawer to make all this a reality -- no lengthy PowerPoint presentation, no bullet-pointed memo. "Sometimes the master plan makes liberals paralyzed, because you can't see the precise path," she said.
Instead, Teachout prefers action. "There's nothing like acting to make you feel like more things are possible than you think."
Calling all HuffPost superfans!
Sign up for membership to become a founding member and help shape HuffPost's next chapter