WASHINGTON -- The portrayal of torture leading to the U.S. killing of terrorist leader Osama bin Laden in the new movie "Zero Dark Thirty" is bogus, top senators on the Intelligence and Armed Services committees told The Huffington Post.
In the film by Oscar-winning director Kathryn Bigelow, a harsh interrogation -- including waterboarding of the suspect -- extracts key information that leads to finding bin Laden.
It's a claim that was already made in a book by former CIA agent Jose Rodriguez -- a claim that Armed Services Committee Chairman Carl Levin (D-Mich.) and the chair of the Senate Select Committee on Intelligence, Sen. Dianne Feinstein (D-Calif.) denied last spring.
Feinstein stuck by that postion in a brief interview this week. "Based on what I know, I don't believe it is true," said Feinstein, whose committee is set to vote Thursday on a classified 6,000-page report detailing an investigation into U.S. detention and interrogation techniques.
Feinstein was careful to say that her opinion doesn't specifically stem from the report, but she was echoed by other lawmakers.
"It's wrong. It's wrong. I know for a fact, not because of this report -- my own knowledge -- that waterboarding, torture, does not lead to reliable information ... in any case -- not this specific case -- in any case," said Sen. John McCain (R-Ariz.), the top Republican on the Armed Services Committee and a survivor of torture during his captivity during the Vietnam War.
"I would argue that it's not waterboarding that led to bin Laden's demise," said Sen. Lindsey Graham (R-S.C.), a member of the Armed Services Committee. "It was a lot of good intelligence-gathering from the Obama and Bush administrations, continuity of effort, holding people at Gitmo, putting the puzzle together over a long period of time -- not torture."
But the movie and Rodriguez are not the only sources to make the torture connection. Journalist Mark Bowden has reported that the harsh techniques are what pried a pseudonym from a captive in 2004, and that the pseudonym led to the person who was linked to bin Laden and his hiding place in Pakistan seven years later.
At least one Intelligence Committee member said torture played at least a minor role.
"In this particular instance, a scintilla of evidence was given up that happened to lead to this," said Sen. Jim Risch (R-Idaho). He added that he did not draw a "general conclusion" that torture works.
"That does not mean I support it. I do not," Risch said. "Where enhanced interrogation turns into torture, of course, becomes a grayish line. But having said that, some of the things that were done were things that I wouldn't want to see done."
For Risch, the efficacy of torture is irrelevant.
"The issue isn't does torture work or not. The issue is, is torture right, or is torture wrong?" Risch said. "And the answer to that is torture is wrong. It shouldn't even be a question as to whether it works or not. ... All the stuff I've looked at -- and I've looked at lots and lots and lots of stuff -- I don't think any reasonable person could reach a conclusion based on that, that torture works or it doesn't work."
The filmmakers have both argued that the film has journalistic elements and that it uses artistic license. They did not immediately answer a request for comment.
Opponents of torture said they fear that the movie will add to the perception that harsh interrogation works.
Tony Camerino, a former Air Force interrogator who cited a friend who worked at the Guantanamo Bay prison for terror suspects, told reporters on a conference call this week hosted by the group Human Rights First that the pseudonym came from in-bounds work at the facility in Cuba.
"It did not come from harsh or enhanced interrogation techniques or torture abuse," Camerino said. "It might be that somebody who was subjected to those techniques did mention his name, but that's not where it originally surfaced."
Camerino said he's disturbed by rave reviews for the movie that don't note that star, Jessica Chastain, plays a role that has a decidedly dark side.
"Nobody has mentioned the fact that you have a heroine in a movie who everybody praises who's complicit in torture and also tolerates torture," Camerino said. "We've created a culture in which not only is okay to torture, and get away with it, but it also okay to witness it and not say anything and to tolerate it within professional circles."
The movie debuts Dec. 19.
UPDATE: 4:10 p.m. -- Bigelow and screenwriter Mark Boal declined an interview request, but released a statement defending their work.
This was a 10-year intelligence operation brought to the screen in a two-and-a-half-hour film. We depicted a variety of controversial practices and intelligence methods that were used in the name of finding bin Laden. The film shows that no single method was necessarily responsible for solving the manhunt, nor can any single scene taken in isolation fairly capture the totality of efforts the film dramatizes. One thing is clear: the single greatest factor in finding the world's most dangerous man was the hard work and dedication of the intelligence professionals who spent years working on this global effort. We encourage people to see the film before characterizing it.
Matt Sledge contributed reporting.
Michael McAuliff covers Congress and politics for The Huffington Post. Talk to him on Facebook.
Before You Go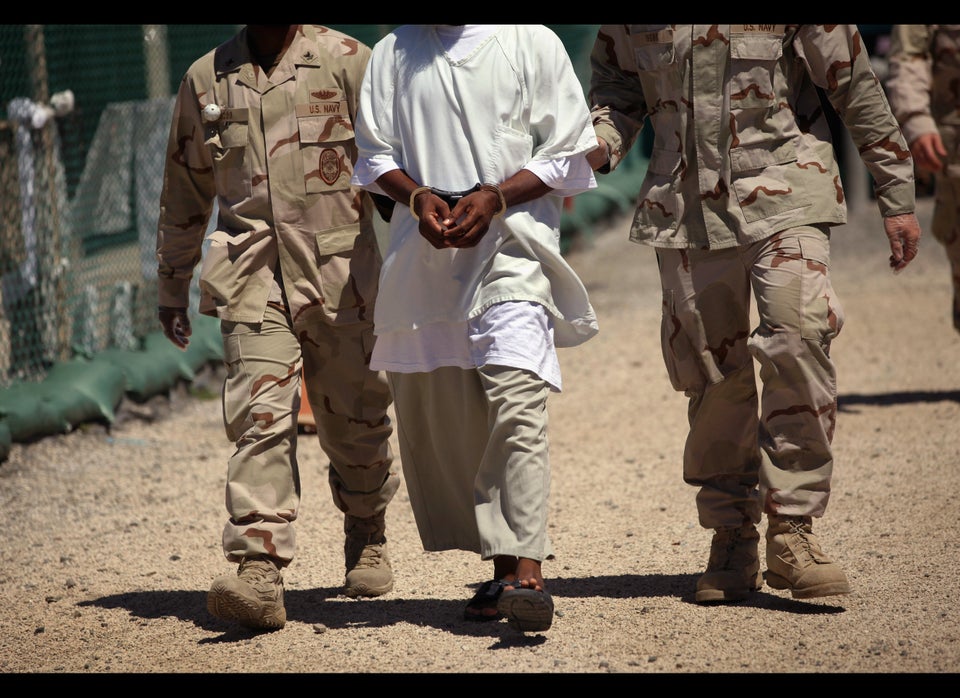 Guantanamo Bay Revelations From WikiLeaks
Popular in the Community