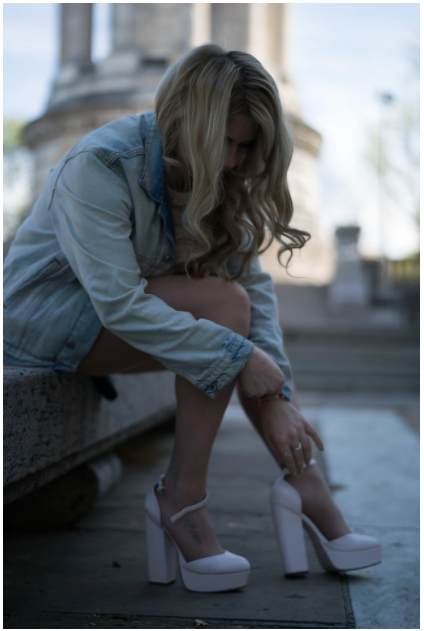 I am writing this letter regarding the safety of pedestrians in your city. The wonderful city that is New York.
I have done some research and it appears that yourself and your office do care about our safety when we saunter the streets. However I am not certain that you are aware from first hand experience- that those behind the wheel seem to think they are in the wacky races when their engines are ignited. Or that it appears they have all been to that renowned driving institution "The Dick Dastardly and Muttley School of Driving Etiquette" to receive ones driving license.
You see, seven months ago I was crossing the street- where there was a walk sign. You know, giving me "permission" and "right of passage" to go on my merry little way. When a Peter Perfect impersonator ran me over. And minutes later drove off.
I was extremely lucky not to be 1 of 2 pedestrians that die in the city on a daily basis as a result of a traffic violation. I only suffered a dislocated knee, the misplacement of my navicular and a bone break in my foot the size of a women's pinky finger. Sadly for me my legs are extremely important in my line of work being an aspiring Broadway actress. Dancing is something I would do on a regular basis and I should probably mention that teaching dance fitness classes is how I keep a roof over my head. But don't cry for me Argentina. I swear to you I know my injuries are minor and that I am 1 person out of 15,000 a year who are struck by vehicles. And I feel extremely lucky that I am not 1 of the 269 people killed by motor vehicles annually.
Another feeling I have had since a stranger decided to plough a 3,500 pounds tin can into my thigh, is anger. But I am not sure who this anger should be directed at. Should it be at the graduates from the aforementioned driving school or should it be towards your office for lack of law enforcement and prevention tactics?
When discussing my anger with my therapist (yes I had to go see a therapist for PTSD), she brought Vision Zero to my attention. Your attempt in trying to eradicate pedestrian fatalities. I was pleased to hear this and immediately researched on what measures had been made to save lives of others.
Apparently your office regards it as one your biggest successes since becoming Mayor because you have installed 160 speed cameras throughout the city and the fatalities have gone down by a couple of figures. Well Bill, that is rather lovely and considerate of you. But it's not a enough.
If you haven't gathered by my colloquialisms by now, I hail originally from the countryside of England. And for as long as I can remember I was taught how traffic lights work. There are also speed limit signs on EVERY lamp post. Not to mention security cameras. We also have taken ideas from camels and created some humps in the road which we call 'speed bumps' as they make drivers slow down in fear of knocking their exhaust pipe off. I know there is at least one of these in Manhattan as it took my taxi driver by surprise the other night. Lastly, similarly to Sweden (your inspiration for Vision Zero), we have a lot of roundabouts (yes I am aware that you have 1500 scattered among the 50 States in this country).
I don't expect it is easy nor entirely up to you as to whether you can dig up roads, and insert road carousels here and there (though I do see that you are beginning to take some measure to prevent traffic collisions). But surely you have some say with speed limit signage and speed cameras to prevent pedestrian fatalities? And what about the follow ups for traffic offenses by the police? People seem to believe they can get away with murder in this city when driving.
I also understand you did try to take on the notorious gang of New York- the MTA Bus Drivers. What a ruthless bunch eh? I read an article in the New York Times how they believe they should not be punished for killing pedestrians because "accidents happen". And in 1 year, 9 people had died as a result of being hit by a bus. Their company and union belief is; if they do stop to let pedestrians cross the street, it will onset life devastating delays. The solution for this must be to hire James Bond villains for driving the bleeding things.
Well perhaps it is easier for you to let them rule the streets, but wouldn't you rather be James Bond and save the day? During the bus driver assassins training, maybe you can pass a law that they have to play games of Traffic Lights like I used to in *Brownies (*Girl Scouts). I'm not so worried about their ability when the green light is mentioned but they definitely need a refresher on the amber and red ones.
I am yet to mention cyclists fatalities. I see you have issued some stickers to boost cyclist awareness whilst riding a yellow taxi. I would love to hear what other actions you will be taking.
I'm afraid my letter may be getting too long winded and I know you probably have to go meet Susan Sarandon for a coffee or work on affordable housing- both excellent pastimes. Therefore I shall wrap up my thoughts.
It seems to me that all of us in this city are in a constant game of Rock, Paper and Scissors. The vehicles being the rocks, the police being the scissors and the people as the paper- the most fragile of all materials. Whenever I played, paper could beat the rock. And you Mr Mayor, you have the power to dish out those papers and win the game.
I look forward to hearing from you in hopes we can make a change and save lives.