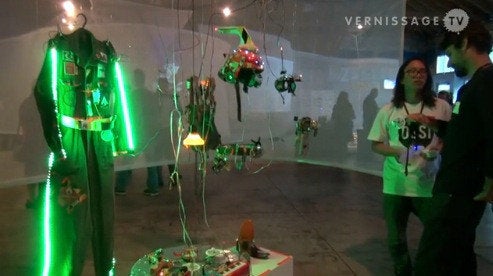 The motto of the 2012 ZERO1 Biennial in San Jose is Seeking Silicon Valley. The 2012 ZERO1 Biennial features an extensive program of exhibitions, public art installations, performances and events in San Jose and other places in the Silicon Valley and the Bay Area. More than one hundred artists participate in the event.
The main exhibition is located at the ZERO1 Garage in downtown San Jose. It features 24 works by 24 artists and art groups, half of them commissions. Among the participating artists are Lynn Hershmann Leeson, Pe Lang, Jae Rhim Lee, Marisa Olson, and Stephanie Syjuco. This video provides you with a exhibition walk-through on the occasion of the VIP Preview reception on September 12, 2012.
Highlights include Shu Lea Cheang's interactive installation Baby Work made of discarded keyboards; Jae Rhim Lee's work Decomp Me that simulates the decomposition of the visitors face; Gambiologia's (non-)interactive clothing built from old parts, which are inspired on the aesthetics of 'gambiarra', Brazilian's DIY culture; and Pe Lang's Moving objects, an installation consisting of 128 motors, 3,000 rings, and silicon wire to create a fascinating kinetic wall sculpture.
The ZERO1 Biennial was founded in 2006 as a contemporary art event that showcases innovative artists who are working at the interface of art and technology.
For more videos covering contemporary art and architecture go to VernissageTV.
Calling all HuffPost superfans!
Sign up for membership to become a founding member and help shape HuffPost's next chapter