Paul Sullivan's Aug. 21 New York Times piece, "Getting Workaholics to Stop and Recharge," is another welcome addition to the swelling tide of popular and academic articles focused on the balance between life and work.
But the piece does one thing very poorly: put wellness within a reasonable reach.
The people consulted to demonstrate to readers the importance of taking time away from demanding professional lives all happen to be CEOs, doctors and celebrities. And their preferred ways to unwind carry quite the price tag: a scuba-diving trip in Israel, quarterly trips to Hawaii, weekly cryotherapy, etc. It's only fair to note that the piece was written for the Your Money section of the New York Times, already a distinct demographic. Surely everyone deserves the right to recharge in the way that best suits them -- find your own practice and path to self-fulfillment, right?
According to an October 2014 Oxford Economics study, Americans are taking less time off than they have in the past few decades. In the wake of recent research, the repercussions of longer work hours and mounting stress transcend the anecdotal. They are statistically real and even fatal.
Does the solution for most of us, though, lie in the execution of yet another large monetary transaction? Quick reflection reveals that trading in large stacks of cash for needed repose threatens to only exacerbate the problem by making rest yet another consumer product -- you need to work for it! If you want to relax, better start punching that card! Great short-term economics, very impoverishing for the sustained wellness of the new consumer of repose.
I thought through all this after a 30-minute session of mindfulness meditation with my coworkers and colleagues on Friday afternoon. Apart from the low wattage bulbs, quietly humming AC and wonderfully comfortable, raw cotton zafu cushions, expense was minimal.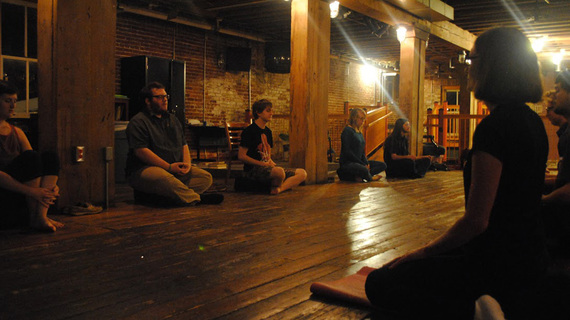 The recent establishment of a number of activities and organizations among the faculty, staff and students at Centre College to promote mindful and wellness practices puts repose and recharge within everyone's reach. On Friday during lunch break, anyone who wishes to, makes their way down to the basement of a student dorm. It's a makeshift sacred space, dark, damp and slightly moldy. But quiet and community thrive very well there. Participants arrive and depart at their leisure.
As energizing and beneficial as a $90 session of cryotherapy may be, there are hundreds of mindfulness practices that cost nothing, that haven't been marketized.
Engaging in zero- or low-cost practices is key to keeping wellness with the reach of all. Plus, it removes one less incentive to rush back to work to settle the bill for your peace of mind.
Let's not promote the illusion that the final frontier of human happiness is only accessible to the workaholic well-to-do.
Calling all HuffPost superfans!
Sign up for membership to become a founding member and help shape HuffPost's next chapter