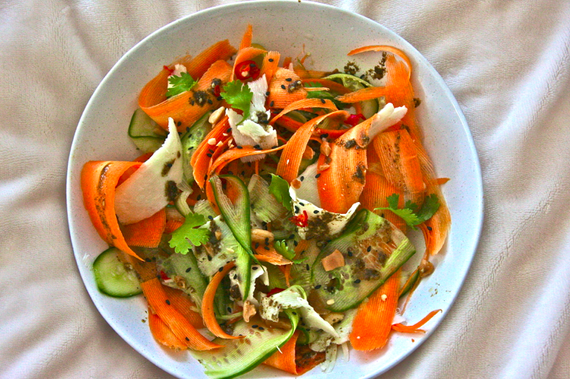 The smell of fresh white Lebanese roti or wrap layered with zaatar and melted halloumi or thick labneh is simply irresistible -- I would always get this fresh from a restaurant called Mandaloun in DIFC when I lived in Dubai. If you haven't had zaatar, it is a wonderfully earthy and citrusy blend of dried herbs such as marjoram and thyme (the Arabic word za'atar, pronounced zah-tahr, also means thyme). Visiting the city this week, I have surprisingly not had much Lebanese food, and I wasn't craving it until I woke up a couple of days ago to that familiar smell of zaatar, which had filled the apartment (my friend had left the bread in the grill for too long and burnt it). But, rather than succumbing to the calling of hot bread, I decided to make a salad combining these aromatic middle eastern flavours. I used the lighter version of halloumi and used a peeler to shave thin slices rather than chunks so that you can just get the flavour rather than feel heavy with cheese. It's a light salad that is delicious, tangy, flavourful and has a contrast of textures I always aim for.
1 small cucumber
1 carrot
½ pack halloumi cheese
¼ small papaya, optional
handful salted cashews or almonds
handful coriander, chopped
1 tablespoon mixed sesame seeds for garnishing
1 small red chilli, finely chopped, optional
Dressing
1 tablespoon zaatar
1 tablespoon olive oil
juice of 1 lime or lemon
Prepare the dressing by mixing together the zaatar, olive oil and lime juice. Make long slices of cucumber, carrot, halloumi and papaya using a skin peeler, arrange in your serving plate, sprinkle the salted cashews or almonds, either whole or broken, sprinkle sesame seeds, coriander and red chillies and then pour the dressing evenly over the salad. If you've made it in advance and are worried it will look a little flat when serving, then add some freshly sliced carrots and cucumbers over the top of the salad just before serving, and add more garnishings at the end.