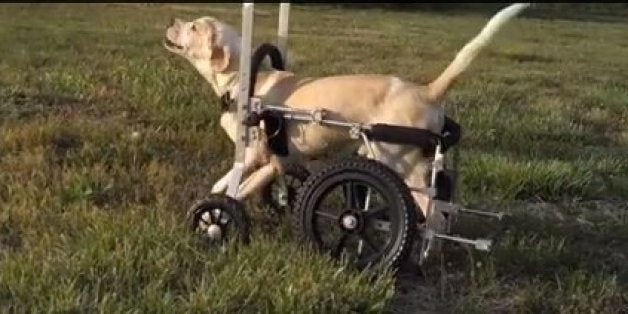 Zeus the puppy was almost completely paralyzed when Lynda Kuether took him in as a foster, shortly after he was rescued from a high-kill shelter in Oklahoma.
"He was terribly emaciated and only able to lift his head and wag his tail," Kuether says. "He had to be fed and given water by syringe."
Kuether said a veterinarian determined the paralysis was likely caused by a virus, but recommended against dispositive diagnostic tests since the treatment would be the same: antibiotics, steroids and lots of physical therapy, which might or might not improve his mobility.
So Kuether set goals for Zues that didn't seem so modest at the time.
"My deepest hope was that he would eventually be 'normal,'" says Kuether, who lives in Carbondale, Illinois, with her wife Jennifer LeDuc and a clutch of cats and dogs. "That he would be able to walk and run, climb stairs, climb on and off furniture, get in and out of the car, learn basic obedience commands and have a family that would love him forever."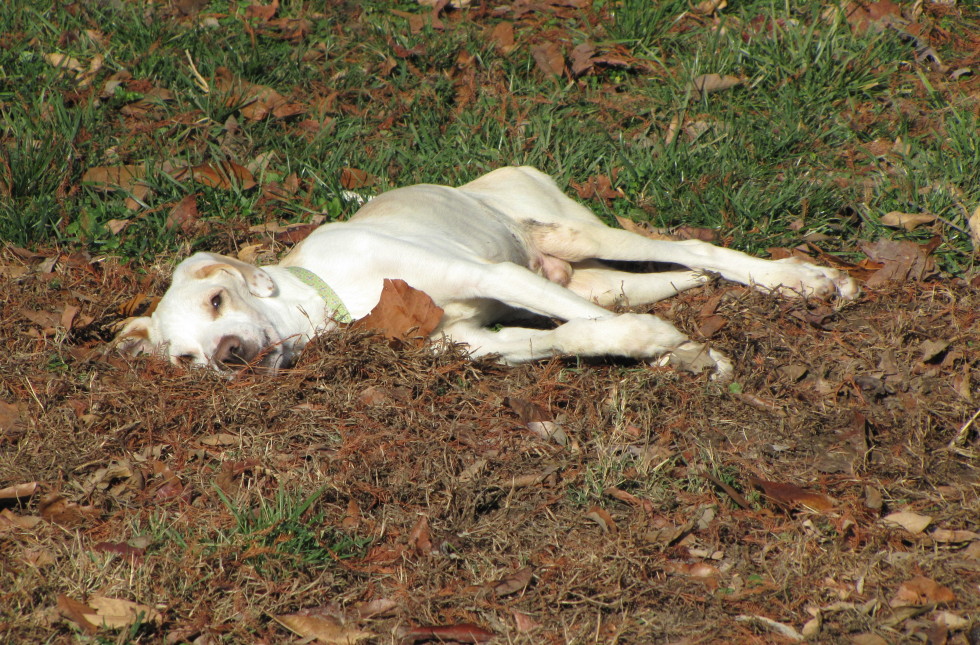 Photo credit: Lynda Kuether
Zeus was just under a year old when he was rescued in 2012. Kuether, a physical therapist for humans, started him swimming right away in an indoor heated pool owned by a fellow volunteer at the nearby St. Francis Community Animal Rescue & Education.
"I knew we had to provide some way for him to start moving his legs that didn't require him to carry his body weight on them, and I thought swimming would be one of the best ways to start with him," she says.
After a couple of months, Zeus progressed to moving on solid ground, doing what Kuether describes as an "army crawl." Then he got up to crawl on his knees.
By February 2013, Zeus was zipping around in a wheelchair. And that April, "he took his first wobbly steps," says Kuether.
"It was like Christmas morning when you were 5 years old and you got the bike you had been begging for all year long," she says. "I wanted to scream from the mountain top, 'He did it! He did it! Zeus walked!'"
We totally aren't crying, watching this video about Zeus' recovery.
Zeus still needs steroids and therapy, but he has learned to run (which Kuether loves, though her cats may feel differently). He's gotten strong enough to climb up onto the furniture, get into the car on his own, and walk up the stairs.
Kuether says she's even marveled at this dog's first time standing up to pee and the first time he stole a sandwich off a plate. One of her great joys, now, is watching Zeus demand snacks.
"He sits in the living room waiting for one of his mothers to finish her breakfast cereal so he can have his cereal milk," says Kuether. "Then he usually begs to go back down to bed." (There, it bears noting, he sleeps with his tongue hanging out of his mouth.)
When local media wrote last year about Zeus' progress -- he became something of a celebrity in southern Illinois -- he was still on the market for just the right forever family who'd appreciate his stubborn, determined, goofy, resilient and loving canine character.
But earlier this year, it finally became clear that Kuether, LeDuc, and their expanded menagerie of animals are that family.
"My wife and I have officially adopted him," she says. "We worried he'd never walk. But never did we worry that we had made a mistake in giving him a second chance."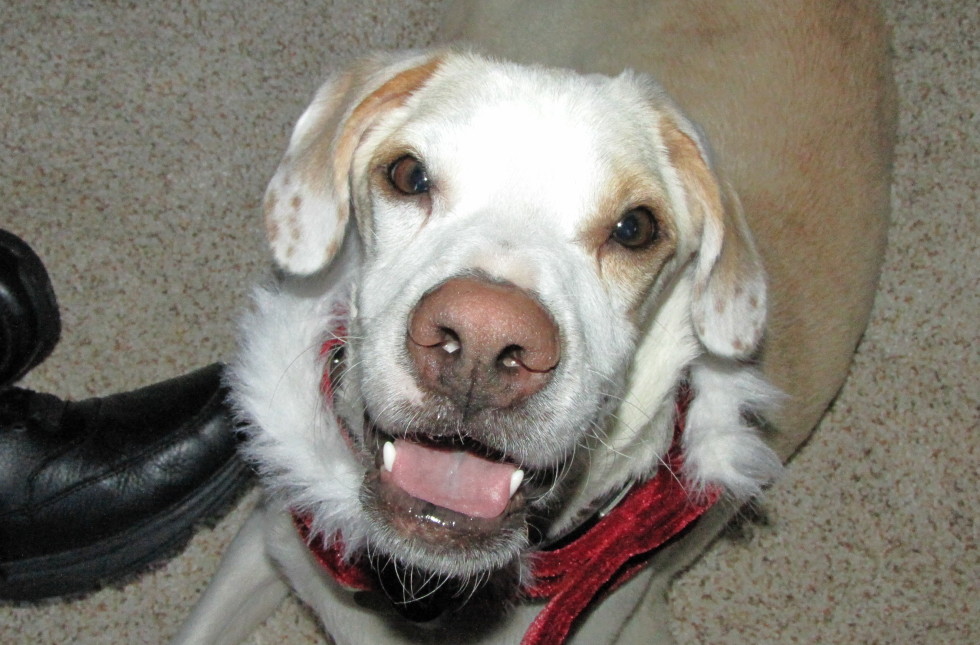 Zeus can now run, walk, and steal food. Photo credit: Lynda Kuether
That would have been a fine ending to this story. Except that it's not the end. Recently, Kuether and LeDuc have taken in a new foster dog, also through St. Francis CARE.
The new dog's name is Athena, and her back legs are paralyzed.
"Quite serendipitously, Zeus' wheelchair fits her almost perfectly," says Kuether. "She will be up for adoption once we get her her own wheelchair."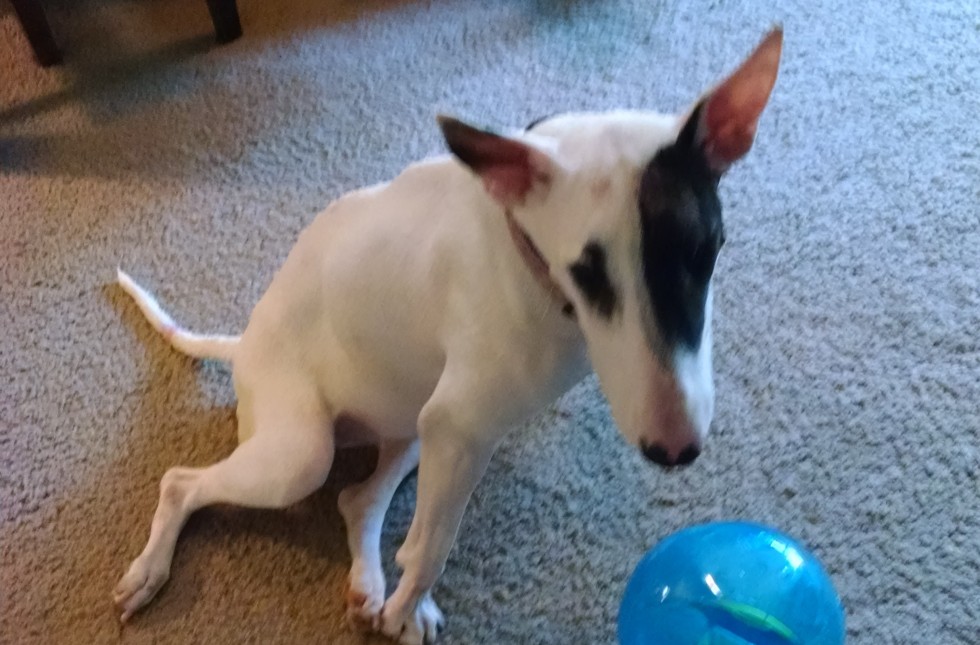 Athena is partially paralyzed. Photo credit: Lynda Kuether
Get in touch at arin.greenwood@huffingtonpost.com if you have an animal story to share!
Related
Before You Go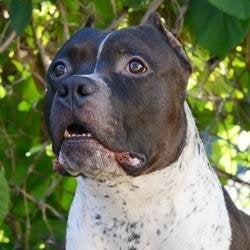 These Shelter Dogs Need Homes!
Popular in the Community