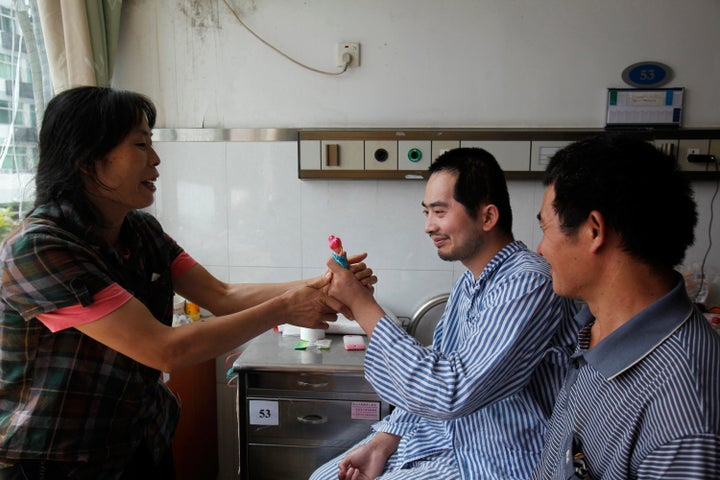 A Chinese Apple manufacturer has a message for a worker who had half his brain removed after a factory accident: Get out of the hospital or else.
Zhang Tingzhen, 26, survived an electric shock and fall at a Foxconn plant in the southern China of Shenzhen last October, Reuters reported. After surgery to remove nearly half his brain, he lost his memory and can neither speak, walk nor go to the bathroom properly. But that hasn't stopped the company from sending text messages ordering his family to discharge him from the hospital or face elimination of his medical benefits.
It's all legal, the company told the news agency, because Zhang is required by law to get a disability assessment. Only he has to travel 43 miles to get it -- and Zhang's doctors fear he is at risk of a brain hemorrhage en route, Reuters said. Besides, a provincial law cited by the wire service dictates that injured workers can receive hospital care up to two years before they are assessed. Zhang was injured a year ago. The company said it would be willing to return Zhang to the hospital after the examination.
In a later statement to The Huffington Post, the company wrote that it was providing medical and financial assistance to Zhang beyond what is required by law, and that it recently received government approval to have Zhang's assessment done in Shenzhen. (For the complete statement, scroll below the story.)
In the oft-scrutinized world of Chinese labor practices, little seems to surprise anymore. But the alleged mistreatment of Zhang is a doozy, piling on to the spotty record of Foxconn, a Taiwan-based company that is Apple's largest contract manufacturer. Last week, thousands of workers at a Foxconn plant in central China's Zhengzhou reportedly went on strike in protest of being forced to work extra hours so they could straighten out flaws with the iPhone 5, the Associated Press reported. Company officials mostly denied that it happened.
Late last month, a riot touched off by fights between workers and security guards closed a Foxconn plant in northern China, reported the New York Times.
And there also seems to be an ongoing suicide problem. Wired reported that 17 Foxconn workers in China killed themselves between 2007 and 2011 -- a development that helped push through a labor-reform agreement between Apple and Foxconn in March 2012. But in June a 23-year-old plant worker jumped to his death, according to reports.
The Huffington Post left a message at Apple's media email address requesting comment on Zhang's case.
UPDATE: Oct. 13 -- Foxconn provided the following statement to The Huffington Post:
As part of our company's commitment and obligation to ensure the welfare of all of our employees, Foxconn has been working closely with the labor union to ensure that all necessary support and care is provided to our employee, Mr. Zhang Tingzhen, who was injured in an industrial accident at our Longhua facility on October 26, 2011 and who has been undergoing treatment at a hospital in Shenzhen. This includes payment for all medical expenses since his injury, a continued payment of his monthly salary, as well as a monthly subsidy to support his family's living expenses. Our company is providing financial and medical support that is above what is required by Chinese labor law because we believe it is the right thing to do and we want to ensure the well-being of Mr. Zhang and his family during this challenging time.

According to China's National Labor Law, workers who are involved in any industrial accident, and who are on long-term medical leave, are required to complete a Level of Industrial Accident Injury Assessment in the city where they are employed once their initial medical treatment has been completed and within a two-year period from the date of the accident. This is part of a process to complete the application for compensation from Industrial Injury Insurance, which is mandated by government law (under the social insurance program that our company enrolls all employees in and which is provided by the government). This insurance payment is separate from any additional compensation provided by our company. Based on Chinese labor law, without this Assessment, Mr. Zhang and his family will not be able to benefit from any relevant insurance coverage that is separate from any payments from our company.

In the case of Mr. Zhang, he was hired through our recruitment center in Shenzhen for a position at our Huizhou facility and was an employee of that facility, therefore, by law that assessment is required to be carried out in Huizhou in spite of the fact that he was in Shenzhen for training at the time of the accident. As such, we have offered to provide financial and other support to Mr. Zhang and his family, including all travel costs, medical personnel to accompany Mr. Zhang and private transportation, to enable him to comply with the law. We have been consulting with medical practitioners to ascertain if he is able to travel for the Assessment because no one would require Mr. Zhang to leave the hospital against the recommendation of doctors. We have also been discussing with relevant government departments the possibility of Mr. Zhang completing the Assessment in Shenzhen given the circumstances of his case. As of the latest discussions with those government representatives, we have learned that they have approved our application, which is unprecedented and the first of its kind, to have Mr. Zhang's assessment completed in Shenzhen in spite of the location of his contract, and we have informed the family accordingly to enable them to make a decision on whether or not to complete the Assessment.

It is important to note that should Mr. Zhang decide to do the Assessment, this in fact does not require him to be discharged from the hospital and he can continue to receive treatment and be cared for at that facility immediately following the Assessment. Our company has committed to Mr. Zhang and his family that we will provide all support to help him return to the hospital in Shenzhen to continue to receive any required medical attention. In addition, following the Assessment, the company will arrange any additional measures that are necessary to support him and his family, including continued medical and rehabilitation care and other livelihood support. Details of such support would be determined after the Assessment is completed to ascertain his specific medical needs and following further consultation with Mr. Zhang's family.

While Mr. Zhang has not yet completed the Assessment, we have no intention of stopping any support we have been providing to Mr. Zhang and his family and will continue to support his needs beyond what the government medical insurance will cover even after the Assessment. We can also confirm that since October 2011, all monthly financial and medical support payments to Mr. Zhang and his family have been made on schedule and they are current.

Foxconn takes the health and safety of our 1.2 million employees in China very seriously and we believe the provision of all medical costs for Mr. Zhang and the payment of living costs for he and his family has been fair and consistent with that commitment. Contrary to some media reports on this matter, we are fully committed to continue providing any necessary support to Mr. Zhang and his family and will work with the labor union to ensure his rights are protected and needs are met.

Clarification: Language has been amended to reflect that Zhang Tingzhen sustained an electric shock but was not electrocuted.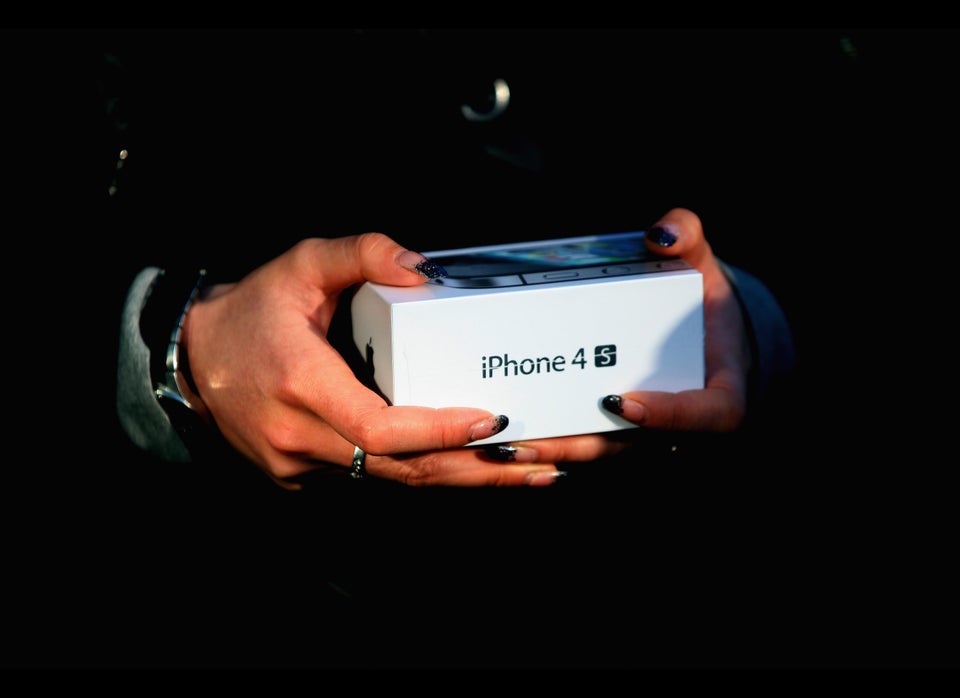 Most Outrageous Facts About Foxconn iPad Factories
Popular in the Community