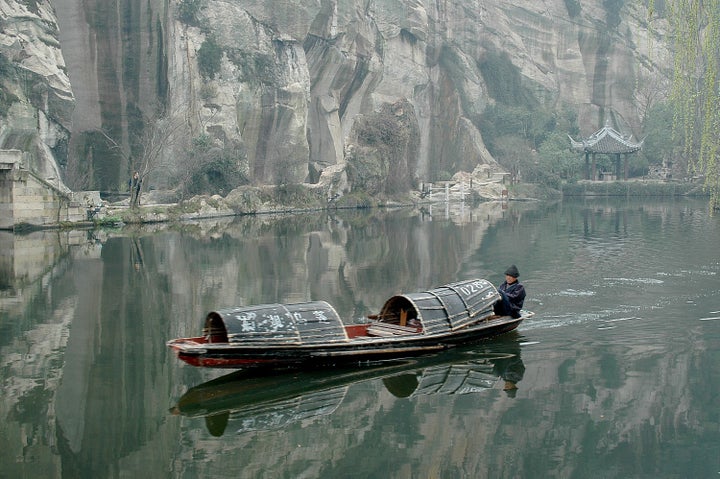 Zhejiang Province, just south of Shanghai, is a veritable microcosm of China, I discover during my five-day visit. In a relatively compact area, it offers some of the most beautiful scenery and natural sites to be found in China – landscapes that evoke the classic Chinese paintings – as well as ancient Buddhist temples, historic and heritage places. It is where you can trace the development of silk, porcelain, and tea that proved so important to China's history and are still so important locally, and where you can see firsthand modern life in both urban and countryside settings.
If you only have a week (and I only have five days), touring Zhejiang Province and its provincial capital at Hangzhou (which has two UNESCO World Heritage Sites, West Lake which was visited by Marco Polo and the Grand Canal, China's greatest engineering wonder second only to the Great Wall, and was visited by President Obama for the 2016 G-20 Summit), can give you an excellent sense of China, as an ancient civilization and as an emerging global power.
And now, a new policy allowing up to 144 hours (six days) in China without the need of a visa for people who make a stopover en route to another destination, makes this Zhejiang ideal for anyone who has already visited China's big cities and major attractions (Beijing, Xian for the terracotta warriors; Suzhou, the garden city, Great Wall), and is traveling to other destinations in Asia, or coming to the region for business. Also, Hangzhou now has direct flights from the West Coast.
Indeed, just a short drive outside of Hangzhou, where a selection of luxury hotels make it an excellent base, are an amazing array of attractions.
I can see why the phrase "paradise on earth" is used in referring to Zhejiang – it is one of the cradles of Chinese civilization, with the 7000-year old Hemudu culture and the 5000-year old Liangzhu culture. It has fabulous natural wonders - breathtakingly beautiful scenery that has inspired art, poetry, music, and unleashed extraordinary creativity and innovation.
It seems to me as I travel through the province, that throughout China's history, Zhejiang was on the cutting edge of culture and handcraft development, as in the case of sword casting in the Spring and Autumn Period and the Warring States Period (770-221 BC), porcelain production and bronze mirror making in the Eastern Han dynasty (25-220), and silk production, tea cultivation, engraving and printing techniques, traditional medicine, pagoda and temple construction, and the art of Buddha sculpture after the Tang Dynasty (618-907).
The Zhejiang region has ideal conditions for cultivating the mulberry tree, which nurtures the silk worm, so this became a region for silk production going back more than 5000 years. Here, along the bank of the stunningly scenic West Lake that so captivated Marco Polo, is the China National Silk Museum, purportedly the largest silk museum in the world.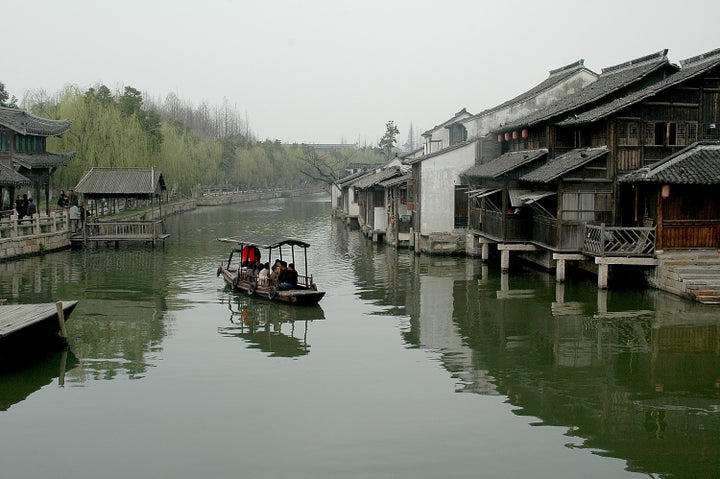 The museum superbly shows how silk was so much more than a cloth, and how it became a major impetus to trade with Europe along the so-called Silk Road. Silk is far more than just a commercial product - it permeates Chinese society. Silk was considered "the gift of gods," it was used to show status, was a sign of good luck, and a longing for a better life. The style of dress related to the political structure – literal "rules of dress" were dictated by the Emperor. A fabulous exhibit displays examples of silk clothes over the centuries.
There are looms, some interactive computers, a video of the life of a silk worm, and an excellent (and large) shop. They even do fashion shows; indeed, Hangzhou continues to be a major center for women's fashion.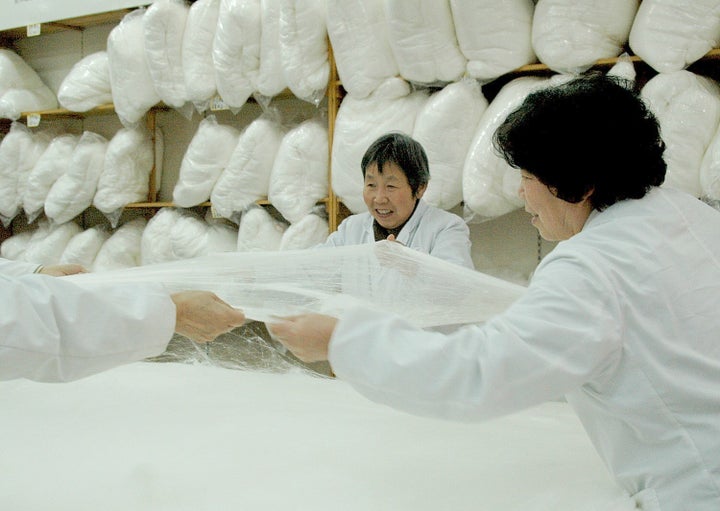 As I look at the displays, especially the "rules of dress," I think about the role of fashion in terms of political authority – and understand better how a people that clearly cherished color could be regimented to gray, blue, brown and green and the bland, military styles under the Mao Tse Tung regime, and what a thrill it was to be allowed to buy colorful fabrics again, beginning in 1978 when I made my first visit to China.
I look at the tiny shoes that were used to bind girls' feet so they could barely walk – it was a sign of submission to male authority – and think that there was one good aspect of the Cultural Revolution that seems to have remained: while people seem to have wrested themselves from such sterility of the Cultural Revolution, it seems to have eradicated from Chinese society the entrenched inequality of women. I see it in the "body English" in the way women and men talk casually to each other, and the way they interact with one another in their jobs. (Interestingly, I am told during my visit in Tokyo, that in Japan there are still gender biases that keep a glass ceiling well in place.)
Not too far from the Silk Museum is another interesting site (which I will make a point to visit next time): the Museum of Guanyao Kiln (the official kiln) of the Southern Song Dynasty, the first museum devoted to ceramics that was built on the original site. China developed the technology for porcelain, which also figured into its place in global trade.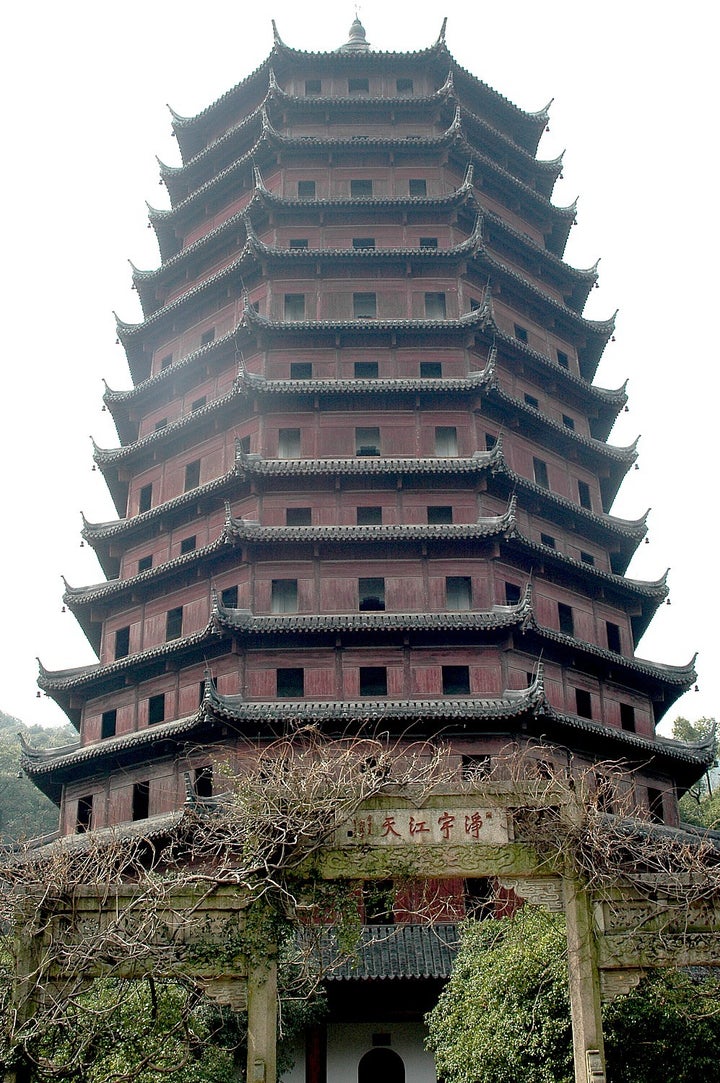 Traveling down Tiger Running Road, we come to The Pagoda of Six Harmonies, considered one of the best examples of pagoda construction technology in China. It was built in 970 during the Northern Song Dynasty by Qian Hongchu, the last Yue king, who built it to (spiritually) "calm" the tide of the Qiantang River, and more practically, serve as a lighthouse. The pagoda, destroyed in the peasant uprising of 1121 and rebuilt in 1152, has 13 stories outside but seven inside. You can climb to the top (be warned: there aren't always banisters and the stone steps can be high) and be rewarded for the effort by a beautiful view of the Qiantang River and the 1937 Bridge.
The Qiantang River is considered a world wonder for its Tidal Bore, most prominent on the 18th day of the 8th lunar month when the attraction between sun and moon is most pronounced. People have been amazed by the spectacle for 2000 years.
Continuing on, a short distance beyond West Lake, we come to Mei Jiawu Tea Culture Village – with a heritage in harvesting tea that goes back 7600 years. Here, there are optimal conditions of white sand soil, temperate climate, not too much rain, for producing a sweet-tasting tea. The tea grows in terraces up the mountain sides, making for a lovely scene. The village is ancient and most typical in style. Here you are fascinated to learn the painstaking effort that goes into producing tea - women pick the leaves; men fry the leaves in small batches three separate times, so it takes four hours to produce a half-kilo of the tiny leaves.
This is the Dragon Well tea, the most famous and important in China (they claim). The region has been supplying tea to the Emperor in Beijing for centuries, and now supplies the government with half their harvest, in place of tax. It is the most delightful, tranquil setting. There is also an excellent shop.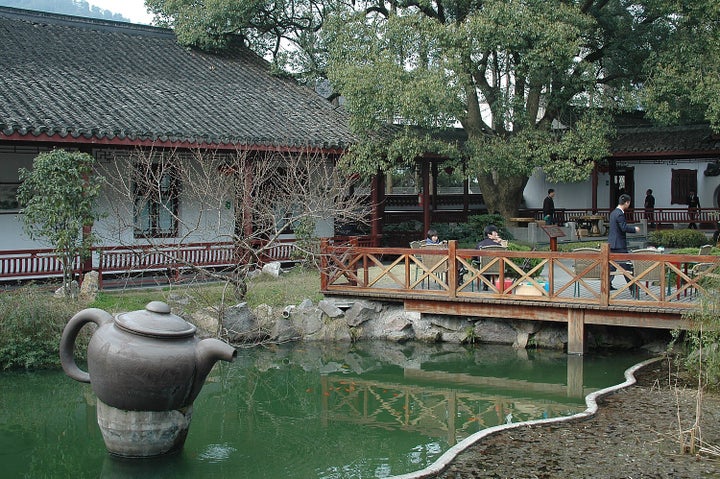 As I sit and am served samples of the green tea that is grown and harvested so carefully, I am told of all the healing benefits of tea – good for digestion, an anti-oxidant, good for complexion, blood pressure, helps control weight – I can't resist but purchase my own supply.
If you are still thirsting for more, the China Tea Museum (Longjing Road) is the only national museum in China focused on tea. Various aspects of the tea culture are displayed, including tea history, famous teas, tea events, tea sets and tea customs.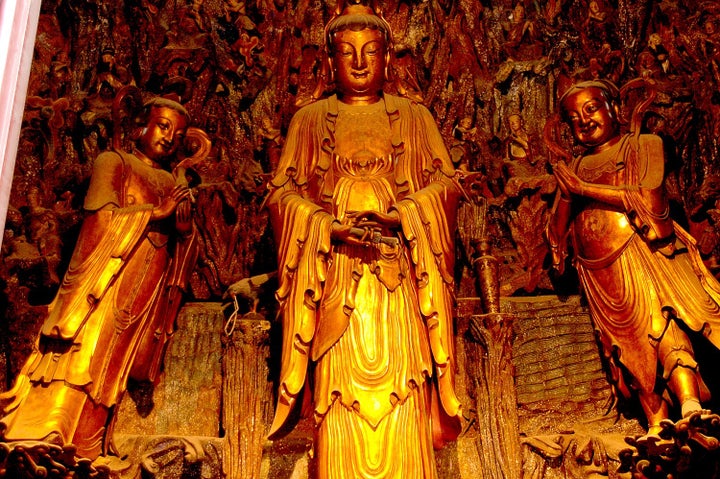 The massive and spectacular Lingyin Temple (Temple of the Soul's Retreat) was originally built in 326, though it has been rebuilt many times over the centuries (it was never destroyed during the Cultural Revolution; Chou En Lai protected it). It is one of the ten most celebrated Buddhist monasteries in China. The statue of Sakyamuni carved from camphor wood and gilded with gold inside the Grand Hall of the temple is considered a masterpiece. It is the largest carving of a sitting Buddha in China.
At its peak, there were 1000 rooms and more than 3000 monks living here, and it was the most popular temple in Southeast Asia, attracting scores of worshippers. Even today, there are flocks of people who have come from all over.
We come late in the afternoon, around 5 p.m. Inside the temple, the monks have gathered and are chanting and banging drums as they go through their prayers.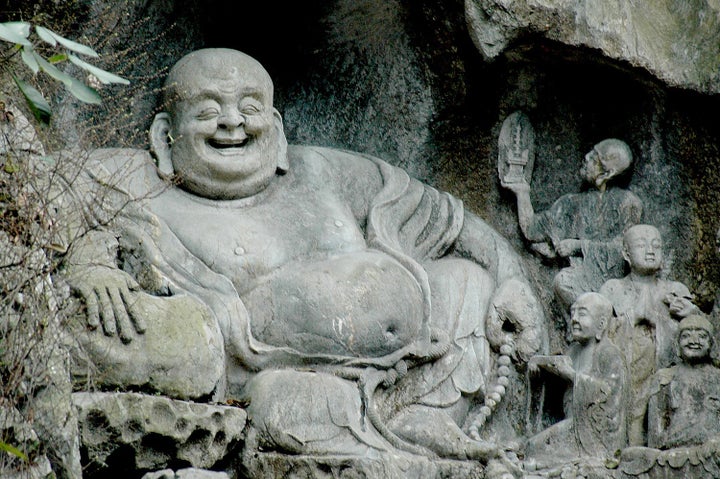 Opposite the temple stands the Feilai Peak – the Peak Flying From Afar. It is marked by a rocks and limestone caves with some 340 Buddhist sculptures in grottoes, most of them dating back to the 10th and 11th centuries. These are considered the most precious of China's grotto art. The peak goes up 548 feet, but our time to wander about them is very limited, and we go into a few of the closest grottoes.
It is mysterious and mystical.
Wuzhen, Water Town
The hub for my stay is Hangzhou, China's capital city for 150 years and still the provincial capital. On my second full day in the city, we drive about 1 ½ hours away to Wuzhen, in Tongxiang, one of six ancient water towns that have been preserved as living history museums. The ride is fascinating because it is not much different than driving in upstate New York – the juxtaposition of the modern cities downstate with the rural areas; here, a modern highway ribbons through the countryside now dotted with high-rise buildings, new factories and farming communities.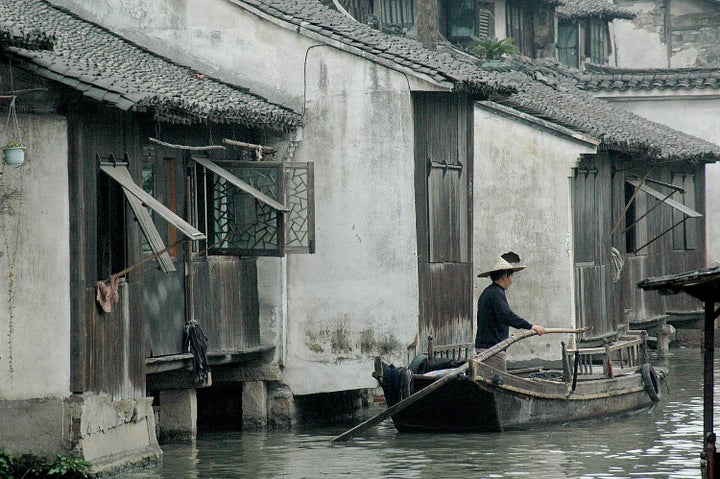 Wuzhen, which means "black town," is named for the black color of the mud. With the Grand Canal passing through it, it has been an important gateway connecting Suzhou (that gorgeous city of gardens) and Hangzhou.
The town is known for its quaint stone bridges with crisscrossing rivers flowing under them, buildings with high walls and tail-shaped eaves, and long narrow lanes, lined by wood structures in the traditional architectural style of south of the Yangtze River. The wood carvings and decorations are breathtakingly beautiful.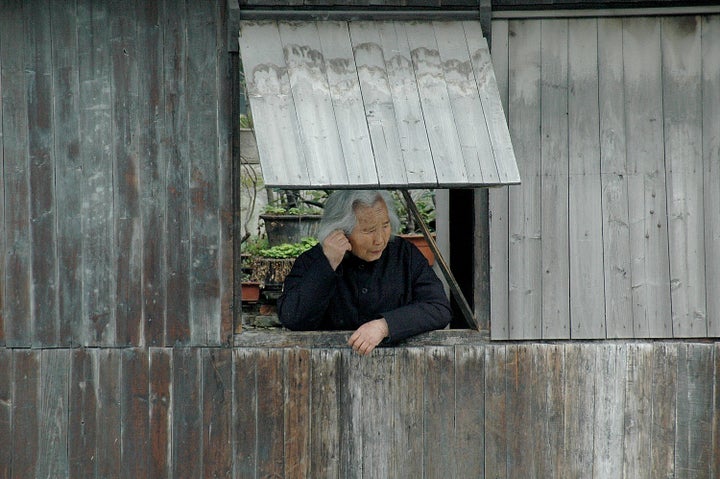 Wuzhen's settlement goes back 7000 years; the village, itself, has a 1300 year history, and these houses, in the Qing style, are 200 years old. There would have been 1,000 people living in the town; today, the buildings are inhabited mainly by older residents who are allowed to live there for free and make it very much a living place, versus a museum exhibit. (Think Colonial Williamsburg.)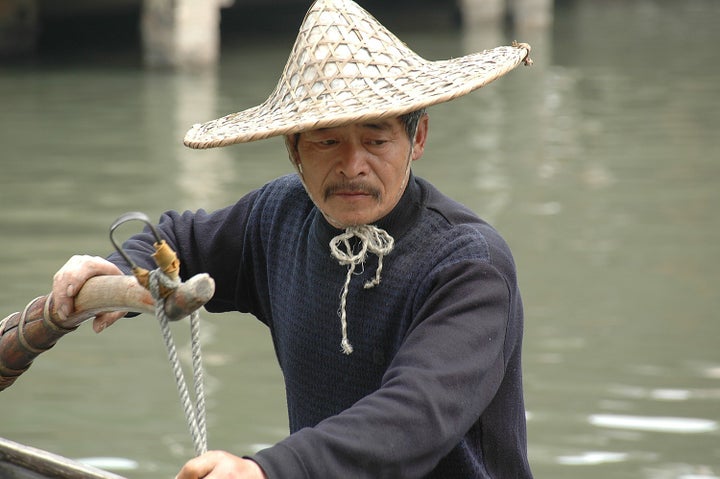 In 1991, Wuzhen was "authorized" as the Provincial Ancient Town of History and Culture, ranking it first among the six ancient towns south of the Yangtze River. Wuzhen is a huge tourist attraction now – it costs 100 yuan (about $15) for admission, and its popularity is indicated by how it is being expanded with shops and eateries.
Wuzhen is famous for the picturesque scene known as "Bridge in Bridge," created by two ancient bridges, one of which is Tongji Bridge that crosses the river from east to west and the other Renji Bridge running from south to north, which join at one end. Either of two bridges can be seen through the arch of the other, hence the name.
A popular way to experience the setting is by a traditional wooden boat.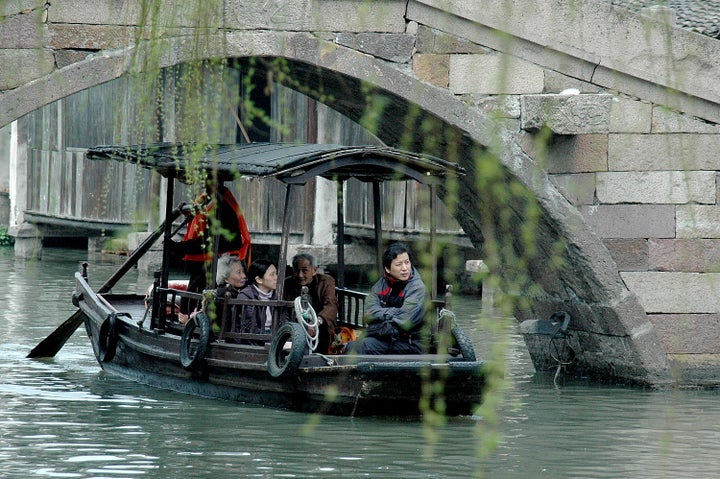 As you walk through and in and out of houses and buildings, you come upon displays that present a fascinating picture of Chinese society and cultural heritage. There are also demonstrations of traditional handicrafts, rice wine making, printing and dyeing of the traditional blue printed fabrics.
The exhibits are fascinating in how they present the traditions and beliefs of the time. In the bed exhibit, you see an "unmarried daughter bed". In the clothes exhibit, you learn that in feudal times, dress was regulated, but in the 1920s and 1930s, there was a break from "the emperor system" and people started choosing freely; during the time of arranged marriages, embroidery was a key to a successful match.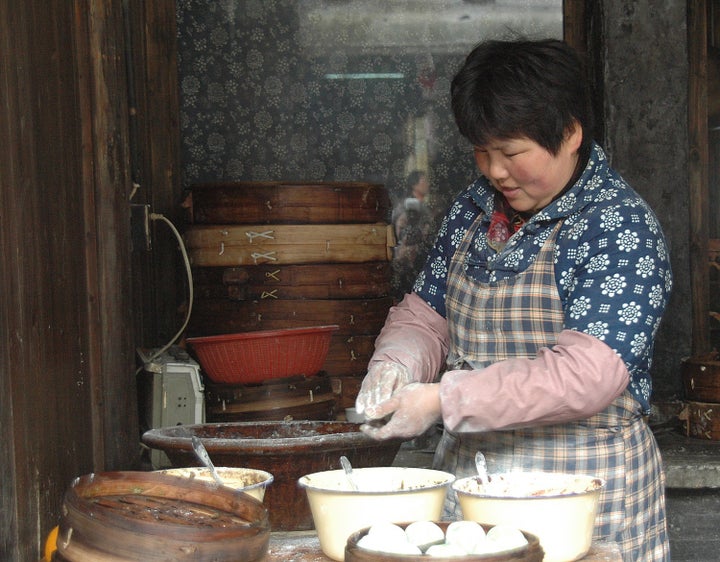 There is an exhibit about important Chinese ceremonies – like one that is held on the fifth day of the first lunar month, which is dedicated to "living fish" – they put some red substance on its eyes to prevent them drying out and ultimately free the fish after the ceremony. (You would need a guide to understand any of this, because there were no English-language brochures or signs).
You also can visit the former residence of one of the famous native sons of Wuzhen: novelist, cultural critic and journalist Shen Dehong, known as Mao Dun, who lived from 1896 to 1981 and served as the Minister of Culture from 1949 to 1965, and grew up here. Considered one of the best modern novelists in China, his most famous works are "Midnight" and "Spring Silkworms." His masterpiece, "The Lin's Shop," describes the life of Wuzhen.
(Interesting bit of information that I subsequently learned from Wikipedia is that he adopted the pen name of "Mao Dun" which means "contradiction" as a reflection of the conflicting revolutionary ideology in China in the unstable 1920s; his friend, Ye Shengtao, changed the character he used for the first word to protect him from political persecution.)
Wuzhen is now like a tiny protected oasis, though it is already being expanded with shops and services. But all around it are modern high-rise buildings and the trappings of a village turned metropolis.
(Another of these preserved historic water towns in Zhejiang Province is Xitang, in Jiashan, which is known for its 27 stone bridges, 122 old lanes, and corridor canopies more than 1000 meters long. It has folk museums – a buttons museum, tiles and bridges exhibition hall, Zhangzheng Root-Carving Art Museum, exhibition hall of woodcarving of the Ming and Qing dynasties, and brown wine display hall.)
Shaoxing, Venice of the East
The next day, we travel again about 1 ½ hours from Hangzhou to Shaoxing, a water town known as the Venice of the East. A cultured city with a 2,400-year old history, it has a long tradition in calligraphic art.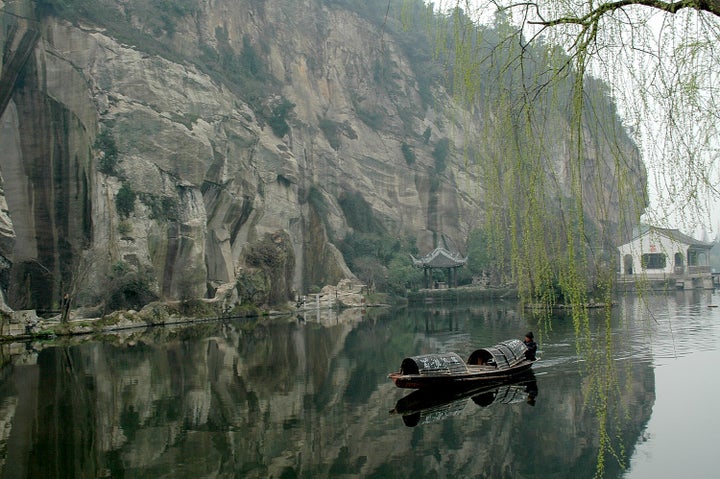 Here, we visit East Lake, a small preserved village, where you walk along an ancient tow path along a narrow lake as black-topped boats glide by, powered by oars pushed by the feet of oarsmen wearing traditional black velvet hats. It is a stunning landscape of limestone cliffs carved into shapes by the water.
From the village, it is a short ride to Lanting Pavilion, known as the Orchid Pavilion, at the base of Lanzhu Mountain. In ancient times, Goujian, the Yue King, planted orchids. The site is even more revered as a center for China's most important calligraphy, displayed in a park-like setting and in a Calligraphy museum. In 353 AD, the famous calligrapher Wang Xizhi and others assembled in this serene setting, and were inspired to write the famous "Preface to Lanting Pavilion Collection of Literary Writings." It has become a place where the sages of Chinese calligraphy resided, known as "one preface, three tablets and eight scenes." Now Shaoxing city holds a calligraphy festival every year, drawing famous calligraphers from around the world.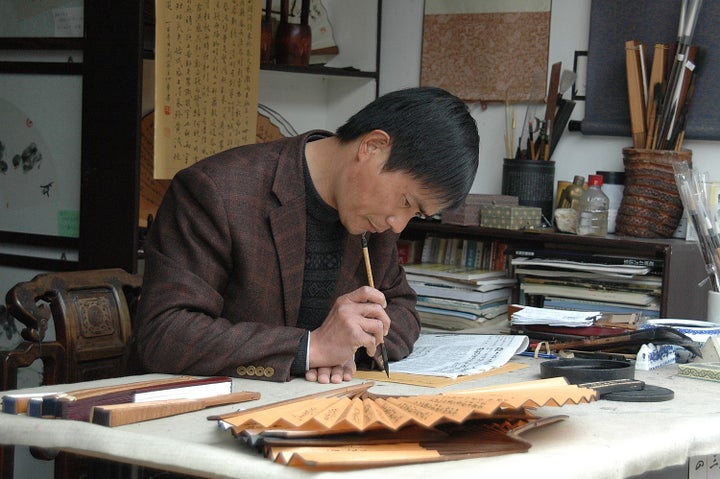 Shaoxing is an important city, noted for its rivers, bridges, and lakes making for lovely scenery, and for several key figures: Lu Xun, a great modern writer and thinker grew up here and there is a memorial and museum to him. Chou En Lai, the former premier of China, also grew up in Shaoxing, and you can visit his ancestral residence.
More to See
There is so much more to see through Zhejiang Province, which offers five major historic and cultural cities; 70 historic and cultural relics; more than 140 museums including The Zhejiang Provincial Museum, originally built in 1929, housed in a villa with a garden which has a collection of more than 100,000 cultural relics; and a Hemudu Primitive Culture Museum.
I am intrigued also to return to Zhejiang Province to visit the city of Ningbo, where 7,000 years ago, the Hemudu culture in the New Stone Age was established; the port city has been important to trade and transport for the millennia and was the starting point in the Ceramics Route and the Silk Route. The Tianyige Library, dating from the Ming Dynasty in the 1560s, is the oldest library in China; it offers a museum that preserves books, gardening arts, Majian culture and Ningbo folk culture. There is also the Fenghua Xikou Scenic District, which offers a Xuedou Mountain Scenic Area, known for its natural valleys and waterfalls, and the Xikou Ancient Town, famous for its ancient temples and pagodas. There is also the former residence of Chiang Kai-shek in Xikou.
Wenzhou, another important trading port, offers a charming river town. Mount Yandang, formed 120 billion years ago from acid lava from erupting volcanoes, presents a scenery of "grotesque" rocks, cliffs, dingles, caves, waterfalls and lakes, and is known as a "Museum of Nature."
Quzhou offers one of only two Confucian shrines in China. This one was reopened to the public in July 2000. Here, too, is the Longyou Rock Caves, completely underground, where the origins of abstract drawings on the rocks are still unknown.
Another area that prompts a return visit is Taizhou and the Tiantai Mountain, located on the eastern coast of Zhejiang. Taizhou is a newly emerging tourist city, with beaches and hills, the Shiliang Waterfalls, and the Linhai Great Wall, built before the Great Wall in Beijing.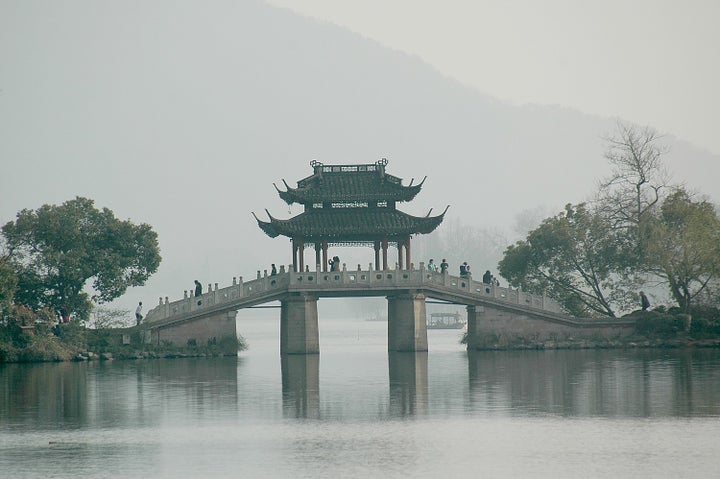 There is so much more to see in Hangzhou and Zhejiang Province than I could possibly do in the five days, and I look forward to returning. Several tour companies offer itineraries, such as a 10-day Zhejiang Highlights bus tour.
Preplanning: You need a visa to enter China; at this writing, a visa cost $130 for a one-time tourist visit that expires 30 days after application (a new visa policy allows up to 144 hours visiting select areas for travelers transiting to a destination outside China). You need to provide a valid passport (with blank visa pages and at least six-months of validity, counting form the day you submit the application), a filled-out application form that details when and where you intend to visit, and passport-style photos (for info, http://www.travelchinaguide.com/china-visa/visa.htm). It takes about four to seven business days to get back the visa.
No vaccinations were required at the time of my visit, but you should always double-check.
Related
Popular in the Community