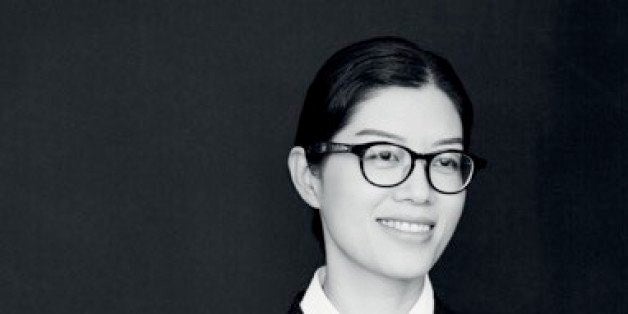 By Giovanni N. Ciullo.
©Photography by Max Cardelli
Zhu Chongyun, the Chinese fashion tycoon who bought you Krizia, talks about herself: from her childhood to her degree in engineering and her dream of becoming a fashion designer. What began with a few yuan became a $400 million business.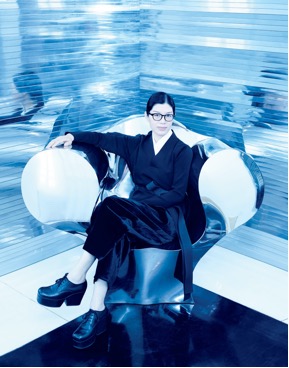 Born in Hangzhou in 1964, Zhu Chongyun is head of the Marisfrolg group. Top and trousers, Zhuchongyun. Styling Rachele Bagnato, make-up Miriam Langellotti for Lord&Berry, hair Beppe D'Elia for Beautick.
Mrs. Zhu had her back to us. She moved lightly, apparently fragile, a long black braid running down the back of the dress she designed herself. She lead us down a corridor to the mirrored steel room where we were to talk. Then she turned and smileed, as she does often, with the politeness of a master of ceremonies. Pale skin, black glasses, with a simple, classic elegance, she seems painted in watercolors.
Chongyun Zhu was born in Hangzhou 50 years ago, but looks at least 15 yours younger. At the time of the five Dynasties and Ten Kin- gdoms, her city was one of the seven capitals of China. Numbers surround this tycoon, who before discovering fashion wanted to be a scientist, and who according to Forbes has a personal fortune of a billion and a half dollars (making her one the richest individuals in the Celestial Empire). She is the president and creative director of a clothing company, the Marisfrolg Fashion Co., $400 million in revenue, 500 stores and 6,000 employees. Last year Marisfrolg acquired an iconic Italian brand: Krizia (for a reputed $35 million).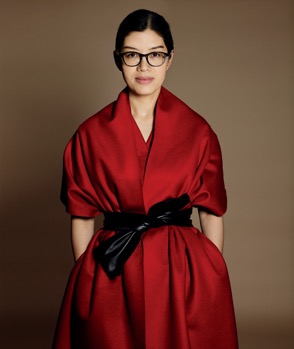 We met Mrs. Zhu in the historic headquarters of the Milanese fashion house founded by Mariuccia Mandelli, at number 21 Via Manin.
"I'm just trying to be quite ready to meet this challenge. It is not easy in life to have the opportunity to start another adventure, and so I feel fortunate," she told us with seraphic calm. When I bought Krizia, many said: 'If you are in such a strong position in China, what makes you want to start again in Italy?' But for me success is the right launching pad for more success. My basic philosophy is this: slowness is speed. And vice versa. If you have built a solid foundation calmly, you can afford to decide the next moves rapidly. And run."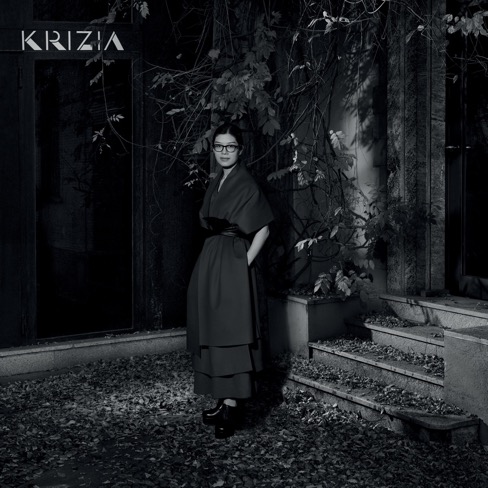 Zhu Chongyun gestured and smiled, creating an empathy that made up for whatever was lost in translation. She spoke in Chinese and a translator helped us to decipher a language that just sounded like music to us.
"I discovered Krizia a little over 10 years ago. It was the first time I had traveled in Europe and I was struck by the design and fabrics. I decided to buy it because of its history of creativity, because it is a noble and feminine brand (the name comes from a Platonic dialogue on vanity, Ed.), but also because I found that its aesthetic tastes were very close to my own. Later, the real surprise came when I opened its archives and discovered a marvelous world."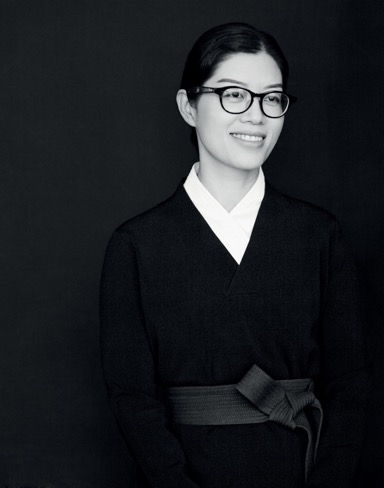 Animal prints, wide sleeves curved shapes. But the immediate goal, she said, is change with continuity.
"Each brand must remain true to its spirit, but renewal is critical to keep the interest of those who love you. While Kri- zia's strength lies in its history, its weakness is having stopped for a while. The first thing I did, therefore, was to work on its resources, on the team, on the suppliers. It is an honor for me to be here and I hope in the end that people will say that Zhu did not betray the spirit of Krizia but managed to renew it and make it contemporary."
Then she added, as if apologizing aloud: "And I was so focused on this challenge that often I only remembered to call my family late in the day, when in China it was already too late."
Mrs. Zhu has a husband and two daughters and speaks of her family with pride and gratitude.
"I got married at 33, but I had been looking for love, rather like success, for a long time before it finally arrived. The years when you are always falling in love are wonderful, and I think about them with some regret. But I follow my feelings and I did so with my husband. What's he like? A good, intelligent man, who understands me well and shares my values. My daughters, on the other hand, are dynamic, good at sports and courageous. I see a lot of myself in the choices they make, although at their age China was very different and I had far more rigid limitations to overcome."
She confessed that as a child she was interested in all sorts of things and was something of a tomboy.
"I enjoyed science: mathematics, physics and chemistry. And I was very good at manual things. What did I dream of? To be chosen one day as a 'model worker," to be recognized all over the country."
And fashion? "I wasn't interested at all. I thought only about studying. But my mother, who had always had a great sense of style, tried to dress me well."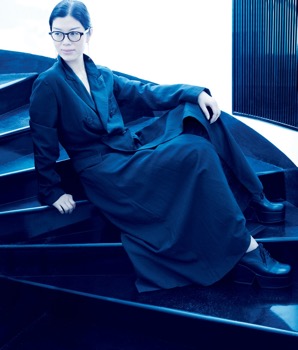 Something changed right after she enrolled in college to study mechanical engineering.
"I didn't find any clothes I liked, and so, because of those manual skills, I began to buy cloth for a few RMB (renminbi or yuan, literally 'the people's currency' Ed.) and immediately turned it into skirts and bags. The people around me started asking me where I got my clothes or found my inspiration. So I started designing clothes for others. And I have never stopped."
In fact, the story is rather longer than that. And it is full of hard choices, of crossroads, but Zhu Chongyun always knew which way to turn. Starting when, degree in hand, she convinced her parents –- teachers from a family of teachers -– to accept that she would not follow in their footsteps. "I asked my mother to let me go and explore the world. I spent my time at university reading newspapers and drinking tea. It was not my life. Of course, in the China of the time, giving up a government job was a strange thing to do, especially for a girl."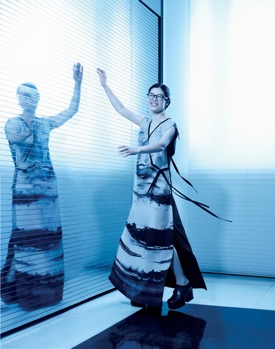 There followed years of construction sites and workshops, with Zhu the engineer putting up with unhealthy environments and infernal noise. Then while working in a company in the food sector she discovered management.
"I was in charge of acquisitions, sales and brand image. And in six months, the turnover tripled," she recalled.
She also discovered a talent for problem-solving. Until the time came for the final change.
"A friend told me about a clothing company in Shenzhen, at the time the promised land for young people looking to make their fortunes. The company was looking for someone who had experience in the sector and a degree in design. 'You don't have either of those,' I told myself. 'If you fill in the form you're finished.' The only thing to do was to talk to the general manager and let him know how much determination and how many ideas I had. So I did and I was hired."
We looked around. The tale of the self-made woman had attracted the attention of her collaborators. She noticed and said: "It has always been important for me to build a culture in my company. We dedicate most our days and our lives to work. So for me it is important to have a healthy environment and, this may be utopian, even a happy one. Making beautiful things is meaningless if we don't enjoy sharing them with others."
That is why she is constructing a new, futuristic headquarters in Shenzhen where the spirit of its founder will be translated into a spa and hotel for employees and their relatives. Here in Milan, however, having decided that the Krizia HQ will remain in Via Manin ("It's a beautiful place"), Mrs. Zhu has tried from the start to make it clear what she means by a team-family.
"Often I cook for everyone, but I shouldn't say that too loudly because when I am at home I almost never go into the kitchen."
And how did she see the future? Needless to say, Mrs. Zhu has a ready answer.
"I think I'll go on working like this until I'm 60, then I'll try to enjoy life in a different way. I won't retire from the company, of course, but I'll no longer be the only one in charge. But I want what I have achieved to be recognized, especially by young peo- ple, to give them hope and get them back to believing in a world of opportunity. Who knows, maybe I'll end up teaching, just like my parents wanted me to many years ago. Each stage of life is different from the one before: as a little girl I was a tomboy and I wanted to be a scientist, as a young woman I was a romantic engineer, at 30 I was an aspiring manager who designed clothes, and now I am an entrepreneur full of passion. In the future, having neglected my daughters, perhaps I will compensate by being a grandmother. But I also want to travel more, make new friends. I haven't yet had time to dream the next dream, but I know there is one."