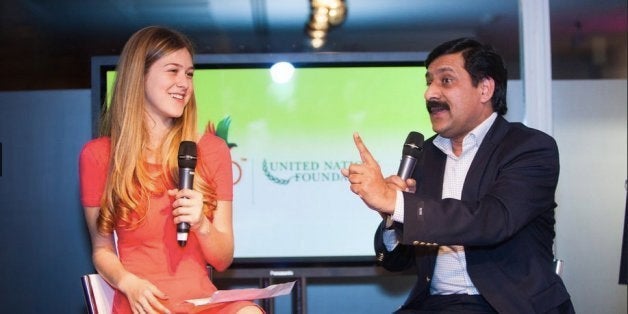 Ziauddin Yousafzai is an intelligent, light-hearted and brave man from Pakistan. He had the power to raise one of the most well-known, and insightful heroes because he understood something simple that many around the world find hard to grasp, "Education is emancipation." I was honored to go to London as the teen representative of the United Nations Foundation Girl Up campaign, where I had the chance to sit down and interview Mr. Yousafzai and present him with an award for his commitment to education for all children.
Around the world, Malala Yousafzai has gained international attention after she courageously fought back against the Taliban when they attempted to silence her, and kill her, for being a girls' education activist. Her bravery and tenacity sparked a global movement that demands that all women and girls receive an education. However, most people don't realize that the driving force and light behind her spark is her fearless father, Ziauddin. He has been an advocate for womens' education since long before Malala was born. He is the educational attaché of Pakistan in its consulate in the UK, runs a school district in his home town in the Swat Valley of Pakistan and is the UN Special Advisor on Global Education, but most importantly, he has raised a hero, and champion for girls around the world.
How was Mr. Yousafzai able to raise his daughter to become so eloquent, passionate and inspirational? Mr. Yousafzai recalls that when Malala was little, he didn't treat her as a young daughter, but he treated her as a close friend with whom he entrusted life wisdom and lessons. He jokes that when she was younger, she was known as his daughter but he is now known as her father. He stressed the importance of encouraging families to limit their time with technology and come together to have conversations face to face. But beyond any outlandish parenting tips, he explains simply what made his daughter so successful: he didn't clip her wings, or limit her opportunities simply because she's a girl.
The most valuable gift any father can give to their daughter to show that they are equal to men is to give them an education. Mr. Yousafzai explains that "education is emancipation" and allows an individual to be completely independent and ultimately successful. He says, "You give a girl an education and she will do the rest herself." Not only is education crucial for an individual girl's future, but also for the future success of their communities. Educating girls leads to a chain reaction of success in their communities. Mr. Yousafzai articulates that, "If we keep half of the population back we can't move forward" and also jokes that it will make mens' lives easier if they give more freedom and equality to their female counterparts, i.e. sisters and wives. He criticizes the common phrase of "survival of the fittest" and proclaims that "we should believe in the survival of the unfittest. We have to reach the most unfit, the most ignored, the most poor because this is our duty as humans."
For Father's Day, on behalf of the billions of girls around the globe, I want to thank Ziauddin for not only raising the most terrific champion for girls around the world but for also being such an amazing advocate for girls. His tireless efforts to ensure that all girls have equal opportunities, and endless support for Malala is laudable. Malala shared with me why she is grateful for her father and articulated perfectly why he's such an incredible man. She said:

My father is a great father not because he bought me an iPad or a laptop, but because he taught me that both girls and boys have equal rights; they have the right to get quality education. My father always encouraged me to believe in myself, to know a woman's power, to continue my journey of getting education and to speak for the education of those millions of children who are out of school. My father is a great father.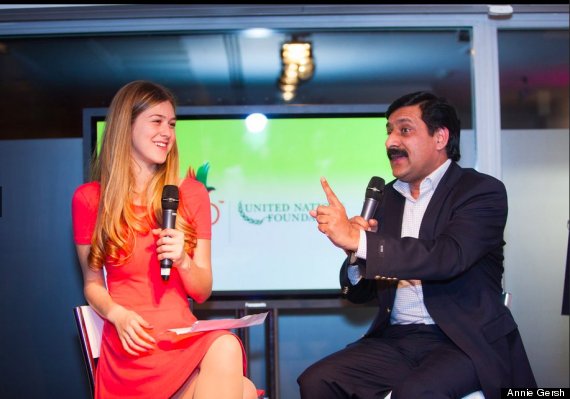 REAL LIFE. REAL NEWS. REAL VOICES.
Help us tell more of the stories that matter from voices that too often remain unheard.