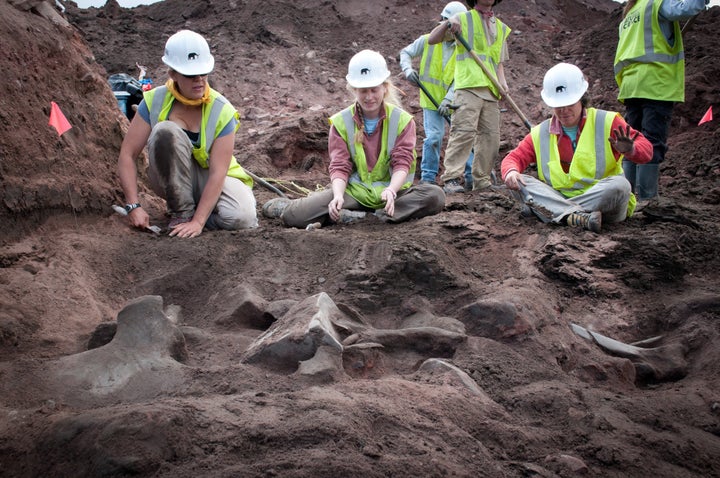 The largest fossil excavation project just wrapped up at the now infamous Ziegler Reservoir near Snowmass Village. The excavation quickly unearthed a grand total of 4,826 bones over a seven week period, becoming the most significant fossil site in Colorado history and freezing a geographic chuck of the Ice Age in time.
Finds from the site will make their way to the Denver Museum of Nature and Science to undergo a slow-drying process in an in-house lab meant to preserve and protect the fossils, which may take many months.
From the Snowmastodon Project press release:
74 large specimens in plaster jackets
49 tusks (29 upper jaw tusks and 20 lower jaw tusks)
34 mandibles (jaws)
23 skulls
20 pelvises
82 loose teeth

125 logs and numerous samples of peat, wood, leaves, and rocks
Next week the museum will host the "Ice Age Spectacular" to celebrate their Ice Age findings and display them for the first time. There will also be several touchable fossils near the preparation laboratory where the museum will be slow-drying their major finds.
Fossils discovered at the site were voted unanimously by the Snowmass Water and Sanitation District to be donated to the museum.
The National Geographic Society plans to feature the Snowmass Ice Age-finds on PBS as part of a NOVA special airing on PBS next year.
Upcoming events and activities:

Family Event: Ice Age Spectacular

Saturday, July 23, and Sunday, July 24
8 a.m.-noon (members only), 1-5 p.m. (open to all visitors)
FREE with admission
Celebrate the exciting discoveries and view fossils from the Ice Age site--on display for the first time at the Museum. Play games, make crafts, and check out the interactive show "Time Scene Investigation: Snowmass Village."

Fossil Preparation in Prehistoric Journey
Ongoing
FREE with admission
Watch as fossils from the site are prepared by staff and volunteers in the Schlessman Family Preparation Laboratory, near the exit of Prehistoric Journey. Also in the area, get the latest news from the dig site and visit the Mammoth Discoveries cart, which features:

photos, video, and interpretive information about the Snowmass Village discoveries
a volunteer facilitator to answer visitor questions
real tusk fragments from Snowmass Village to touch
peat samples from Snowmass Village
touchable mammoth and mastodon teeth
mammoth bone fragments

Evening Lecture: Snow, Mud, and Mastodons
Thursday, September 8
7 p.m., $12 for members/$15 for nonmembers
They battled snow, sleet, rain, heat, and massive amounts of mud to pull thousands of Ice Age fossils out of the ground. Now Kirk Johnson and Ian Miller, PhDs, will share all the latest "dirt" as they offer updates on the new discoveries, show off some of the spectacular finds, and explain what this project means to science and to Colorado.

Exhibition: Mammoths & Mastodons: Titans of the Ice Age
Coming in Spring 2013
The Museum will host a touring exhibition from the Field Museum, featuring video installations, hands-on interactive displays, life-size models, fossil tusks and skulls--and even touchable teeth. The exhibition features a 42,000-year-old intact baby mammoth named Lyuba. Discovered in 2007 by a Siberian reindeer herder and his sons, Lyuba is by far the best-preserved mammoth specimen ever discovered.
REAL LIFE. REAL NEWS. REAL VOICES.
Help us tell more of the stories that matter from voices that too often remain unheard.