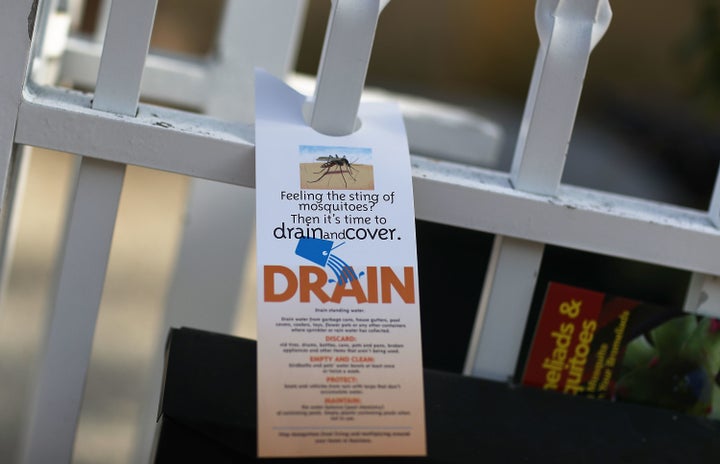 On Dec. 9, 2016, Florida Governor Rick Scott stood atop a Miami Beach hotel and announced that local transmission of the Zika virus was over and the state was "open for business."
His announcement coincided with a change in how the U.S. Centers for Disease Control classified South Miami Beach. Prior to that day, the area was a "red" zone for Zika, meaning it was an area with confirmed local transmission between multiple people. On Dec. 9, it joined the rest of the county as a "yellow," or "cautionary," zone, meaning it was a place in which at least one person had most likely contracted Zika; pregnant women in the area were at an "undetermined" risk.
"There is ongoing endemic transmission," said Dr. Christine Curry, a University of Miami obstetrician-gynecologist and Zika expert who is taking care of several pregnant women who have been infected with the virus. "The decrease in hype has been detrimental to public health and obstetrical care."
Pregnant women are of concern because Zika can cause severe fetal brain defects. In non-pregnant people generally, Zika can occasionally cause paralysis. More commonly, it causes joint pains, rash, and fever, which usually resolve within a few weeks. The vast majority of people infected with Zika – about 4 out of 5 – have no symptoms, and don't seek medical attention. This means the true prevalence of Zika is higher than what official numbers suggest.
As mosquito season approaches, here are some recommendations from Zika experts to reduce the spread of the disease:
1. Wear insect repellent. The CDC specifically highlights longer-lasting repellants that contain Picaridin, DEET, and IR 3535. Adults can use products containing oil of lemon eucalyptus and para-menthane-diol products, but children younger than 3 should not use these. Insect repellants should not be used on babies younger than 2 months, but the CDC and Zika experts stress that pregnant women can use repellant safely.
The repellant should be applied on exposed skin, on top of sunscreen. It shouldn't be used over the mouth, eyes, or skin cuts. The CDC recommends washing it off after returning indoors. They also recommend that travelers returning from Zika-endemic areas continue to use insect repellant for a few weeks after they return, in case they were unknowingly infected, so that they don't introduce the virus to a new neighborhood.
2. Get rid of standing water, even seemingly insignificant amounts. The mosquitoes that spread Zika "can complete their lifecycle in 2 cc of water – the equivalent of a bottle cap," Dr. Curry said. Pet water bowls should be changed and rinsed frequently, even if indoors.
3. Use condoms. Zika can be spread sexually, even if a person has no symptoms. The CDC recommends men use condoms for at least 6 months after visiting an area with Zika; women should use them for at least 8 weeks after visiting such areas.
4. Stay in a place that's cool – mosquitoes are less active when the temperature drops – and has screens on the windows. If that's not feasible, sleep under a mosquito net. "If you keep your house very cool, mosquitos don't like it," said Dr. Aileen Marty, an infectious disease professor at Florida International University. "The conundrum is that the way we cool our homes" contributes to climate change, which has been a boon to mosquito populations.
5. Consider the use of natural larvicides in outdoor flower pots and other containers that frequently collect water and are difficult to empty. Bacillus Thuringiensis Israelensis (BTI) is a soil-dwelling bacterium that blocks the growth of mosquito, fungus gnat and black fly larvae.
6. Cover skin with clothes made from cloth that has tightly woven fibers, and wear closed-toe shoes.
Erin N. Marcus is an internist in Miami. A version of this article originally ran in New America Media, a collaboration of 3000 ethnic news organizations.