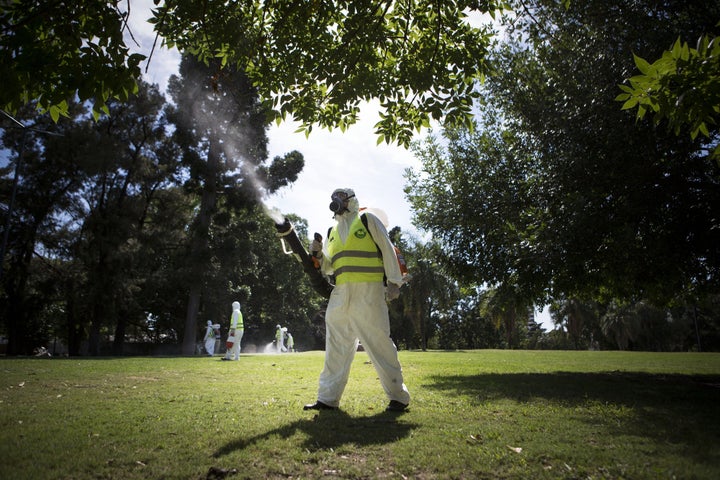 The Zika virus, which is spread by the Aedes aegypti mosquito, is strongly suspected to be linked to a new wave of microcephaly cases in Brazil. Babies born with the birth defect have smaller heads and sometimes brains that aren't fully developed, which can result in life-long developmental problems.
Zika is currently spreading through Central and South America and the Caribbean, and with the high volume of news about the virus, it's tough to stay up-to-date. Check out our full coverage, or read our daily recaps.
Here are four updates, opinions and developments to know about now:
1. Genetically modified mosquitos divide scientists and environmentalists
The World Health Organization's advisory group recommended further trials of genetically modified mosquitos to fight Zika virus. The GM mosquitos could stem Zika's spread by releasing sterile male insects, who diminish the mosquito's population when they fail to reproduce. Another potential strategy is injecting Wolbachia bacteria into the mosquitos; the bacteria doesn't affect humans, but prevents female mosquitos' eggs from hatching if they mate with an infected male mosquito.
But environmentalists warn of unintended consequences: Controlling insects by genetically modifying them and eliminating an entire species of mosquitos could affect the world's delicate ecosystem in unforeseen ways.
Vector control experts disagree."This is an invasive species, so getting rid of these mosquitoes would, if anything, restore the natural ecology, not destroy it," Jo Lines of the London School of Hygiene and Tropical Medicine told Reuters.
In reality, the technology is so new that the long term-consequences are anyone's guess. "You would hope that the ecology would just return to how it was before this mosquito arrived," Line's colleague Jimmy Whitworth, an infectious disease expert, told the Associated Press. "But there's no way of knowing that for sure."
2.
Brazilian state suspends water treatment over fears it causes birth defects
Brazilian and U.S. health authorities denounced the report, published by the group Red Universitária de Ambiente y Salud (University Network of Environment and Health), which is not based on lab studies or research of any kind. U.S. health officials like Dr. Francis Collins and Dr. Anthony Fauci of the National Institutes of Health emphasized that there is strong evidence suggesting the Zika virus is involved in the microcephaly birth defects. Scientists have yet to definitively confirm that the virus causes birth defects, though the World Health Organization says we're "weeks" away from confirmation.
3. Tough choices for pregnant women with Zika virus in Colombia
The first case of Zika virus in Colombia wasn't detected until October 2015, so most pregnant women who have contracted the virus haven't carried their pregnancies to term at this point.
But already, the country provides a strong contrast to Brazil, where strict abortion laws prevent women from terminating pregnancies, even in the case of Zika infection. Doctors in Colombia, meanwhile, are performing legal abortions for pregnant women who contract Zika, the New York Times reports.
Still, it's a difficult choice for nearly 3,000 pregnant Colombians, many of whom don't support abortion for religious reasons, and especially since there haven't been any Colombian babies born with the birth defect microcephaly -- yet.
For now, abortions in Colombia are uncommon, and Colombian health officials are advising women to delay pregnancy until more is known about the suspected link between Zika virus and microcephaly.
4. Mexico reports 6 cases of pregnant women with Zika virus
Six pregnant women in Mexico have Zika virus, according to the Mexican health ministry, marking the first cases of the virus in pregnant women reported in the country. Four of the six cases were reported in Chiapas, a poor state in southern Mexico, where more than half of the country's Zika virus cases have been detected so far, according to Reuters.
The countries and territories under travel alert by the U.S. Centers for Disease Control and Prevention are: American Samoa, Barbados, Bolivia, Brazil, Cape Verde, Colombia, Costa Rica, Curacao, Dominican Republic, Ecuador, El Salvador, French Guiana, Guadeloupe, Guatemala, Guyana, Haiti, Honduras, Jamaica, Martinique, Mexico, Nicaragua, Panama, Paraguay, Puerto Rico, Saint Martin, Samoa, Suriname, Tonga, Venezuela and the U.S. Virgin Islands.
Read more Zika virus coverage: