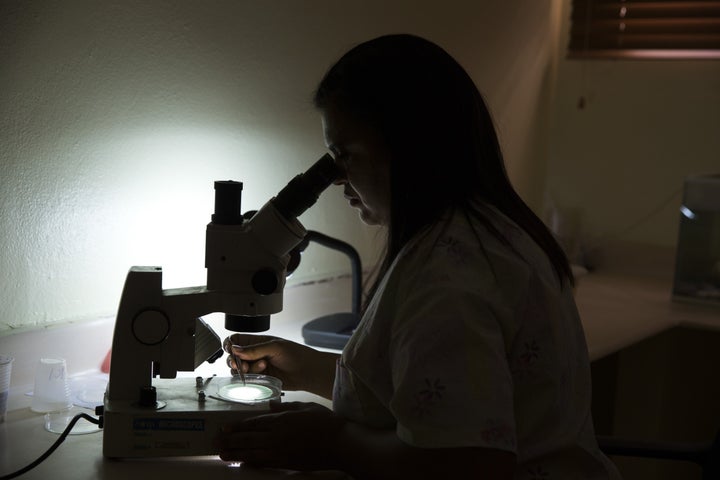 This week, while research groups formed coalitions to develop a Zika virus vaccine, scientists learned more about the disease after an autopsy report showed Zika virus in brain tissue of an aborted fetus. The fetus's mother had contracted Zika virus in Brazil during her first trimester.
The Zika virus, which is spread by the Aedes aegypti mosquito, is strongly suspected to be linked to a new wave of microcephaly cases in Brazil. Babies born with the birth defect have smaller heads and brains that aren't fully developed, which can result in life-long developmental problems.
1. Brazil and Texas University parter to develop a Zika vaccine
The University of Texas Medical Branch and the government of Brazil signed a deal to collaborate on a Zika virus vaccine, with a goal to start clinical testing within a year, The Associated Press reports. The new partnership is one of several alliances that Brazil's ministry of health has forged in response to the country's Zika outbreak, including a collaboration with the U.S. Centers for Disease Control and Prevention and GlaxoSmithKline, the pharmaceutical company that helped developed an Ebola vaccine following the 2014-2015 outbreak of the disease in West Africa.
In a statement following the announcement, Brazil's health minister, Marcelo Castro, outlined a three-pronged approach to addressing the virus: Mosquito control, patient treatment and research and development.
"We have no doubt that Zika virus causes microcephaly, but there are other hypotheses that could be proven in the future, other factors that also influence it," Castro said, according to HuffPost Brazil.
2. Autopsy found Zika virus in fetal brain tissue
While the link between Zika virus and the birth defect microcephaly is still unproven, a new study provides some clues to understanding the virus, The Associated Press reports. An autopsy a fetus aborted from a woman who contracted Zika virus in Brazil during her first trimester revealed that the fetus's brain was only a fraction of the size that would be expected at that stage of development. Scientists found Zika virus in the fetus's brain tissue, but not in any other organs. Scientists sequenced the virus's genetic material for future research that investigates the probable link between the virus and microcephaly.
"A fetus autopsy, from a woman who contracted Zika virus in Brazil during her first trimester, revealed that the fetus's brain was only a fraction of the size that would be expected at that stage of development."
New details are emerging about the infants born with microcephaly. According to a very small study, published in JAMA Ophthalmology, a third of the study subjects, all of whom had microcephaly, were also born with eye damage, including lesions or scars in the retina and optic nerve. It's unknown if the eye damage is unique to microcephaly or if it occurs in the general population.
3. Brazil confirms deaths linked to Zika virus
Three people with Zika virus infections died in Brazil last year, confirmed the country's health ministry, but Reuters reports it's unclear if the disease was the sole cause of death. One was a 20-year-old woman who died of respiratory problems that were likely linked to the virus, said Brazil's health minister.
4.
How Zika virus may threaten Africa
Zika virus was discovered in Uganda in 1947, but it hasn't erupted in an epidemic with possible birth defects in African countries the way that it has in Latin America. But now, in 2016, experts are worried that the virus may return to the African mainland in mutated form, potentially triggering a new wave of infections among a population that had previously been immune to the disease, reports Reuters.
Right now, the island nation of Cape Verde is the only country in Africa with ongoing Zika virus transmission. But frequent flights connecting these islands to cities on the African mainland has health officials worried that the virus will soon migrate, notes Reuters. Africa has more than 20 different kinds of mosquitos that can carry Zika virus, although its unclear whether they can transmit the disease to people with the same ease as the Aedes Aegypti mosquito.
5. The pope should weigh in on Zika virus, condom use and abortion, says advocacy group
The religion expressly forbids the use of any contraception during sex, except to reduce the risk of AIDS -- an amendment former Pope Benedict wrote about in 2010. Now, the advocacy group Catholics for Choice is asking current Pope Francis to make it clear that reducing risk of Zika virus should also be another exception to the condom rule, reports Reuters. The pope is set to travel to Cuba and Mexico Friday, and for Catholics for Choice, the trip is an opportunity for him to show he truly stands "in solidarity with the poor" about Zika virus, both about the use of condoms and a woman's decision to have an abortion.
Still have questions? Zika experts at the Centers for Disease Control and Prevention are also hosting a Twitter chat on Friday, February 12, at 11 a.m. EST, to answer your Zika questions. Use the hastag #CDCchat.
Read more Zika virus coverage: