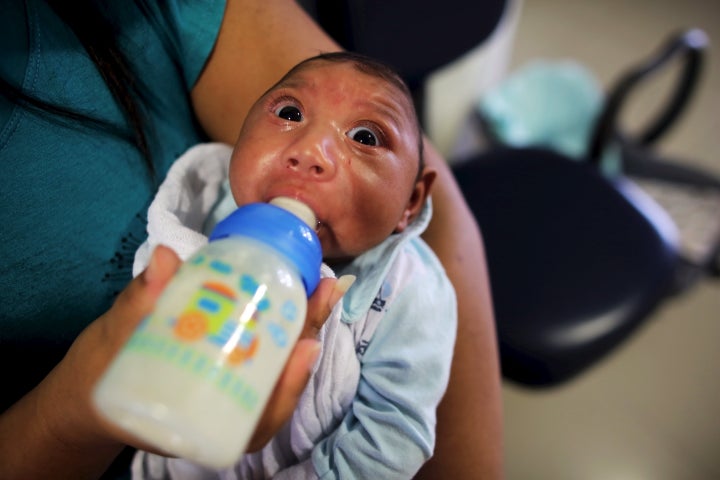 Zika virus is the cause of microcephaly and other fetal brain defects, the U.S. Centers for Disease Control and Prevention confirmed Wednesday.
While there isn't yet "conclusive proof" that the mosquito-borne virus causes severe birth defects, health officials asserted that the totality of the research thus far clearly shows that there is a causal connection, and that there is good reason for pregnant women and their partners to protect themselves against mosquitoes in regions where Zika virus is spreading locally.
"We've now confirmed what mounting evidence has suggested, affirming our early guidance to pregnant women and their partners to take steps to avoid Zika infection and to health care professionals who are talking to patients every day," said CDC director Dr. Tom Frieden in a statement. "We are working to do everything possible to protect the American public."
The CDC joins scientists from around the world who are also convinced the virus is a cause of microcephaly, as well as the rare neurological disorder Guillain-Barré syndrome. The World Health Organization released a statement about this global scientific consensus back in March, and CDC published their review of the scientific evidence linking Zika virus and microcephaly on Wednesday in the New England Journal of Medicine.
This causal relationship means that women who contract Zika virus while pregnant have an increased risk of giving birth to a baby with microcephaly and other brain defects. But it doesn't mean that it will happen to all women who get Zika virus while pregnant.
More research is needed to establish the relative and absolute risk of having a baby with a birth defect, the CDC's researchers write in their study review. Scientists also need to know the range of defects caused by a prenatal Zika virus infection, as well as explore any other factors that could influence birth defect risk.
The CDC will continue to recommend that pregnant women in the U.S. avoid travel in areas where Zika virus transmission is ongoing. They also recommend that men with pregnant partners either abstain from sex or use a condom always after traveling to a region with Zika virus, as the disease can be transmitted sexually and potentially harm a growing fetus.
For couples living in an area with active Zika transmission, the CDC added a recommendation to seek help from health care providers to carefully plan pregnancies and avoid the risks associated with the virus.
Zika virus is spread primarily by the mosquito species Aedes aegypti. The biggest outbreak of the disease is centered in Brazil, where about 7,000 babies with reported microcephaly have been born since 2015. Health officials there have investigated and confirmed that 1,113 babies do indeed have microcephaly or other defects, while so far confirming that 2,066 do not. The rest remain under investigation.
However, U.S. health officials are gearing up for the upcoming mosquito season by warning Americans in high-risk areas like southern Florida and southern Texas to use repellant and wear long-sleeved clothes. In January, CDC officials said a small Zika virus outbreak in the U.S. was "likely."