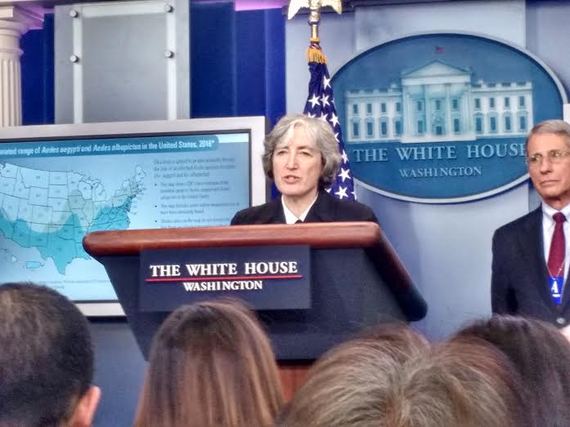 Photo copyright Anna Wilding annawilding.net 2016 Dr Anne Schucaht and Dr Fauci
Today, in a White House briefing Dr Anne Schucaht, Principal Deputy Director of the Center for Disease Control said everything to do with the Zika virus is, "Scarier than initially thought."
While Congress has all but ignored the White House administration's formal request for $1.9 billion in funding to control, prevent, and combat the Zika virus, the CDC and NHIAID have gone full speed ahead in its research to stop the virus. President Obama last week announced he had re-appropriated a small portion of the resources for Ebola to fight Zika,but this amount falls a long way short of the $1.9 Billion needed.
Citing a close relationship with the pharmaceutical industry for disease vaccination and preventions, Dr. Fauci, Director of NIH/NIAID in the same press conference today was abrupt and to the point and said he needed the full $1.9 Billion. He said that if he didn't get it he would have to draw funds from other worthy areas, such as malaria, and flu vaccinations.
The mosquito that carries the virus, which is the same as the Dengue and Chikungunya mosquito, is now known to be in 30 US States and territories, not just the 12, previously established. Puerto Rico is of big concerns to the CDC with a large mosquito vector there, that effects hundreds of thousands of people. Dr Schucaht also cited that American Samoa has been included for preventative kits. American Samoa is a long way from South America, where the current outbreak started.
This begs the question, how did it get there, and will it now spread to other Pacific island nations? The disease was first discovered in 1947. For a list of actions the Administration needs to take to combat the Zika virus this summer, please read our prior report Congress and Zika -
Calling all HuffPost superfans!
Sign up for membership to become a founding member and help shape HuffPost's next chapter