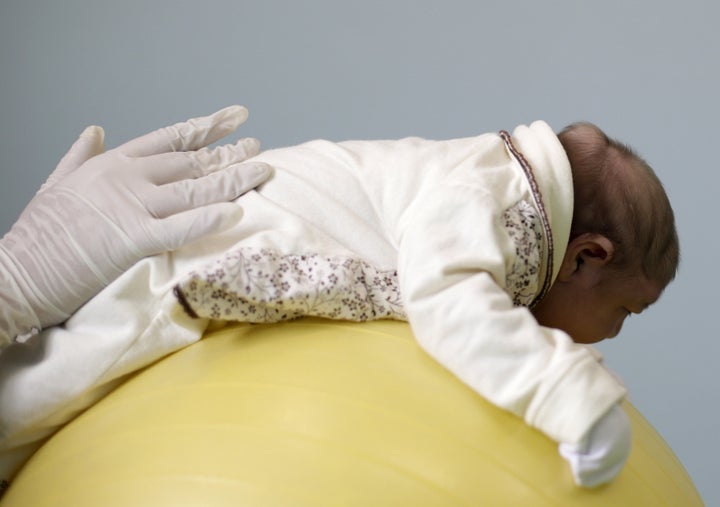 The most commonly known birth defect caused by Zika virus is microcephaly, a condition in which an infant's head circumference is smaller than average. It can indicate brain damage and lifelong learning and mental disabilities for the child.
Now a new study is shedding light on yet another serious condition that can Zika virus can cause in infants.
Arthrogryposis, a condition in which the body's joints are malformed, preventing normal flexion and extension, should be added to the list of potential consequences for newborns whose mothers were infected with Zika virus, according to researchers in Recife, Brazil.
Before 2015, arthrogryposis in infants had not been linked to a maternal viral infection. Instead, it was usually linked to fetal akinesia, when a fetus does not move around enough in the womb for multiple reasons. Not counting Zika-linked cases, arthrogryposis is relatively rare, affecting only one in 3,000 children. To put that in context, cerebral palsy, the most common motor disability in childhood, occurs in as many as four babies out of every 1,000 live births.
The new study was a small case series involving seven babies born with arthrogryposis in Brazil. Lead researcher Vanessa van der Linden of the Barão de Lucena Hospital in Recife concluded that "congenital Zika virus syndrome," a disease that describes birth defects caused by exposure to Zika virus in the womb, should be added to the list of potential causes of arthrogryposis.
'This is a new disease'
Van der Linden argues that congenital Zika syndrome causes more than just microcephaly. In addition to arthrogryposis, she said, other symptoms can include visual and hearing impairment, even when a baby is born with a normal head circumference.
"This is a new disease, and we need time to follow these patients and better understand all aspects," she told The Huffington Post.
A report by the U.S. Centers for Disease Control and Prevention linked arthrogryposis to Zika back in January; Of 35 babies born to mothers who had lived in or visited an area affected by Zika virus, four had the condition.
Van der Linden's study, published Tuesday in the medical journal BMJ, is the first in-depth look at the potential causal link between Zika virus and arthrogryposis. Of the seven infants with arthrogryposis examined by her team, two tested positive for Zika virus antibodies, all but one also had microcephaly, and four of their mothers remembered having a rash sometime during pregnancy.
The babies were all screened for toxoplasmosis, cytomegalovirus, rubella, syphilis and HIV ― five other maternal infections that can cause microcephaly in newborns ― and tested negative. Consequently, all seven infants were presumed to be exposed to the Zika virus in utero.
The study also goes into detail about the kind of arthrogryposis-related malformations the infants suffer, marking the first time researchers have done so. In the photo below, babies with Zika-linked arthrogryposis are shown to have club feet, deformed fingers, and joint contractures in their knees and arms.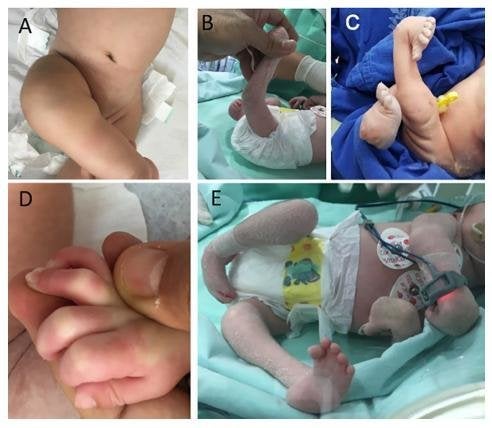 Van der Linden studied the infants' malformed joints by examining them with high definition ultrasound, and said the results suggest the joints did not develop abnormally. Instead, she suspects that the arthrogryposis was caused by a nervous system disorder, hypothesizing that the motor neurons in charge of flexing or relaxing muscles led the fetuses to become fixed or frozen in certain positions, thus causing the deformities.
Because hers was an observational study, she can't be sure of how Zika virus caused arthrogryposis, if at all. But Zika virus has already been shown to enter a developing fetus' nervous system, as Van der Linden suggests it did in these babies, where it wreaks havoc by killing brain cells and leaving calcium deposits in the brain.
There is so much we still don't understand about Zika
Because van der Linden's paper was a case series study that only examined a handful of patients, there's no way to estimate the prevalence of arthrogryposis among infants exposed to Zika virus in the womb.
But Dr. Jeffrey Klausner, a medicine and public health professor at the David Geffen School of Medicine at UCLA, says that these kinds of studies need to continue because we still don't have a comprehensive understanding of all the effects Zika virus can have on a developing fetus.
"It's important that these studies are done, because we really don't have a good monitoring system for birth defects globally," Klausner said. "This is a major global health problem."
Klausner also said that van der Linden's paper, which detailed the range of devastating consequences that can occur when a pregnant woman acquires Zika virus, reaffirmed the importance of infection prevention, especially now that the virus is local in Miami.
It also makes Congress' failure to pass a bill that would invest in Zika virus vaccine research and local public health prevention all the more galling.
"Congress' lack of new funding for research, improving local public health capacity and supporting care of babies affected with Zika virus just really tells us that these politicians are indifferent to the medical, public and social effects of this ― in some people ― devastating infection," Klausner said. "It's really shameful and it's a dereliction of their elected responsibilities."