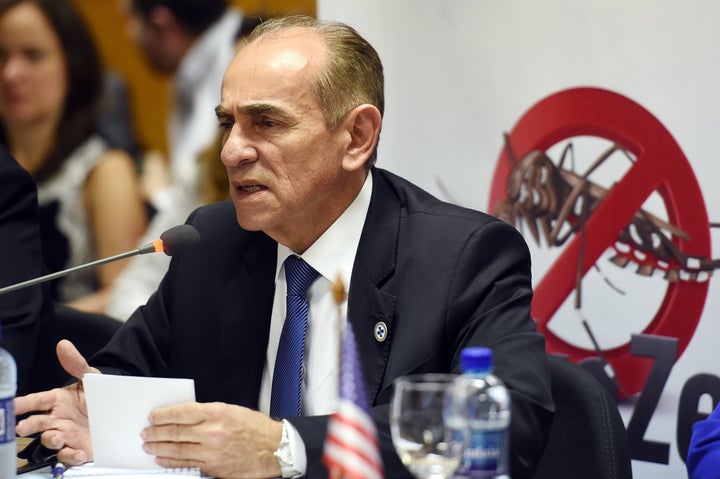 The Zika virus, which is spread by the Aedes aegypti mosquito, is strongly suspected to be linked to a new wave of microcephaly cases in Brazil. Babies born with the birth defect have smaller heads and sometimes brains that aren't fully developed, which can result in life-long developmental problems.
Zika is currently spreading through Central and South America and the Caribbean, and with the high volume of news about the virus, it's tough to stay up-to-date. Check out our full coverage, or read our daily recaps.
Here are five updates, opinions and developments to know about now:
1
. The Pope weighs in on contraception amidst Zika virus outbreak
Pope Francis said Wednesday that using birth control to prevent a pregnancy is "not an absolute evil," but he stopped short of condoning abortion, which he called "a crime, an absolute evil."
The Catholic Church generally opposes contraception, but, like Francis, previous popes have suggested exceptions might be made for women in extraordinary danger of being raped (as was the case for nuns in Belgian Congo during the 1960s) or to prevent the spread of HIV.
Several countries affected by Zika virus outbreaks have advised women to delay pregnancy if possible -- a difficult request in some areas where there is little access to birth control or in heavily Catholic areas that do not believe in contraception.
World health authorities suspect that Zika virus may be the cause of severe birth defects, and a handful of reported cases in the U.S. suggest that the disease may be transmitted sexually. For this reason, the World Health Organization and the U.S. Centers for Disease Control and Prevention recommend that recommend that pregnant couples use condoms correctly and consistently if either partner may have been exposed to to Zika virus.
2. There's even more evidence linking Zika to microcephaly
A new study published in the journal Lancet Infectious Diseases found Zika virus in the amniotic fluid of two pregnant women whose babies were born with the birth defect microcephaly, Reuters reports. Scientists say the study suggests that Zika can cross the placenta barrier and potentially infect a fetus. The women's urine and blood samples tested negative for the virus.
"This study cannot determine whether the Zika virus identified in these two cases was the cause of microcephaly in the babies," said study author Ana de Filippis. "Until we understand the biological mechanism linking Zika virus to microcephaly, we cannot be certain that one causes the other."
3. "Most" microcephaly cases in Brazil are likely related to Zika, health ministry says
The Health Ministry of Brazil said that of the 508 recently confirmed cases of microcephaly in the country, the majority are probably linked to Zika, and that earlier microcephaly estimates had been too conservative, according to Reuters. There are currently 3,935 suspected cases of microcephaly being investigated in the country.
4. First Zika case reported in Trinidad and Tobago is thought to be locally acquired
A 61-year-old Trinidad and Tobago woman was diagnosed with Zika after a blood test, the country reported Wendesday. Although the patient traveled internationally in January, her trip was to New Zealand, a Zika-free zone, leading health experts to suspect that her infection was acquired locally. If confirmed, it will be the first locally acquired case of the virus in the island nation, Reuters reports.
5. Argentina battles a dengue outbreak, spread by the same mosquito as Zika virus
The Aedes aegypti mosquito, which is the primary vector for both Zika virus and dengue, is wrecking havoc in Argentina. Nearly 4,900 cases of dengue -- a tropical virus which causes nausea, fever, severe pain, and in rare cases, death -- have been reported in the first five weeks of 2016. Experts fear the actual number of cases could be 10 times as high as reported, according to the New York Times.
While Argentina has only had a handful of travel-related Zika cases this year, health experts fear that the thriving Aedes aegypti mosquito population, combined with standing water in urban areas, could be setting the stage for the virus.
"I think the conditions are there for Zika outbreaks," Jorge Osorio, a professor of pathobiological science at the University of Wisconsin told the New York Times. "We have a mosquito population and we have people traveling from Argentina to Brazil."
The countries and territories under travel alert by the U.S. Centers for Disease Control and Prevention are: American Samoa, Aruba, Barbados, Bolivia, Bonaire, Brazil, Cape Verde, Colombia, Costa Rica, Curacao, Dominican Republic, Ecuador, El Salvador, French Guiana, Guadeloupe, Guatemala, Guyana, Haiti, Honduras, Jamaica, Martinique, Mexico, Nicaragua, Panama, Paraguay, Puerto Rico, Saint Martin, Samoa, Suriname, Tonga, Venezuela and the U.S. Virgin Islands.
Read more Zika virus coverage: