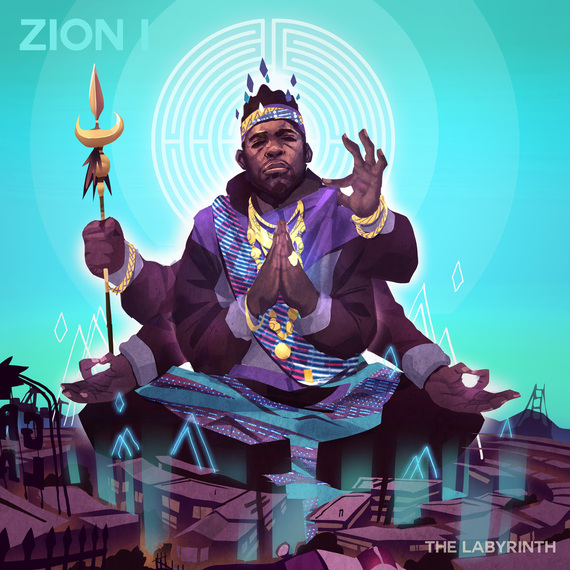 Oakland-based hip hop artist Zion I, also known as Baba Zumbi, has finally emerged from the studio ready to release his new solo album, The Labyrinth, after parting ways with AmpLive. Dropping on October 21st, 2016 with Mind Over Matter Records, the project was produced by Ariano, Mikos the Gawd, Teeko, and Decap with featured guests Deuce Eclipse and Codnay Holiday.
As a part of the conscious hip hop movement, Zumbi creates songs that are imbued with soulful, sociopolitical, and deeply personal lyrics. The Labyrinth's opening track "Pre-Destine" is a recording of his almost two-year-old son, Kenji, as he softly coos and giggles into the mic. This sets an interesting tone for the album as the listener is taken on a journey through the many facets of Zion I. Zumbi not only shares his light and love for his son, but also the darker side of life with the track "Not Your Fault" which was written the night his father passed away last year. While expressing the sorrow that death often brings, he also remembers the great impact his father had, and continues to have, upon his life. Exploring the vast spectrum of human emotions, Zumbi shares his vulnerabilities through his music which is a reflection of his strength.
Using his words as a vessel for change, Zumbi is also an activist who confronts the many issues faced by our country as well as his local community. The track "Let Me Be" is a social commentary on the current state of black America and the many struggles we face as a nation. "From hip hop, to the executions of black males by police, we are at crossroads," says Zumbi. "As a father of three, I have to do my best to prepare my children for the world they will inherit." His music is not only an investment in his present life but also an investment in the future of his children.
This past summer, Zion I released the track and video "Tech $" which addresses the rapid gentrification of the Bay Area, Oakland in particular, due to the exponential expansion of Silicon Valley. With lines like "why not empower the people here already," and "is technology a blessing or a cancer," this song garnered significant attention appearing on the Wall Street Journal's Market Watch, KTVU Channel 2 News, and several national blogs. His poignant lyrics reach beyond the hip hop community, allowing his message to be heard by those who don't even realize that they need to hear it.
While Zumbi's lyrics on The Labyrinth are what connect the listener to the album, the instrumentals are what move the listeners. Well-mastered and bass-driven production gives these tracks a crunchy, viscous feel that wash through your cerebral cortex in waves. Tracks such as "What We Gone Do" and "Believe" showcase a more ethereal style of electronic production with heavy bass that is punctuated with high end trebles and female vocals. Then there are the heavy-hitting tracks like "Wake Up" and "Smoked" that would rattle the innards of an entire dancefloor full of people. A creative blend of hip hop, R&B and electronic bass music, Zion I with his team of producers has created an album that is as heartfelt as it is badass.
Check out the exclusive Huffington Post premiere of his latest video for "What We Gone Do"
Calling all HuffPost superfans!
Sign up for membership to become a founding member and help shape HuffPost's next chapter