Most people in the world today travel often, whether it is for work or for fun. However, it can be a stressful experience, starting with packing. It can be a challenge to pack what you need for a trip while also trying to meet weight requirements and ensuring that your belongings will remain intact during flights.
Regina Ye knows this frustration well. Being an international student attending college in the United States, and having visited more than twenty countries, one might say she is well acquainted with the packing process. While this beauty guru is a pro at international travel, her biggest challenge involves traveling with her cosmetics and beauty products, many of which are bulky, have fragile packaging that are prone to leaks or spills, and generally are not efficient. Regina has often found that travel size products are expensive and not sustainable, but the empty plastic containers sanctioned for travel are not sturdy enough. After years of experimentation, her biggest packing pet peeve still hadn't been resolved. So she set out to create her own solution.
A Computer Science major enrolled at Mount Holyoke College, Regina's ingrained mindset of optimization and user flow helped her think of a new design for product travel that was both practical and aesthetically pleasing. She drew her inspiration from Legos, which can be made to fit together in different ways; Rubik's Cubes, which retain their volume but can be reconfigured within themselves; and stackable pencils, where each section fits to another. Suddenly, ZIRUI (the company) and the ZIRUI Go Case were born.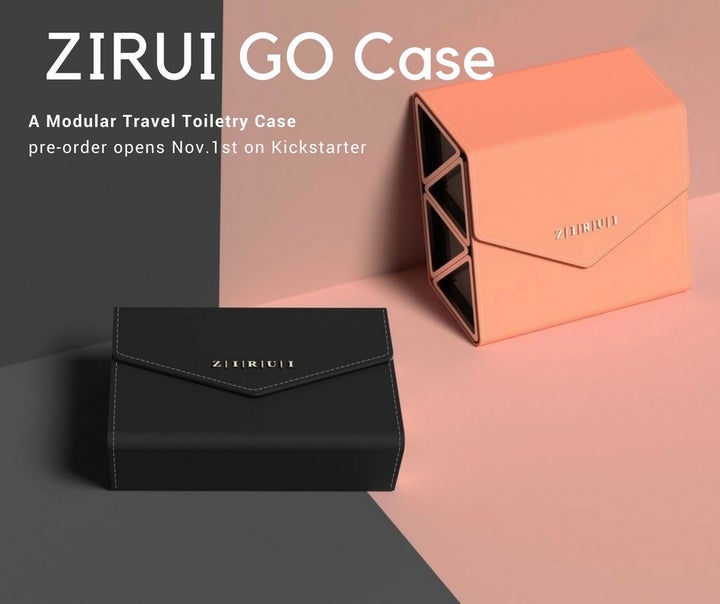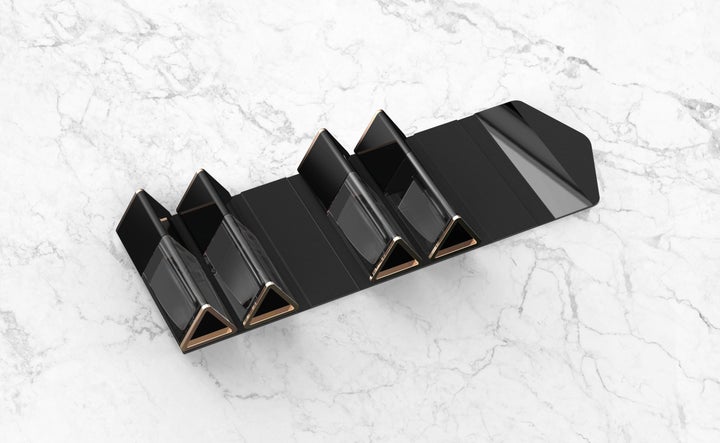 The ZIRUI Go Case, (pronounced ZEE-RAY), which comes from Regina's name in Chinese and means smart beauty, is a patent-pending smarter travel kit for liquid products that also conforms to TSA regulations. It is comprised of modular packaging that keeps triangular bottles magnetically attached to an outer cover. The cover folds, the containers fit neatly together, and your beauty products are well protected. While the first prototype is made mostly for liquid products, Regina hopes to create versions for palettes, brushes, and other beauty needs. Her goal is to mobilize women's beauty collections and design personal care products that actually reflect the busy modern human's lifestyle.
"We want to be the future of beauty," said Regina. "Everyone is increasingly busy and constantly changing in and out of their social roles such as daughters, mothers, professionals, consumers, etc. The context of beauty has expanded to beyond the home, to bars, meeting rooms, cars, and planes. We want to make a series of products that reflect the modern needs, and simplify them so people can spend less time getting ready, look great, and go out the door to conquer the world."
With her enterprising mind, Regina has attracted a team of passionate young entrepreneurs, and together they built a solid foundation for her new product and company on top of the fact that she is still a college student. While juggling her many school commitments and her personal ambition for ZIRUI, Regina feels she has achieved a good balance, and is willing to look at the bigger picture to achieve her goals.
"Colleges everywhere are all putting a lot of effort into helping entrepreneurial students," she said. "It's amazing how many opportunities and resources are out there now. I think it's a great time to be a student entrepreneur—it's the perfect time for me to take on the challenge."
Mount Holyoke College acted as a catalyst for Regina, as she took a course on entrepreneurship that gave her the opportunity to conceive ZIRUI, which she continued into an independent study. Regina was even able to use the school's Makerspace to create her first prototypes. Most importantly, as a student at a female liberal arts college, she felt she was in the optimum environment to think and act fearlessly and create outside the box. Regina also got her first taste of full-time entrepreneurship when she participated in Valley Venture Mentor's collegiate accelerator, an accelerator program for aspiring young entrepreneurs.
While Regina has had a lot of support in developing ZIRUI, she has also had her challenges, which she says come like ocean waves, one after another, and are simply part of the journey. But she has done her homework, and wants ZIRUI to be all about the user.
"Early on is the time to be self-critical, because if you're not harsh on yourself now, the market will be later," she notes. "We wanted to make sure we were not promising what we could not deliver, so we spent months searching for the best materials, manufacturers, testing the magnets, the best proportions, and color combinations. It's about quality and trust, and making sure you are proud of what you're offering."
Hard work definitely pays off, because Regina launched a Kickstarter campaign for ZIRUI on November 1. While she is excited to show the world what she has created, the conversation doesn't end there. She wants to grow ZIRUI to be the standard in stylish and compact designs, and to continue to meet user needs so that they can focus on slaying in their daily lives.
To contribute to the ZIRUI Kickstarter campaign, and get your own ZIRUI on pre-sale, visit https://www.kickstarter.com/projects/zirui/zirui-go-case-fill-snap-go.
Popular in the Community