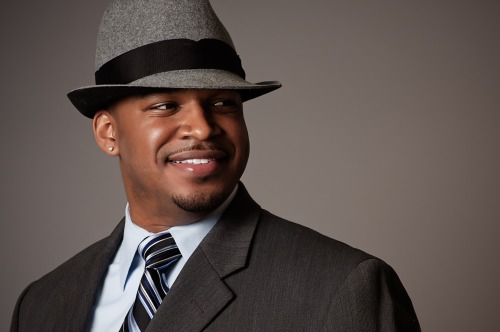 The music of the Detroit born and raised multi-instrumentalist/producer Lorenzo Ferguson, known to all us as Zo!, brings back the deep soul music from generations past. Currently residing in Maryland, Zo! has been releasing his own projects for over a decade now and is currently a member of The Foreign Exchange collective started by Phonte Coleman (formerly of the hip-hop group Little Brother) and Dutch hip-hop/soul producer Nicolay. Recently, Zo! released the newest chapter in his vast discography with ManMade, a voyage into depths of real soul music, and he's coming back to his hometown this Saturday, June 29th at the Elizabeth Theatre in downtown Detroit to present the album live in concert. I asked Zo! about the new album and his feelings about living a life in music.
How would you describe the progression of your projects from the early works to ManMade?
I think there's a greater quality of musicianship from album to album because of the time that I get to put in on my instruments. Experience has played a huge part in being able to develop a sound that I feel is my own as well as just being able to apply music making in the studio to more of a live experience because I've been on the road more often lately and it's been easier to pick up on what a crowd responds to. To me, live presentation and interaction with your listeners is just as important as your studio release. If you're able to make the two work hand-in-hand, you have a much better shot at connecting with your people musically.
Why did you name your album ManMade? What's the principle theme behind it?
ManMade describes the work ethic needed as a completely independent musician/artist. We're booking our own shows, building relationships with our listeners, making the music, etc. -- it is very much blue-collar work and you can't be afraid to get your hands dirty in order to accomplish long-term goals. Even the cover art is a depiction of me walking to work, where "work" is in this dilapidated building that represents our music industry. I'm basically representing the "last of a dying breed" group of artists who has no management, plays 95 percent of the instruments on the album, helps to distribute the music while touring... and I'm walking into this broken down building/industry to shine my light on it as much as I possibly can.
Did you work with anyone on the recording of ManMade?
Absolutely... I worked primarily with Phonte and the album features Sy Smith, Eric Roberson, Anthony David. Carmen Rodgers, Jeanne Jolly, Carlitta Durand, Gwen Bunn, 1-O.A.K., and Choklate.
What's your live show like? What do you want to convey to your audience?
My live show is free and FUN and that's exactly what I want to convey to the audience. I'm having fun with this music and you should be enjoying yourselves and partying right along with everybody on stage.
How does it feel to have music be your life?
It's a dream come true in the sense that I am able to touch the lives of complete strangers all over the world with music -- that will always be humbling and an unbelievable feeling to me. To play live and see peoples' faces light completely up when you hit their song, or watching as folks sing the words to your song so passionately that you would think they wrote it -- those are EXCELLENT feelings. On the flip, it is also an extremely difficult life to lead. "Soul music" is not necessarily what one would classify as a booming industry, so there are definitely real life obstacles involved. BUT in the end, it's all worth it... Music is creating a legacy for me and I'm excited and extremely blessed to be able to work at it full-time.
Do you feel like your music has some sort of spirituality to it?
Yes, absolutely. The fact that music is emotional creates and involves feelings that are MUCH deeper than just listening to a song. You become just as connected with music as you as you may with another person sometimes. Music even connects us WITH other people of ALL types simply because it is a universal language. We have all heard a song before and had it take us right back to a specific time, place, and mood. That's a spiritual connection.
How does it feel to just lose yourself in your music? And where do you think you go when that happens?
It's literally an out of body experience, especially when creating it - the higher power gets all of the credit. In that case, you go where the groove takes you, which is the exciting and unpredictable part of it all. This is yet another spiritual side of music.
Are you still teaching? What did you learn about music when teaching young students?
I'm not teaching in the classroom anymore. The school I taught in closed down in August of 2011. I do teach individual lessons now though. As a musician, teaching forces you to learn your craft inside and out because your students are going to hit you with a ton of questions from multiple angles and you have to be prepared to answer every last one of them. Plus, everyone learns differently so you have to devise alternative ways to deliver and pass on music theory and history. If you are more knowledgeable on the subjects, you have a much better chance of connecting with your students. And you must stay on top of your playing abilities because young students are always looking at you and saying to themselves, "What's he gonna be able to teach ME?" ...and then once you play for them, their doubts should slowly start to leave.
Who do you think was your greatest teacher in your life (whether about music or just life in general)?
My parents, without question. The foundation they built for me as I was growing up was incomparable. The many life lessons they have passed on while being #1 fans of what I do musically from day one... incredible. They're the original reason why I work as hard as I do.
Zo! plays the Elizabeth Theatre (2040 Park Ave) in Detroit on Saturday, June 29th with special guest Sy Smith, Choklate, Detroit's own Collective Peace and Gwenation. For more information on Zo! and his new album ManMade, visit www.theforeignexchange.com or www.zo3hree5ive.com.
Popular in the Community