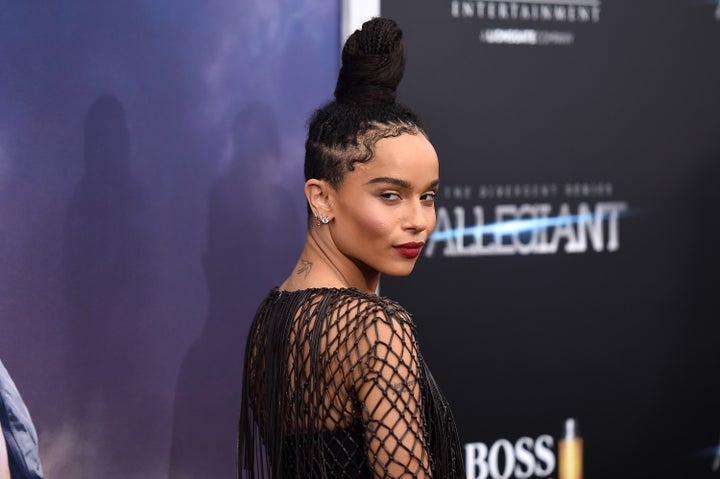 Zoe Kravitz has a message for directors who attempt to typecast her: "I can play all kinds of people. I don't have to play myself."
"People have tried to do that to me over and over again and I've been fighting it and fighting it," Kravitz said. "I would get auditions and it would be like 'they want you to play the best friend.' And it's like 'why can't I audition for the lead?' Then it'll be like 'OK now you're the quirky black girl,' or 'now you're a hippie.'"
Despite landing roles in blockbuster films including "X-Men: First Class," "Divergent," and "Mad Max," last year Kravitz shared in the July issue of Nylon magazine the reason she was unable to land a role in Christopher Nolan's "The Dark Knight Rises."
"They told me that I couldn't get an audition for a small role they were casting because they weren't 'going urban.' It was like, 'What does that have to do with anything,'" she said. "I have to play the role like, 'Yo, what's up, Batman? What's going on wit chu?'"
In an effort to prevent such experiences from taking place in the future, the 27-year-old actress tells the Associated Press that actors should take the initiative to diversify more roles in Hollywood by creating their own roles and making different choices. 
"It's our responsibility to say 'I'm not going to take the same role over and over again,'" she said. "I mean, of course actors gotta eat, but if it's something you believe in, we have the power to break the stereotypes by (a) writing our own things and (b) saying 'no' to the same thing over and over again. This industry is not colorblind, but I think actors can be."
Read more of Zoe Kravitz interview with The Associated Press here.
Calling all HuffPost superfans!
Sign up for membership to become a founding member and help shape HuffPost's next chapter
BEFORE YOU GO
PHOTO GALLERY
Zoe Kravitz Style Evolution