"I want a dyke for president," reads the rendering for a 20-by-30-foot public artwork in downtown Manhattan. "I want a person with AIDS for president and I want a fag for vice president and I want someone with no health insurance and I want someone who grew up in a place where the earth is so saturated with toxic waste that they didn't have a choice about getting leukemia."
Zoe Leonard's iconic 1992 poem, titled "I want a president," will soon be installed as a giant billboard on the High Line, New York City's elevated park in the neighborhood Chelsea. The bold words, presented by Friends of the High Line beginning Oct. 11, will appear just weeks before the 2016 presidential election, drawing a stark parallel between Leonard's lines from the '90s and the uneasiness many voters still feel today.
Leonard is a queer feminist activist known for her photography and sculpture, works that responded to the AIDS epidemic that devastated the artistic community in the 1980s and 1990s. She wrote "I want a president" when, as a press release for High Line Art points out, the poet Eileen Myles ran for president as an "openly female" independent candidate against George H.W. Bush, Bill Clinton and Ross Perot.
Leonard's poem was set to be published by a queer magazine at the time, but, when the publication dissolved, the work began to circulate amongst the artist's social group, its typewriter font passing from friend to friend to friend-of-a-friend. By 2006, the poem was turned into a postcard courtesy of the feminist genderqueer journal LTTR, and later read, translated and reappropriated by fans enduring their own tumultuous political experiences in the U.S. and beyond. Just this week, Dazed recruited musician Mykki Blanco to recite the text in a video online.
This month, Leonard's words are larger than life, set to be plastered on a pillar tourists throttle by every day. "I am interested in the space this text opens up for us to imagine and voice what we want in our leaders, and even beyond that, what we can envision for the future of our society," Leonard explained in a statement. "I still think that speaking up is itself a vital and powerful political act."
Leonard's poem continues in the "I want" construction, ending on a particularly searing indictment: "I want to know why we started learning somewhere down the line that a president is always a clown: always a john and never a hooker. Always a boss and never a worker, always a liar, always a thief and never caught."
It's difficult to read those words without conjuring the faces of Donald Trump and Hillary Clinton, comparing and contrasting the depths through which the candidates had to wade to get to where they are. "While Leonard's text speaks with the mourning, rage, and profound disappointment surrounding the AIDS epidemic and the consequent political inaction that left an indelible mark on our culture," Melanie Kress, assistant curator for High Line Art, said in a statement, "it also breathes heavy with the timeless experiences of health, wealth, loss, and love."
In an interview earlier this year with The New York Times, Myles revisited her run for presidency, looking back on the time when Leonard's poem debuted. As for the Trump v. Hillary showdown, she had the following to say:
Hillary is no Bernie Sanders. But she's a politician, and she understands Congress. And I think with that kind of twisted beauty, she could lead our country. I want a ''she'' in the White House now.
Zoe Leonard's "I want a president" will be on view from Oct. 11 to Nov. 17, 2016, on the High Line under the Standard hotel, overlooking West 13th and Little West 12th Streets.
Before You Go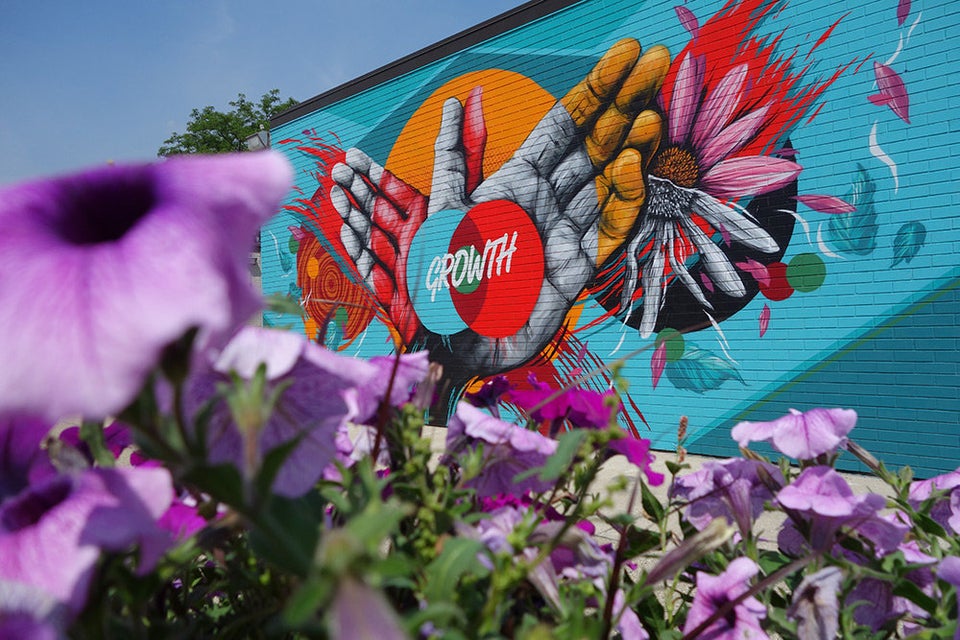 Murals In The Market Festival Covers Detroit In Public Art
Popular in the Community