Glam Belleza Latina will feature none other than Zoe Saldana on its fall cover.
The magazine sat down with the Dominican-American actress to talk about her life, career and upcoming portrayal of Nina Simone.
Glam Belleza Latina asked about her heritage, being a first generation American and all the pressure first generations face when they grow up. She answered:
"There's something really beautiful about being first-generation. You're in the middle, and you have to bring your parents and your grandparents to the other side. Yet, once you're on the other side, you want to maintain the beauty of tradition. I feel like I was raised in a very balanced way. My mom wanted us to always be who we are, but she told us fables and stories of where we come from.
The magazine also asked Saldana about what is was like to be a black Latina. "I am proud to be Latina," Saldana said. "I will not accept [anyone] telling me that I'm less or whatever, because to me, that is just hysterical."
She also said that she doesn't like to "break and divide" herself into small categories. As for her future children, she wants to make sure they learn Spanish like she did. "Even if you have to use Rosetta Stone," Saldana told the magazine.
"I do wish that people made their own judgment after they watch the movie because right now, it isn't even edited yet, and there's been so much uproar," Saldana said. "I can't say that I'm not affected by it or that it's not valid. But the one thing that we all have in common is an unconditional love and admiration and respect for Nina Simone. Something that's done out of love, in my mind, can't be right or wrong."

Saldana is the magazine's third-ever cover star.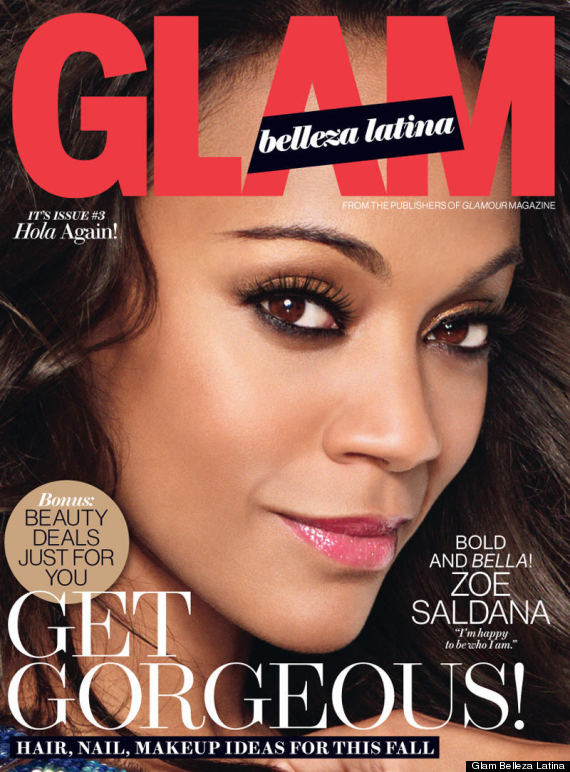 Zoe Saldana making news left and right lately
The "Star Trek" actress has been making headlines recently — and has been keeping very busy both in her professional and personal life.
Saldana is set to play the love interest beside Christian Bale in the new movie "Out of the Furnace" that comes out this November. She will play Bale's girlfriend. The movie is set in a poor Rust Belt city and revolves around Bale and his brother.
She's also recently partnered with Lionsgate to develop more Hispanic content — as part of an outreach project that Lionsgate is attempting to do with their new Hollywood studio, Pantelion.
And what would a Saldana headline be without a few juicy stories about her and her boyfriend — or as the rumors go, husband?
Rumors surfaced that the 35-year-old actress has secretly wed her artist boyfriend Marco Perego after they were spotted on a night out in London.
Calling all HuffPost superfans!
Sign up for membership to become a founding member and help shape HuffPost's next chapter
BEFORE YOU GO
PHOTO GALLERY
Zoe Saldaña: 2013