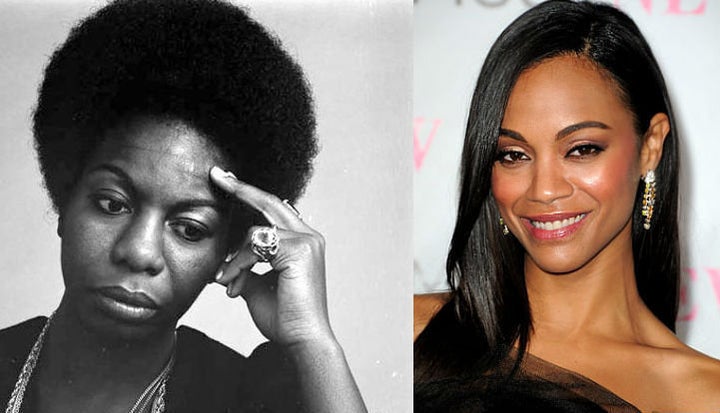 "I've never changed my hair. I've never changed my color, I have always been proud of myself, and my fans are proud of me for remaining the way I've always been."
- Nina Simone
When I think of Nina Simone I think of her dark chocolate skin, her full lips and her tight 'fro. Her looks were and still are every bit as relevant and powerful as the songs she sang. As a matter of fact, her undeniable African features defined and empowered her musical career. So it's no small wonder that people are outraged at hearing last week's confirmed announcement that Zoe Saldana, an Afro-Latina with a café au lait complexion and fine facial features, has been cast as the High Priestess of Soul in an upcoming bio-pic. The fires were fanned this past weekend when an interview by the film's writer and director, Cynthia Mort, surfaced in "Entertainment Weekly" where she talks about the biopic as something seemingly more inspired by Nina with composite characters than a film about Nina and the real-life characters from her life.
Zoe Saldana, best known for her roles in Avatar and Columbiana, may have the acting chops to play the lead in a feature movie, but when it comes to playing Nina Simone, I'm not so sure. It's not simply that Saldana looks nothing like Simone, a woman who could spit out a truthful and caustic Mississippi Goddamn that reminded you in no uncertain terms that she had been rejected because of her skin color. Casting Saldana also attempts, if inadvertently, to erase the memory of Simone's revolutionary ebon image from our minds and history's musical canon. Saldana as Simone specifically challenges the message of Simone's music and undermines the power of her well-documented resistance to conventional ideas of beauty and colorism. Nina's success and appeal had as much to do with her talent as it did with her having big lips, wide hips and that Mama Africa bosom. Unlike Lena Horne, Diana Ross & The Supremes, and Tina Turner whose crossover success was as much a result of having talent as well as having sexy live performances and glamorous good looks, Nina used her experiences with racism, colorism and sexism to ignite her music with strength and resilience heard so defiantly in To Be Yong Gifted & Black for example.
Because Simone's blackness extended as much to her musical prowess as to her physicality and image, it's perplexing that the film's production team, led by Jimmy Iovine, expects anyone, particularly in the black community, to (re)imagine Nina Simone as fair-skinned, thin-lipped and narrow-nosed? I guess if you look at Hollywood's history of casting black female roles, especially in biopics, it's not all that surprising.
With a few exceptions -- Angela Bassett as Tina Turner, Halle Berry as Dorothy Dandridge and Beyonce as Etta James -- Hollywood has a long history of giving black actresses the finger by casting white women in the lead of films based on the lives of black women -- most famously Elizabeth Taylor as Cleopatra. Angelina Jolie was given the green light to portray Mariane Pearl, an Afro-Cuban Chinese, French writer in the 2007 adaptation of Pearl's A Mighty Heart, which we kinda let slide because, well, it was Angie. But then she was cast again in a role based on a black woman character in the film Wanted, an adaptation of the same titled comic book series in which the main character is a black.
And the real kicker came in 2008 when Mena Suvari, a white actress, was cast in "St"uck, the true life story of African-American Chante Mallard, for which Suvari had the nerve to sport cornrows. If it only requires cornrows and a full-lipped box-office bombshell to secure these roles originally penned as black women, then what's to prevent any blonde, brunette, pale-skinned actress from playing black? And if that's the case, then surely Hollywood types also think a light-skinned Black woman can portray a dark-skinned Black woman.
Tim Burton and the other producers behind Abraham Lincoln: Vampire Hunter certainly thought so when they cast Jacqueline Fleming, a bi-racial woman, as Harriet Tubman. And hell, even Aretha Franklin wants Halle Berry, a bi-racial woman, to play her in her own life story. And yes, Halle is the highest paid Black actress in America, but is that reason enough for her to represent every Black women on the big screen? From X-Men's Storm to Zora Neale Hurston's Janie, to Dorothy Dandrige and now possibly The Queen of Soul, Halle's image has seeped into America's (cinematic) consciousness as the face of every Black woman making it seem like we are this monolithic community of sistas. If Aretha, known as much for her voice as much for her thickness (and her taste in hats) doesn't even think full-figured, Oscar-winning actresses Mo'nique or Octavia Spencer would be great choices to portray her life story, I'm really not surprised by Zoe's casting. And I get that actors do not have to resemble the famous personas they portray, but when there are so few empowering images of Black women in TV & film, details like weight, skin color and hair become serious sticking points amongst Black folk.
And doors do not open for Black actresses with dark skin as readily or as often as they do for their male counterparts. Actors like Wesley Snipes, Sidney Poitier, Don Cheadle, Idris Elba, Bill Cosby and Sam Jackson do not encounter the same level of marginalization and erasure as Whoopi Goldberg, Regina King, Viola Davis and Alfre Woodard.
Then there's Tyler Perry, who has produced films like Diary Of A Mad Black Woman and a remake of Ntozake Shange's For Colored Girls, and has cast a number of Black actresses in his movies. Unfortunately, when the lead female character in many of these flicks is a gun-toting, outspoken, Bible-thumping, righteous she-ro named Madea-- Tyler Perry in drag-- and the other Black women are depicted as non-sexual or hyper-sexual, emotionally scarred, spiritually bereft women who just need God, Madea and a man to be happy, self-poised and empowered, then even and especially these portrayals affirm the notion that Black women are monolithic, simple and bordering on irrelevant. If a man in a dress with a gun is a box-office hit and popular with Black audiences then Hollywood takes note and actresses who look like Viola Davis or Regina King find themselves disappearing from the big screen.
Since the announcement of Saldana as the lead in Nina's biopic was made, a petition on Change.org has been created, which demands that Saldana be replaced. Supporters of the petition would rather that role go to Lauryn Hill, Adepero Oduye, India.Arie or Viola Davis. The petition, however, has been met with criticism by some who believe the role of Nina Simone is turning into a debate about one actress being "blacker" than another. Those who support Zoe, who is outspoken about being an Afro-Latina, say that her Blackness should not be defined by the color of her skin or the straightness of her hair. The fact that Zoe is Black Dominican is all that should matter. If standards of Black beauty in this country didn't have a history of being valued and de-valued based upon their semblance to whiteness as the standard then maybe it wouldn't matter.
In 1966, the woman born Eunice Kathleen Waymon penned The Four Women, which begins, "My skin is Black/ My arms are long/ My hair is wooly/ My back is strong/ Strong enough to take the pain/ Inflicted again and again." Nina had the posture, past and physicality to make this song not only brazen, but also believable and therefore revolutionary in it's telling. How can Saldana possibly bring the pain in an afro-wig and, God-forbid, dark makeup? The producers may as well cast Madea because if it's going to be all about make-up, wigs and fat-suits, ain't nobody bringing it like Mr. Perry.
Popular in the Community