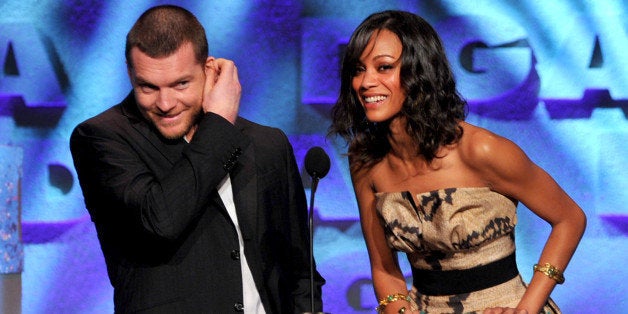 It's back to Pandora for Zoe Saldana and Sam Worthington, who are set to reprise their roles in all three of the forthcoming "Avatar" sequels, Fox announced Tuesday.
Production on James Cameron's sci-fi films is set to begin later this year, with all three movies being shot back-to-back, a la Peter Jackson's "Lord of the Rings" series. (Like Jackson's movies, the new "Avatar" trilogy will film in New Zealand.) "Avatar 2" is slated to arrive December 2016, with the third installment opening in December 2017 and the fourth in December 2018.
Stephen Lang, who played security-detail head Col. Miles Quaritch, will also return for the movies (never mind that he died in "Avatar"). Saldana is reprising her role as Neytiri, while Worthington plays disabled former Marine and Neytiri love interest Jake Sully.
"Jake Sully is a rare combination of passion, strength, street smarts and soul, which requires a lot from an actor," Cameron said in a press release. "Sam brought to the role a combination of sensitivity, vulnerability and strength. Zoe captured every aspect of the character I envisioned, bringing to Neytiri a mix of delicacy, fierceness and incredible physicality. I am beyond pleased they'll be returning with us to Pandora."
The first "Avatar" remains the highest-grossing movie of all time, having collected $2.8 billion worldwide. The 2009 film was renowned for its progressive visual effects and went on to receive nine Oscar nominations, including Best Picture and Best Director. It won for Best Art Direction, Best Cinematography and Best Visual Effects.
Cameron originally planned for two sequels but decided in August 2013 that the films "would not be enough" to tell the rest of the "Avatar" story. Different screenwriters were hired to crank out the needed scripts: Josh Friedman ("War of the Worlds," "The Black Dahlia") will craft "Avatar 2," Rick Jaffa and Amanda Silver ("Rise of the Planet of the Apes," "Jurassic World") are responsible for "Avatar 3," and Shane Salerno ("NYPD Blue," "Salinger") is behind "Avatar 4."
"It's going to be a lot of new imagery and a lot of new environments and creatures across Pandora," Cameron told The Associated Press last month. "We're blowing it out all over the place. At first I thought I was going to take it onto other worlds as well, in the same solar system, but it turned out not to be necessary. I mean, the Pandora that we have imagined will be a fantasy land that is going to occupy people for decades to come, the way I see it."
The director revealed the first "Avatar" sequel will center heavily on Scully. Cameron's intent is for the series to form a "family saga like 'The Godfather.'"
Calling all HuffPost superfans!
Sign up for membership to become a founding member and help shape HuffPost's next chapter
BEFORE YOU GO
PHOTO GALLERY
81 Movies To Watch In 2014