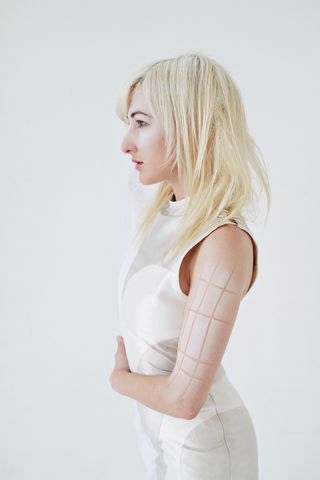 Nika Roza Danilova aka Zola Jesus was once an outsider experimental teenage noise-maker but is now an internationally celebrated electronic pop musician. This little powerhouse (she's 4'11"!) opens up about what fuels her on the road. Turns out, it's mostly chocolate.
What do you eat before a show?
Nothing really, I can't eat 6-8 hours before I play or else I get very sick.
What's your favorite thing to get after a show?
Chocolate, always. If I can find calamari I'll be extra excited.
Does it vary depending on city?
Chocolate is universal, thank god.
What's your favorite post-NYC show meal?
Probably something quick from a bodega or pizza
What's your favorite post-LA meal?
Tacos, frozen yogurt
Have any groupies ever made you anything and sent it backstage?
Never food...
Any food that musically inspires you?
Chocolate. The cover of my record Stridulum is a picture of me covered in chocolate syrup.
What are your fondest food memories? Any of them documented in your music?
I want to say chocolate-chip pancakes, and no unfortunately not.
What's your favorite city for eating before or after you've played a gig?
Italy has the most amazing food while on tour.
What is your favorite tour bus snack?
Macrobars, and my mother-in-law always stocks me up on Lake Champlain truffles.
What hometown meal do you miss the most when you are on the road?
Mostly my favourite restaurants: breakfast at BLD, sushi at Robata Jinya, Real Food Daily, the list goes on...
Who's the pickiest eater in the band? What's his deal?
My band are all pretty open-minded gentleman.
Who's the best cook in the band? what's their best dish?
Probably Shane. I've seen him do some pretty avant-garde things with sriracha and bologna.
Any food favorites of the entire band?
Beef jerky seems to be the only thing that holds us together sometimes.
Any on the road food discoveries or restaurants or roadside vendors... some hidden gems you've come across?
Everywhere we go we tend to find our go-to spots. Not usually anything right off the highway, unless you count a couple of delirious trips to Applebees. But those go-to restaurants you find in every city kind of feel like a little bit of familiarity in an otherwise foreign place.
Backstage requests?
The usual... hummus and pita.
Have you ever requested 10,000 M&Ms, but none of them brown?
Somehow we ended up having "NO GREEN M&M'S" on our rider, and it was often successfully granted, I am ashamed to say.
REAL LIFE. REAL NEWS. REAL VOICES.
Help us tell more of the stories that matter from voices that too often remain unheard.