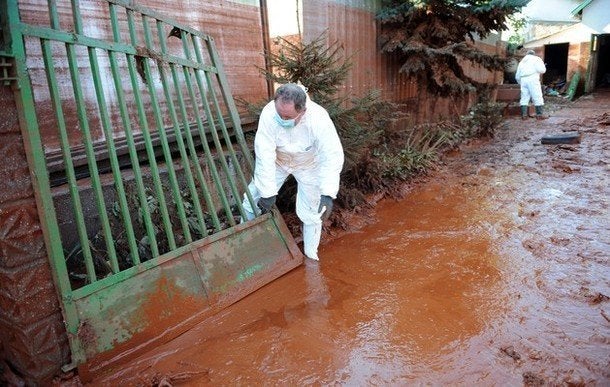 One of the things I learned this summer is that if I were to walk across the street and destroy the local Starbucks with sledgehammers and Molotov cocktails, I would probably be arrested, charged, arraigned, put on trial, and jailed. On the other hand, if I destroyed, say, the entire Gulf Coast region, officials would have to "work with you" and make all sorts of compromises. So, it pays to think big!
It also pays to not be Hungarian, apparently!
[Zoltan Bakonyi, the director of the compnay involved in the sludge spill] will be charged with criminal negligence leading to a public catastrophe, and if convicted could face a sentence of up to 10 years, according to a government spokeswoman.
The Associated Press has a bit more from earlier:
Hungary's prime minister says police have detained the director of the company that owns the metals plant where a reservoir flooded several towns with toxic red sludge.

Speaking Monday in parliament in Budapest, Prime Minister Viktor Orban says the government must take over direction of MAL Rt., the Hungarian Aluminum Production and Trade Company, and freeze its assets.

Orban also says the safe restart of production at the alumina plant is in the public interest and is needed to save the jobs of thousands of workers.

At least seven people died and one is missing in the wake of last Monday's red sludge deluge from a 10-hectare storage pool where a byproduct of aluminum production is kept.
What? They've frozen the company's assets and detained its director? Well, I'm sure the Hungarian AmCham will tell us who to vote for to make this all right again!
Popular in the Community