If (or, let's face it: when) your neighbors are all infected with the virus, you'd better pray to your lucky stars you don't live in New York City. On CareerBuilder's Zombie Apocalypse Index, a "totally necessary and 100 percent practical survey," New York is ranked as the worst city in which to find yourself amidst the zombie apocalypse.
If you're an unfortunate resident of the Big Apple when the end times strike, you'll want to run up to Boston. The Massachusetts capital scored the safest, based on its ability to fight, contain, find a cure for and outlast an epidemic with ample food.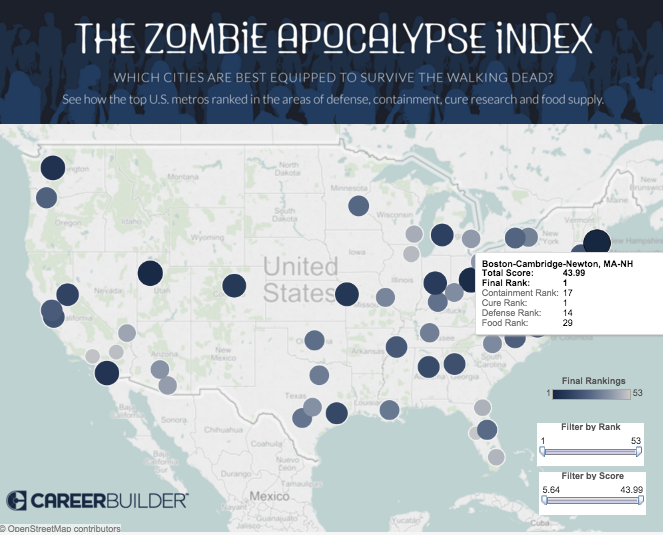 CareerBuilder analyzed data from labor market data analyst Economic Modeling Specialists International, and, not only are Bostonians resilient, the city's varied trade skills, resources and population density give it the edge over the 52 other populated metro areas in the country.
Boston, Massachusetts
Salt Lake City, Utah
Columbus, Ohio
Baltimore, Maryland
Virginia Beach, Virginia
Seattle, Washington
San Diego, California
Kansas City, Missouri
Denver, Colorado
Indianapolis, Indiana
Related