WASHINGTON -- There are zombie banks, the zombie apocalypse, and now, according to Sen. Tom Coburn (R-Okla.), zombie homeland security programs that spend money without adequate oversight or cost control.
According to a new report by the Oklahoman, often a critic of Department of Homeland Security programs, the waste extends to a staged zombie apocalypse.
In that case, the report said, DHS authorized up to $1,000 a head for law enforcers to attend a five-day security conference at a "paradise" island getaway with security industry companies. The conference featured a simulated attack -- involving the undead -- as the centerpiece.
The zombie element was just a bit of fun added to an otherwise worthy endeavor, some observers said.
Coburn, however, questioned why money from the Urban Area Security Initiative and state homeland security programs was used so law enforcers could bask in "the exotic beauty and lush grandeur of this unique island setting that creates a perfect backdrop for the Halo Counter-Terrorism Summit," as the sponsor, the Halo Corp. described it. Halo added: , "This luxury resort features over 460 guestrooms, five pools, three fantastic restaurants overlooking the bay, a world-class spa and state-of-the-art fitness center."
On top of that, Coburn's report noted, the federal government effectively subsidizes what amounted to a sales opportunity for the San Diego-based Halo and other security firms.
The zombie assault training may be attention-getting, but Coburn pointed to numerous other items that he deems waste, or at least something the federal government should not be paying for.
For instance, he noted that California police spent $6.2 million for equipment that captures and compares license plate numbers, but no one ever demonstrated that it was being used to hunt terrorism suspects instead of car thieves.
The report singled out numerous other debatable purchases made with the $35 billion Uncle Sam has awarded through homeland security grant programs over the past decade.
Among them were an armored vehicle to guard rural New Hampshire festivals; a $98,000 dive robot for Columbus, Ohio, that was used to find "sunken treasure"; a $69,000 "Neoteric hovercraft" for search and rescue operations in Indiana unrelated to terrorism; $6,200 worth of sno-cone machines in Michigan, and $88,000 that Pittsburgh spent on several "long-range acoustic devices" -- truck-mounted crowd control devices that emit an ear-piercing sound and allegedly gave a bystander permanent hearing damage when they were used at a G-20 protest.
"If in the days after 9/11 lawmakers were able to cast their gaze forward ten years, I imagine they would be surprised to see how a counter-terrorism initiative aimed at protecting our largest cities has transformed into another parochial grant program," Coburn wrote in a letter accompanying the report. "We would have been frustrated to learn that limited federal resources were now subsidizing the purchase of low-priority items."
DHS defended its spending, saying that it is critical to develop local security expertise.
"We have seen the value of these grants time and again," said DHS spokesman Matthew Chandler in a statement. "As envisioned by Congress, these grants have directly supported the development and sustainment of core state and local capabilities identified as national strengths in the 2012 National Preparedness Report –- from helping to save lives and minimize damage during the tornadoes in the South and Midwest, Hurricanes Irene and Sandy to building a national network of fusion centers to strengthen critical information sharing and terrorism prevention.
"At the same time, building on lessons learned over the past 10 years and in order to address evolving threats and make the most of limited resources, the administration proposed a new vision for grants in the FY 2013 budget," Chandler added, noting the slimmer budget request for next year.
"The proposed National Preparedness Grants Program reflects a more targeted approach to grant funding that will ensure federal dollars are being used to build and sustain core capabilities and address national priorities while incorporating measures of effectiveness to ensure accountability," Chandler said. "FEMA is committed to being responsible stewards of taxpayer dollars and ensuing that all federal grant dollars that we disburse are used as intended –- to strengthen our resilience against all hazards and make our communities safer places to live."
UPDATE: 7 p.m. -- The event's planners and sponsors took issue with the report's mention of the zombie apocalypse, saying it was misleading because the $1,000 entry fee http://www.regonline.com/Register/Checkin.aspx?EventID=1083411 applied not to the zombie display, but only to some 30 approved counterterrorism courses. There does not, however, appear to have been any extra cost for watching the massacre of the undead.
"The report's suggestion that Department of Homeland Security and Urban Areas Security Initiative (UASI) funds were used to pay for zombie apocalypse training is absolutely untrue," said Brad Barker, president of the Halo Corp., in a statement. "Absolutely no taxpayer money, DHS or UASI funds were spent on the zombie apocalypse demonstration. The Summit's approval as a training event under the UASI program, and therefore the eligibility of law enforcement and first responders to receive grant funding to attend, applied to our in-classroom course curriculum."
The zombie slaughter was sponsored by a military training outfit called Strategic Operations, which deemed the macabre exercise a successful training venture in spite of Barker's assertion that it was not part of the DHS-approved agenda.
"The zombie apocalypse demonstration was a very serious training exercise designed to simulate a chemical and biological mass casualty event," said Strategic Operations' executive vice president, Kit Lavell. "The zombie theme was simply meant to add some levity to a demonstration that showcased methods, techniques and technologies involved in triage, decontamination and other complex medical procedures that first responders need to be prepared for when dealing with a mass casualty exercise."
Michael McAuliff covers Congress and politics for The Huffington Post. Talk to him on Facebook.
Before You Go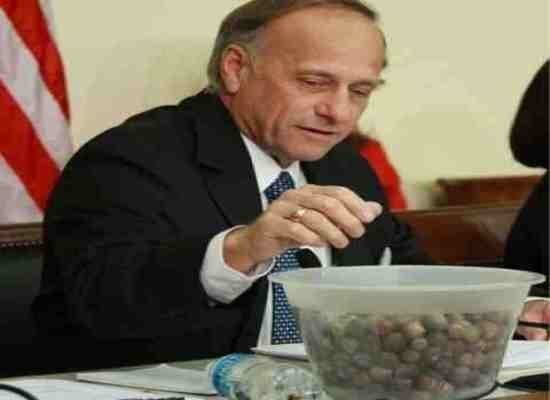 More Crazy Examples of Congressional Theatrics
Popular in the Community