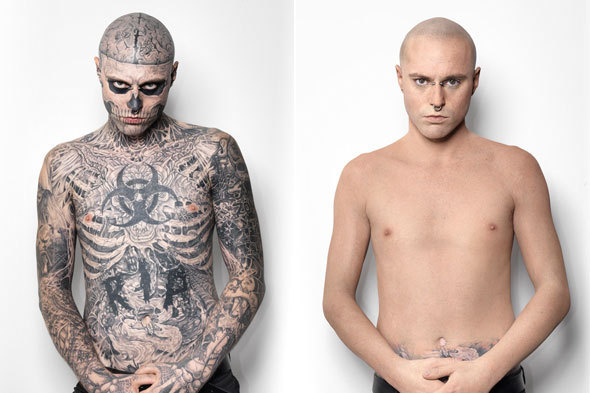 Zombie Boy Rick Genest, before and after, using Dermablend concealers.
Finding the perfect concealer can be quite daunting, but you may want to give Dermablend a try after witnessing this amazing makeover.
Twenty-six-year-old fashion model Rick Genest, who starred in Lady Gaga's "Born This Way" video and walked Thierry Mugler Men's Fall 2011 runway, puts Dermablend's concealers to the test in the brand's "Go Beyond The Cover" campaign.
A team of three makeup artists worked in just one day using about 4 tubes of Dermablend Professional Leg and Body Tattoo Primer and Leg and Body Cover to conceal Genest's skeletal tattoos from the waist up. In the jaw-dropping, three-minute clip, we see the final result.
What do you think about Zombie Boy's massive cover-up? Does his transformation convince you to pick up Dermablend's products?