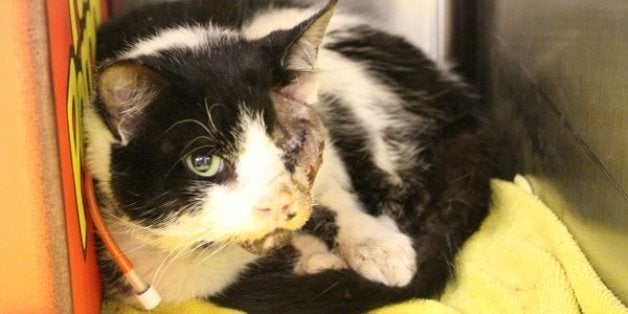 "I think they knew he was breathing," Sherry Silk, executive director of the Humane Society of Tampa Bay, told The Huffington Post.
Bart made headlines last month after his owner, Ellis Wayne Hutson, told multiple media outlets that Bart had miraculously risen from the grave. Hutson said Bart was hit by a car and appeared to be dead, so Hutson got his neighbors to help bury him. Five days later, he said, a bedraggled and seriously injured Bart showed up in the neighbors' yard.
Silk doesn't doubt that the cat was buried -- he had "dirt in every orifice" when he was brought to the Humane Society animal hospital, she said. She is, however, suspicious of the claim that he was clearly dead.
She's basing the accusation on a YouTube video that Hutson's neighbor, Dusty Albritton, confirmed with HuffPost that she posted on Jan. 23. The video features Bart shortly after he returned home, and a woman's voice can be heard saying, "He might not have been dead. 'Cause when I found him … he was moving and stuff."
Hutson denies the allegation, telling The Huffington Post that Bart was stiff and that he sincerely believed the cat was deceased. Candice McLendon, the woman whose voice is heard in the video, told local news station WSVN that her comments on the video should not be taken seriously.
"I believe I may have said some stuff just in disbelief, but when they went around to bury him, he was very stiff," McLendon said.
Hutson contends that the Humane Society, which announced last week that they did not intend to return Bart, is wrongfully attempting to hold onto his pet.
"The cat is being held hostage," Hutson told HuffPost. "This is our family pet."
Silk says that though the video was the first red flag, she has other reasons for not wanting to return Bart.
One point of contention is the length of time that Hutson took to seek care for Bart -- whose injuries included severe head trauma, a broken jaw and a dead eye -- after Bart came home. She says the owner's timeline regarding when he found the cat and when he brought the cat in for care keeps changing.
Hutson, however, told HuffPost his story has remained the same from the get-go. He says as soon as he found Bart, he called the Humane Society, and the staff member who answered the phone told him that he should bring Bart in the next morning "if he was still alive." Hutson says he then attempted to treat the cat's injuries himself, and brought Bart in the next day as instructed.
Silk says there is no way that a Humane Society staffer would say this without urging Hutson to seek emergency care for Bart immediately.
She also expressed concern about Hutson's ability to provide a home environment suited to Bart's needs. Silk said Hutson seemed unwilling to keep Bart inside if he goes back home, which would be necessary for an animal recovering from such severe injuries. Hutson, however, told HuffPost that "Bart will be an indoor cat for the rest of his life," and added that he has been telling Silk this from the start.
He says Silk's real issue is not concern for Bart's wellbeing, but cash.
"It's all about money," Hutson says. He believes Silk wants to keep Bart at the Humane Society because of the donations that the famous "miracle cat" is bringing into the facility.
Silk says the conflict has nothing to do with money, and furthermore, that the Humane Society has no intention to hold onto Bart indefinitely. They plan to adopt him out to a suitable family as soon as he's recovered enough to leave the hospital, she said.
What's clear is that both parties intend to fight for Bart in court, if necessary.
"This cat was raised with my daughter," Hutson said. "We just want our family pet back."
Silk maintains that she and the Humane Society are committed to doing "what's right for Bart."
Like Us On Facebook |

Follow Us On Twitter |

Contact The Author
Related
Popular in the Community