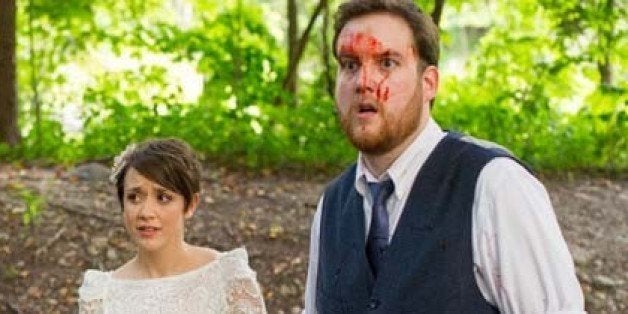 Canadian bride- and groom-to-be Holly Young and Harlan Guthrie had seen zombie engagement photo shoots done before, but they were determined to take theirs to the next level.
"There was another couple who did a zombie engagement shoot a few years back," Guthrie told The Huffington Post in an email. "We both had seen that but thought, 'If you're going to kill zombies, it has to be bloodier.' And that was a bit of the motivation behind doing it."
Last month, the couple -- who is getting married in October -- rounded up their wedding party and headed to the Rouge Valley in Ontario for a good old-fashioned zombie beatdown. The zombie roles were played by their bridesmaids and groomsmen.
When asked why they opted for less-than-traditional engagement photos, Guthrie mentioned the couple's love of horror films and a desire to do something fun.
"We wanted something that was out-of-the-box, but also expressed our humor and love," Guthrie said. "Too many engagement shoots are hokey and we wanted to make ours look triumphant and fun."
Click through the slideshow below to see photos from their killer engagement shoot.