A third party presidential candidate is looking for voters with brains.
Problem is, he's a zombie, and you know what they do with that particular organ.
Actually, he's not just any zombie. He's A. Zombie, and he's running on a pro-zombie platform, with the help of his vice presidential candidate, Noah Pulse.
Zombie threw his hat in the ring at a campaign rally in San Diego on Monday that attracted about three dozen zombies and a few human stragglers.
Now, he's starting a whistlestop tour that will take him to Dallas, Tampa, Fla., Charlotte, N.C., Atlanta and New York City in the next few weeks.
ZOMBIE RUNS FOR PRESIDENT (Story continues below)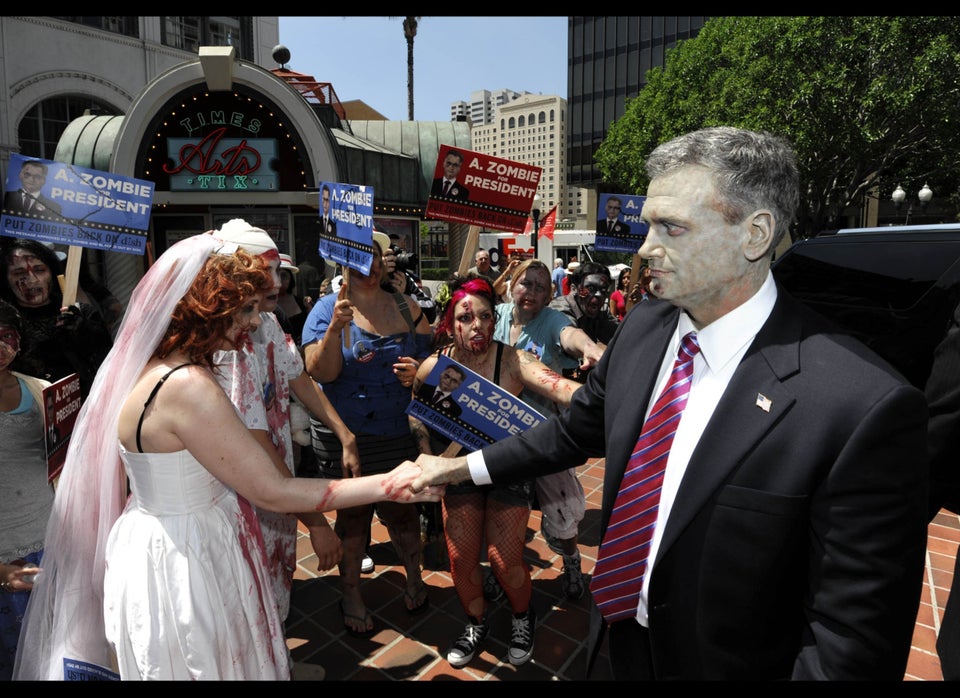 Zombie Runs For President
Although zombies are known more for having a firm grip around their victim's throats than having a firm grasp on the issues, Zombie told The Huffington Post in an exclusive interview that he knows the issues that affect Americans, such as health care, voter ID laws and immigration.
Well, he didn't actually do the politicking.
Since most zombie quotes are just a variation of "Aaaaaargh," Patti Morgan-Zombie, his wife and campaign spokeswoman, had to translate for him.

For instance, when Zombie was asked about health care he had this to say: "Aaaargh!" Luckily, Morgan-Zombie fleshed out the quote (and you know how zombies love flesh).
"My husband says that health care is a very important issue to him, primarily because it's almost impossible to get health care as a zombie," she told HuffPost. "Even if you do get a policy, it carries a $10 million deductible. Last year, my husband had a hang nail and the co-payment was $85,000. That's why he's a proponent of 'ZombieCare.'"
Other issues important to Zombies:
Voter ID Laws: "In this country, it's one vote for each American, but when it comes to zombies, they can vote as many times as they want to. Who's going to stop them?"
Immigration: "He doesn't think [reforming immigration law] will affect zombies because zombies don't carry identification any way. What differences does it make?"
Bath Salts (the street drug): "My husband is not exactly for bath salts. He had a very unfortunate incident with the real bath salts. They stung badly so it's a subject he'd rather not get into."
To be fair, Zombie's chances of getting a single vote are slim and there is no record of anyone named "Zombie" registering as a candidate with the Federal Election Commission.
That's because the campaign is actually a publicity stunt concocted by AMC, the cable channel that handles "The Walking Dead" TV show, to protest its removal from Dish Network six weeks ago.
Dish Network spokesman Bob Toevs said his company stopped carrying AMC, as well as WE TV, the Sundance Channel and IFC at the beginning of July because the money the networks wanted for their service wasn't worth it from a ratings standpoint.
He added, "It's a clever campaign though."
Or how his wife put it: "Hard-working Americans deserve the right to go home after a long day, put their feet up and watch zombie-filled programming on their television sets if they choose to do so."
Whether the campaign actually gets Dish Network to sign a deal with AMC Networks before the Oct. 14 season premiere of "The Walking Dead" remains to be seen, but the rally in San Diego has inspired at least one potential voter, Katie Barnes, a non-zombie.
"I was leaning more towards presidential candidates that are living," Barnes said. "But I think I definitely now want to go with the zombie."