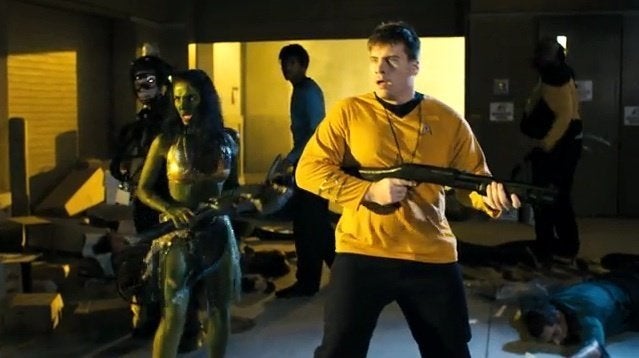 Last year's genre-bending smash hit "Pride and Prejudice and Zombies" was a wholly original book that added to the cultural zombie craze of late. Now, the Victorian classic/zombie thriller mashup's publisher, Quirk Books, is back with another zombie-infused spin on a more recent classic: "Night Of The Living Trekkies" by Kevin David Anderson and Sam Stall.
The best part? Quirk has gone above and beyond in producing a highly entertaining trailer for the book, which is apparently about a group of "Star Trek" fans at a Trekkie convention when a zombie outbreak occurs. The trailer is so appealing and funny that it seems inevitable that an actual film will be made, especially now that "Pride and Prejudice and Zombies" is currently in production with Natalie Portman and David O. Russell.
Sharp editing, high production values, and superb special effects make this trailer a must for all Trekkies, sci-fi fans or anyone who would simply love to watch zombies get beaten up by nerds.
Related
Popular in the Community