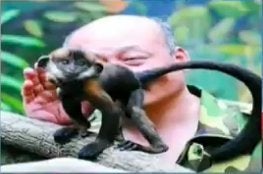 You've kissed butt at work, but this zoo keeper took the metaphorical act to a whole new (and literal) level.
Bangsheng claims the monkey was too small for medication to help it pass the peanut, so licking was the only way to help it -- after washing its bottom with warm water, Orange News reported.
Some news outlets are questioning the authenticity of the story -- and why Bangsheng used his mouth rather than the more traditional method: a warm cloth.
Hoax? Take the poll below!
REAL LIFE. REAL NEWS. REAL VOICES.
Help us tell more of the stories that matter from voices that too often remain unheard.