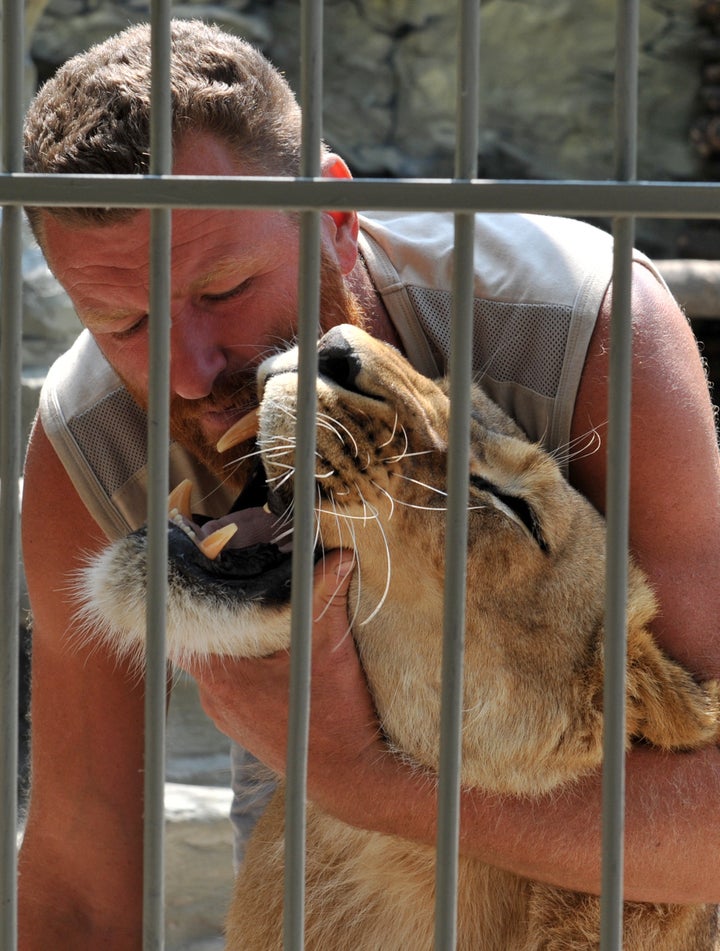 This zoo owner is literally walking into a lions' den and he doesn't plan to come out for five weeks.
Alexander Pylyshenko announced he'll live with two big cats -- a male and a pregnant lioness -- in their cage at his private Ukrainian zoo for 35 days, according to Agence France Presse. He moved in with his new roommates on Tuesday.
He's potentially risking life and limb to raise awareness about the living conditions of animals in captivity. If all goes well, he'll raise money for new buildings at his zoo, The Toronto Sun reported.
"I hope that spirit and optimism with which I approach this project, will be understood and supported by the people for whom life-saving rare species of animals is not an empty sound," Pylyshenko, 40, said in a translated statement on his website. "Only together we can give our children this wonderful world of wildlife."
During his stay in the hutch with Samson and Katya, the married father of two said he'll be treated as an equal with his feline friends. At night, he'll bed in the hay on the floor next to the king and queen of the jungle. He'll live off of meat fed to him through the bars just like the African lions.
"The living conditions will be absolutely the same for the lions and me," he said, according to The Daily Mail.
Well, not absolutely the same. He's retrofitted the cage with a toilet and shower for his personal use.
If Katya gives birth to cubs, he'll lend a helping hand. He'll also keep busy by painting pictures of the lions, which he'll sell to raise money for charity
Four cameras have been positioned around the cage for live streaming on the lion keeper's website, so people with cat-like curiosity can keep tabs on Pylyshenko during his experiment. Footage has been spotty, however.
Check out other animals in the news:
PHOTO GALLERY
Animals In The News
REAL LIFE. REAL NEWS. REAL VOICES.
Help us tell more of the stories that matter from voices that too often remain unheard.