When it comes to threats against the lives of its animals, a zoo in the Czech Republic is taking every precaution possible.
The Dvůr Králové Zoo has begun sawing off their rhinos' horns after poachers broke into a French zoo earlier this month and slaughtered a rhino for the prized item. 
Officials sedated the first of 21 rhinos at the zoo on Monday before using a chainsaw to carefully slice the thick horn from its head, the Associated Press reported. Four southern white rhinos and 17 black rhinos live at the zoo, located about 70 miles outside of Prague.
A video showed the southern white rhino, named Pamir, wearing a blanket to cover his eyes and cotton stuffed in his ears as the procedure was performed. He was later seen eating hay, with a noticeably blunt nose.
Pamir's dehorning will not harm him, zoo officials said.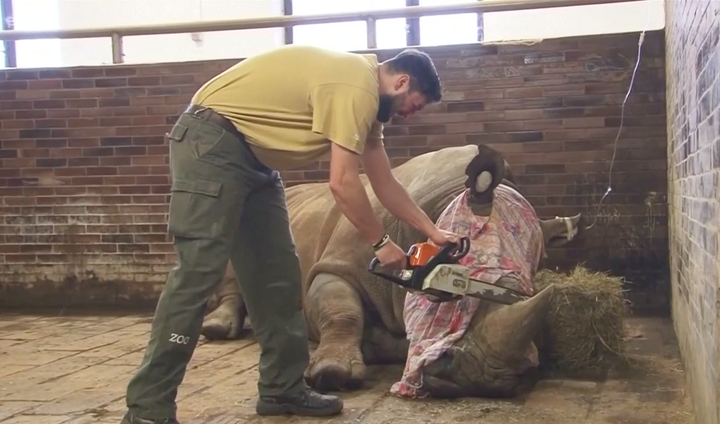 "The decision to remove rhino horns was not made easily at all," Premysl Rabas, the zoo's head, said in a statement.
"However the risk that the rhinos currently face not only in the wild but even in zoos is too high, and the safety of the animals is our first concern. A dehorned rhino is definitely a better option than a dead rhino."
Just two weeks earlier, the world collectively gasped when the Thoiry Zoological Park outside Paris found one of its rhinos shot dead. Poachers had sawed off the horn of the rhino, named Vince.
Although the Czech zoo is removing the horns in a way that won't hurt the rhinos, the techniques poachers often use cause the animal to bleed to death, according to rhino conservation group Save the Rhino.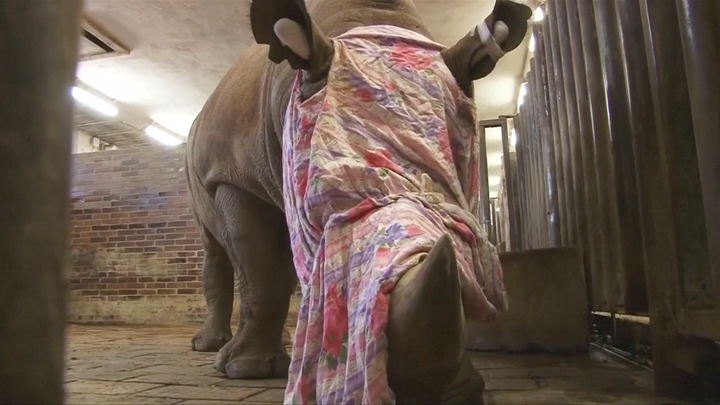 "Often they use a tranquilizer gun to bring the rhino down and hack off its horn leaving the rhino to wake up and bleed to death very painfully and slowly," the group's website states.
In many parts of the world, rhino horns are used as status symbols and for traditional medicine.
People have believed for centuries that the horns have magical powers that can purify water, detect poisoned liquids and expel evil spirits. In reality, the horns are primarily composed of keratin, which is the same protein that makes up human skin, hair and animal hoofs, according to the U.S. Fish and Wildlife Service.
"Medicinal use continues to create demand for rhino horn – a demand that poses a threat to the continued survival of rhino species in the wild," FWS states on its website.
Rhinos are internationally protected under the Convention on International Trade in Endangered Species. It's also illegal to import or export rhino products under a United Nations ban.
In addition to the dehorning, the Czech zoo is increasing its security cameras. Belgium's Pairi Daiza zoo also recently announced plans to remove their rhinos' horns, Reuters reported.
Calling all HuffPost superfans!
Sign up for membership to become a founding member and help shape HuffPost's next chapter
BEFORE YOU GO