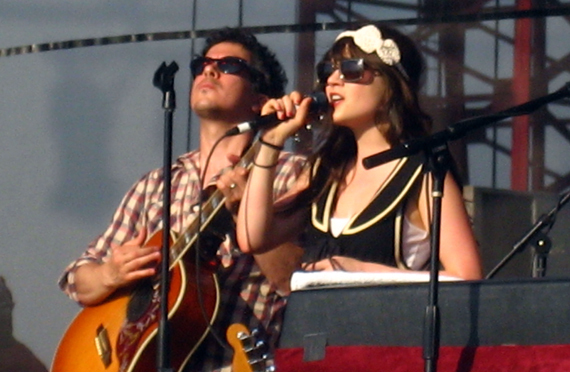 At 5:40pm on a sweltering hot summer day off the coast of Manhattan, She & Him finally boarded the stage after what felt like an hour-long tanning session in 90-degree weather.
Zooey Deschanel, the She, got on the mic in a short black dress, black tights and big black shades. She told the crowd she knew it was hot, but that the sun was behind us and not directly facing the stage like it was for the band. A man screamed out, "but you haven't been waiting here for hours."
Matt Ward and Zooey Deschanel, otherwise known as She & Him, kicked off the show with "I Was Made For You," a fun track from their first album, Volume One, that instantly reminded the crowd of their unique contemporary folk sound. As Zooey bounced around stage and Matt stood confidently and casually playing through songs from both Volume One and their most recent album, Volume Two, it became apparent why the band is getting more and more buzz and selling out shows in Boston, Washington D.C., New York and Atlanta.
Zooey Deschanel is becoming the new superwoman in the entertainment industry, not only a lead singer in an indie-folk band, but also a movie-star most famously known for her roles in Almost Famous, Elf, and 500 Days of Summer.
Matt, whose stage name is "M. Ward," became a famous guitarist in the Portland music scene and has released seven solo albums in addition to the two as part of She & Him. He asked Deschanel to record with him after she sent him some of her work.
As the show came to a close, Zooey asked everyone to join in for their newest hit "In The Sun," and ended the show with their most catchy (and fun) song from Volume One, "Sweet Darlin."
Keep an eye out for She & Him as they continue to grow their following with their distinctive talent. If you were lucky enough to venture across the water to Governor's Island for the free show, you would know that there was no better way to spend the afternoon celebrating our nation's independence.