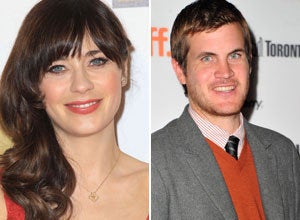 TV's "New Girl" finally has a new man.
The 32-year-old actress was spotted holding hands with her new boyfriend, screenwriter Jamie Linden, at Sunday's after-party for the "Magic Mike" premiere -- marking their first public appearance as a couple.
Though Deschanel's rep had no comment regarding Hollywood's newest couple, a source confirms to Us Weekly that the two are in fact dating and adds, "Jamie's a really nice guy. He's funny, and a little geeky ... he's into her!"
Linden, 32, is best known for penning scripts for movies, such as 2006's "We Are Marshall" and the 2010 adaptation of the Nicholas Sparks novel "Dear John."
Ever since the two parted ways, Deschanel has had to fend off rumors she's started a new relationship. In February, she stopped by "The View," where she debunked rumors that she had been texting with newly single Russell Brand, and in April the "500 Days of Summer" star told Marie Claire magazine that dating wasn't something she was thinking about:
"Honestly, I'm just going through a divorce, so I don't really think that's something I want to get into now. I don't have time to date. I literally –- don't-have-time," she told the magazine.
Just a few months later, the actress appears to have made time -- and is spending it with Linden.