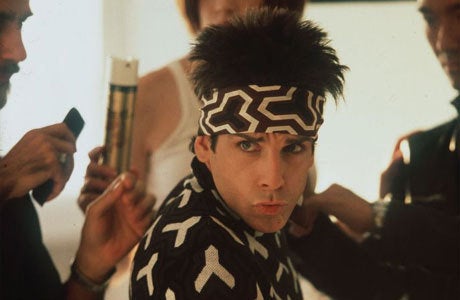 Ten years after completing The Derek Zoolander Center for Kids Who Can't Read Good and Wanna Learn to Do Other Stuff Good Too, Ben Stiller's male model is primed for a return.
For his Derek and Owen Wilson's Hansel, the modeling industry is proving a challenge, as "ten years is a thousand years. They're both totally out of it and have to start from scratch," Stiller said. "And then there are things set up at the end of the first movie that we're able to build on, like Derek and Matilda have a son, and Mugatu went to jail. There's a lot there, I'm excited about the idea of doing it. It feels like it's getting close to going."
In the earlier interview, Stiller confirmed that Will Ferrell, who played Mugatu in the original, would be back for the second film.
"Will Ferrell is written into the script and he's expressed interest in doing it. I think Mugatu is an integral part of the Zoolander story, so yes, he features in a big way," Stiller said.
Still just finished filming, "Tower Heist," an action comedy from director Brett Ratner and co-starring Eddie Murphy, Matthew Broderick, Tea Leoni and Casey Affleck.
Popular in the Community