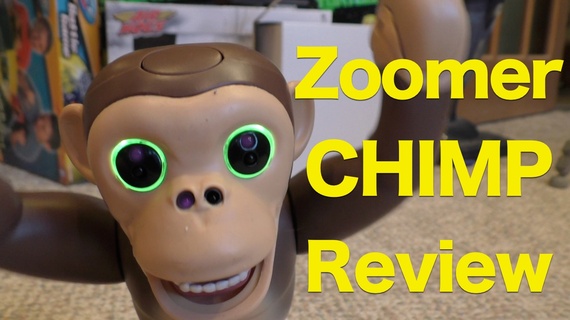 I have conflicted feelings about chimps. Sure, they look cute and seem plenty smart, but every now and then a pet chimp goes bananas and starts ripping off peoples faces.
So, would I want a pet chimp of my own? No, flawed as it is, I think I want to keep my face.
On the other hand, would I like a pet robot chimp that dances, talks, farts and burps? Sign me up.
I recently spent some quality time with Zoomer Chimp from Spin Master. The line of Zoomer pets has brought us dogs, cats and dinos, but this Zoomer Chimp takes things to a new level.
Please watch our video review of the Zoomer Chimp from Spin Master -
As the video shows, Zoomer Chimp knows its fair share of tricks. There are 10 voice commands you can issue to Zoomer, which result in 100 responses and about 200 different sounds.
Parents will be happy to know that if you hold down the back button while turning Zoomer on, you can cut the volume in half. As much as I loved playing with Zoomer Chimp, the amount of sounds coming out of that chimp did start to drive me...bananas!
Here are the key features of Zoomer Chimp -
Your new favorite primate listens to voice commands and knows over 200 sounds, including "Do a flip" and "Go bananas!"
Zoomer Chimp performs over 100 awesome tricks!
He or She is full of personality - this interactive Chimp changes its eye color, moves its face, and has real lifelike movements.
Zoomer Chimp is for ages 5+ and requires 1 LiPo battery (included).
Includes 1 Zoomer Chimp, 1 Charging Cable (wall adapter not included), 1 Instruction Booklet, 1 Reference Guide
Overall, Zoomer Chimp is an impressive robot pet. You don't have a remote or app to control Zoomer, so all the play happens from touching Zoomer or issuing voice commands. Zoomer can be immature - burping, farting and rolling over laughing, but in all my hours playing with Zoomer Chimp, it never once tried to rip my face off.
Calling all HuffPost superfans!
Sign up for membership to become a founding member and help shape HuffPost's next chapter