Is it weird to eat a hamburger at the same zoo where you just pet a cow, or cooed over a panda?
It's natural to wonder about zoos and ethics after last month, when a Danish zoo killed one of its giraffes, with a bolt gun to the head, in front of some kids, then fed the carcass to lions in the name of animal welfare.
That zoo restaurants serve meat brings another set of questions, as reputable zoos don't just put cute animals on display. They also provide for and educate visitors about animal welfare. A paper in the latest issue of the Journal for Critical Animal Studies -- a peer-reviewed publication devoted to "animal liberation," an animal rights movement that takes more and less radical forms -- argues that these missions are at odds with the foods that most zoos serve to visitors. They're at odds with the food served to zoo animals, too.
Here's how the essay "Eating Animals At The Zoo" begins:
A day at the zoo may include two types of encounters with animals: first, animals as interesting and exotic beings exhibited in appropriate surroundings, and second, animals as nice meals, snacks or picnic items consumed together with friends or family.
For this paper, the authors -- Sabrina Brando, a writer and animal care consultant, and Danish philosophy professor Jes Lynning Harfeld -- examined the menus of 55 zoos in Europe and North America to find out the prevalence of meat.
They also looked for evidence that the meat being served was produced humanely, sustainably, or with some other animal welfare and/or ecological consideration.
Their findings aren't delicious.
Most zoos serve visitors a meat bonanza, with menus tending to feature "hot dogs, chicken nuggets, hamburgers, fish burgers, fish fingers, schnitzel, roast of ham, shrimp salad, and salmon, all often served with fried or baked potatoes."
"In the sandwich category," the authors write, "options included ham, salmon, eel, salami, and roast beef." Vegetarian options are rare, vegan options even more so.
The authors come to to "the unfortunate conclusion" that not only are most zoos selling a plethora of meat to visitors, but most of this meat originates from traditional farms and fisheries and not those focused on sustainability, humane practice, or organic growing. In other words, "zoos are not, by default, providing customers with animal products from farms and fisheries concerned about animal welfare."
The food served to zoo animals proved similarly troubling. "Though the sources of meat and fish used in zoos and aquaria can vary geographically, animal feeds are generally procured from intensive farming systems that are detrimental to the welfare of farmed animals," write Brando and Harfeld. Another section of the paper takes zoos to task for their treatment of live animals fed to the animals kept on display.
Ending with a call for more "ethical consistency," the authors argue that zoos are in a "unique position to educate the public about animal welfare and to support animal welfare throughout society." And they should use that position to advance that welfare through the food being served to visitors and to animals on display:
As organizations whose expressed and tacit values include animal welfare, they have additional obligations regarding food animal production vis-à-vis their specialist knowledge, and they are obliged to share this knowledge with their visitors. Zoos can either obscure consumer understanding of food origins or help to attenuate the distance and estrangement between food production and consumers. In choosing the latter, they would become true advocates of both sustainability and universal animal welfare.
Brando tells HuffPost that the complete list of 55 zoos isn't publicly available and that outside of a couple of aquariums and one zoo that won some praise for their menus -- the Monterey Bay Aquarium and the New England Aquarium, and Bristol Zoo Gardens, -- "zoos who try local organic and sustainable farming and fishing is a good step forward."
The National Zoo's website shows that, indeed, plenty of meat is on offer -- among the choices are burgers, chicken tenders, hot dogs, seafood (not panda, thank goodness) -- though with nods to environmental and other concerns. We don't know the provenance of the pigs who make up the Backyard BBQ's pulled pork sandwich, but the fish is "certified-sustainable seafood when possible," according to the zoo website, the hotdogs are made of "vegetarian-fed cattle" and the chicken is "all-natural, chemical- and hormone-free." Even the coffee is advertised as "bird-friendly."
Somewhat uninspiring, but still glad they're there: Salads and whole wheat PB&J are among the advertised vegetarian options. And ice cream, which one day, it may even get warm enough to enjoy.
Will you eat meat next time you're at the zoo? Will you ask your local zoo to make sure its food animals -- the ones served to you and the ones served to lions -- are treated humanely? Tell us your thoughts, and what you've eaten at various zoo snack bars and restaurants, in the comments.
We're always looking for stories about animals -- get in touch at arin.greenwood@huffingtonpost.com
Before You Go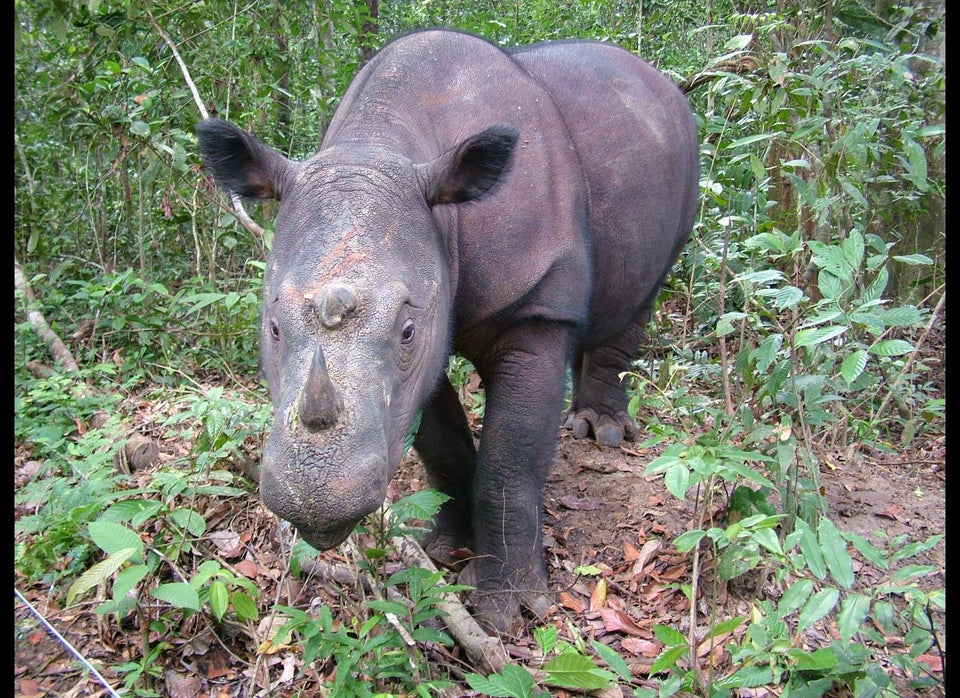 The World's Most Threatened Species