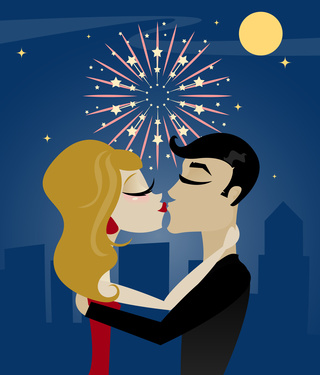 Zoosk, the world's largest social dating community on the web has just released their Single's Survival Guide to Holiday Dating. Zoosk hopes to help singles during the holidays by offering their free guide for online daters with tips from experts, statistics on dating trends during the holidays, and creative gift ideas.
According to Alex Mehr, co-CEO and co-founder of Zoosk, "More singles participate in online dating during the holiday season than during any other time of the year." Mehr added, "We know that the holidays can present unique dating questions and challenges, so we talked with several relationship experts and then polled singles in our own community to gather the best tips, gift giving ideas, and holiday dating trends out there. We hope our Single's Survival Guide to Holiday Dating will help make dating this holiday more enjoyable for singles everywhere."
According to the Zoosk holiday dating study, more singles are interested in coupling up during the holidays.
This holiday season, 63% of singles are looking for long-term true love, 33% of singles are just looking for a holiday party date and 4% feel it's too stressful to date during the holidays.
Surprisingly, 19% of men say they would invite a woman to their office holiday party as a first date. Only 10% of women are this daring.
The most desired gift is a hug or a kiss.
Tips from experts included Sherry Amatenstein, LMSW, and relationship columnist for ivillage.com who suggested that singles revise their online dating profile to include 'Looking for a Date for the Holidays.' She also suggested to accept every invitation that comes your way.
In the guide, you will read what Zooskers thought were appropriate gifts at the holidays. I suggested giving a gift that won't break the bank and to consider gifts of kindness. A card and a box of chocolates will show you care. If you want to get creative, find out her/his favorite musical artist and pick up a CD and wrap it in a bow
Rich Santos, Dating Diaries blogger on
suggests to err on the side of caution when giving a holiday gift this year. He stated, if you are not sure if you should buy a gift for someone or not, assume you should not." He suggested asking the person you are dating if you will be exchanging gifts this year.
Zoosk's research shows that online dating is at its highest level the week before Christmas.
The holidays are filled with pressure for singles. If you truly want to be kissed under the mistletoe, read their guide. It's a gift for singles dating in a Web 2.0 World.
Julie Spira is the author of the online dating book, The Perils of Cyber-Dating: Confessions of a Hopeful Romantic Looking for Love Online. Visit her at CyberDatingExpert.com