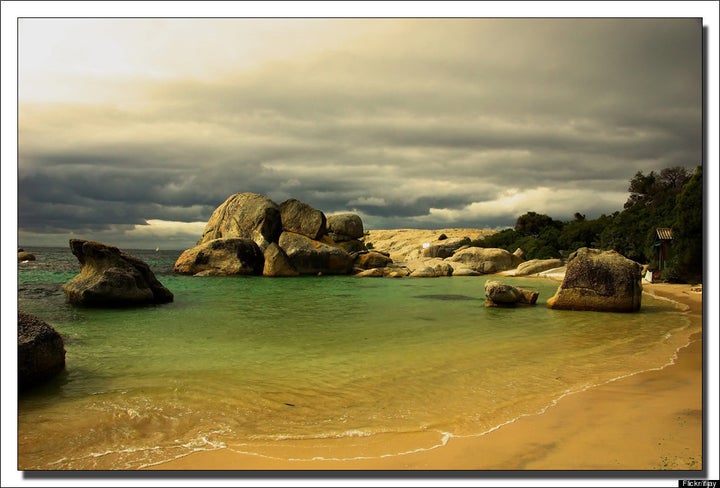 ZORB® globe riding, in which you crawl inside an 11-foot high inflatable ball and go tumbling down a steep hill, was invented in New Zealand, land of the adrenaline junkies. The adrenaline rush is so great, that they call Zorbing the "astronaut-in-training" ride.
I was staying in New Zealand at The Farm, Cape Kidnappers in Hawkes Bay, three-hours from Roturua, the nearest Zorb place, but I had to try it. Every time I do something that terrifies me, I am empowered. I hoped into my rental car, blasted some music, and finally pulled into the parking lot of Zorb® Rotorua. I and headed to the entrance. "Did you bring an extra change of clothes?" the attendant asked.
Why would I want a change of clothes, I asked him. Because it was too windy to do "Zorbit." However, I could do "Zydro," in which they put about a foot of water inside the globe and send you zig-zagging down the hill.
"You'll like it better because it's our wildest ride," he said.
I had to sign an agreement: Zorb® globe riding can involve risk of injury. If you decide not to take the ride, please just tell any Zorb® crew member and they will, even if you are at the launch pad, arrange for you to return to reception and get a refund.
But what would I tell my friends? That I'd chickened out? I bought a pair of shorts and a T-shirt and was driven up the hill to the launch pad. From the top, the hill looked as steep as Everest. The attendant dumped water into the huge white inflatable sphere. "Climb in," he said. I dove through the chute feeling like Alice in Wonderland going down the rabbit hole.
He gave the ball a little push.
As the globe rolled down the hill, my body twisted and turned sideways, sloshed around in the water forwards and backwards, but never upside down. This wasn't scary -- it was fun! I began to laugh. This must be what it's like inside the womb if your mother is galloping on horseback. The globe spun faster, like an out of control toboggan or a loopty loop roller coaster. I was flying. Now I was sure I'd bounced off the track. I tried to peer out, but it was like trying to look out through a windshield during a torrential downpour. Suddenly, the ball slowed. An attendant spun the ball so I could slide out. I soaking wet but grinning -- a true zorbonaut.