In the wake of November's surprising presidential election, Zosia Mamet is "absolutely" thinking more critically about how her on-screen roles depict women.
"I'm a big believer that, in times of struggle, movies and television and art in general that makes a statement is incredibly important, but I think people need a place to escape, as well," Mamet told The Huffington Post by phone Tuesday. "I don't discount pure entertainment whatsoever, but I think it just added to a sense of — particularly as a woman — 'What are these roles saying? How are they depicting women?' There's still a really big gap in terms of well-rounded roles for women in our industry. A lot of the time, I find a female role will kind of just be part of the furniture in many ways. She serves as exposition and that's it. Even though that was always something I factored into my decision-making for jobs in the past, I think now more than ever it's something that's non-negotiable to me."
Mamet is part of a celebrity assembly that has teamed up for a star-studded event for the American Civil Liberties Union. Stand for Rights: A Benefit for the ACLU will air March 31 at 7 p.m. ET on Facebook Live. Alec Baldwin, Tina Fey, Tom Hanks, Steve Buscemi, Tracy Morgan, Ellie Kemper, Maggie Gyllenhaal, Tituss Burgess, Jane Krakowski, Jon Hamm, Amy Poehler, Michael Moore, Mahershala Ali and more are slated to participate, as will Funny or Die.
Mamet got involved with Friday's benefit through her husband, actor Evan Jonigkeit, who developed a "bromance" with Fey's producing partner, Eric Gurian, on the set of last year's "Whiskey Tango Foxtrot." Mamet will help to raise awareness for the ACLU's causes, which include immigration, LGBTQ equality and women's reproductive rights.
Mamet was filming the thriller "Under the Silver Lake" in Los Angeles on the day of Donald Trump's unexpected victory. Left with downtime in her trailer and feeling stuck in her movie-set bubble, the "Girls" actress wondered what she could do to help the people and organizations Trump had spoken out against during his campaign. Mamet contacted her designer pals and, within a week, organized a holiday pop-up in Brooklyn. Twenty percent of the proceeds ― about $5,000, she said ― went to Planned Parenthood.
"It was a small thing in the grand scale, but it helped me and everyone involved feel like we were doing whatever we could in that moment to move the dial forward," Mamet said. "Even though we didn't change the world that day, we all did something, and it was something positive that was successful. I think that makes everybody feel like, 'OK, I can go back out and fight tomorrow.'"
By February, she'd designed a pro-immigration Lady Liberty T-shirt for Y7, a New York yoga studio she frequents. All of the profits went to the ACLU.
"Honestly, I have found that being active in any way that I can is what helps me the most," Mamet said.
Tina Fey, Alec Baldwin, Mahershala Ali, Amy Poehler and a whole host of other stars are teaming up for Stand for Rights: A Benefit for the ACLU. Join us at 7 p.m. Eastern on Friday, March 31, on Facebook Live.
You can support the ACLU right away. Text POWER to 20222 to give $10 to the ACLU. The ACLU will call you to explain other actions you can take to help. Visit www.hmgf.org/t for terms. #StandForRights2017
Before You Go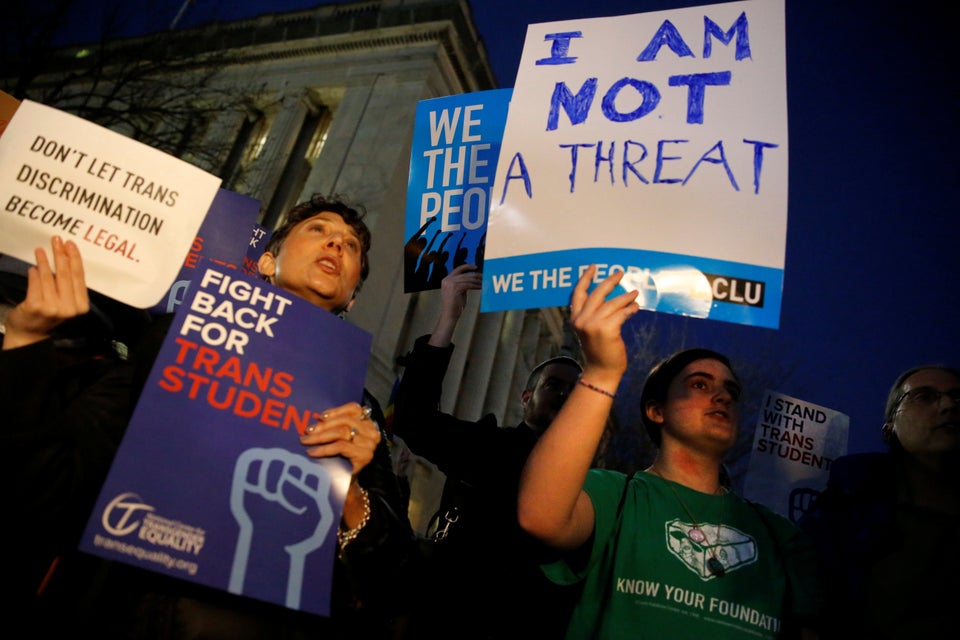 LGBTQ Groups React To Trump Revoking Trans Protections
Popular in the Community