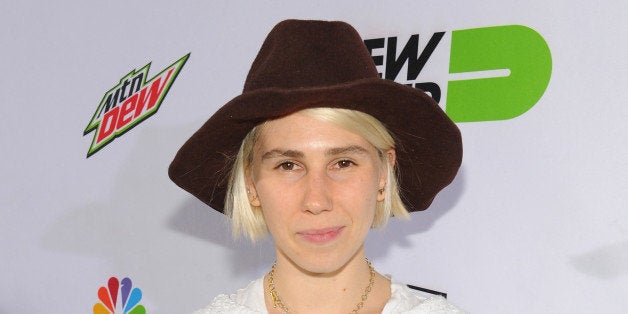 Once upon a time, Zosia Mamet was known for smaller roles in TV shows like "Mad Men" and movies like "The Kids Are All Right." These days, she's better known for a brilliant portrayal of Shoshanna Shapiro on HBO's "Girls" and for inspiring guest columns in Glamour magazine.
In honor of the Make Your Mark contest, in collaboration with Bayer and Glamour, to inspire and celebrate women who are making their mark on the world, Mamet spoke with HuffPost TV about what makes Shoshanna tick, Lena Dunham's new book and "Sex and the City" comparisons:
Can you explain more about the Make Your Mark contest?
It's really geared toward what I think is sort of the essence of Glamour, which is inspiring young women and making them feel excited and confident about the choices they're making and what they're doing. So for the Make Your Mark contest, women write in about how they're making their mark on the world and what inspires them, no matter what that may be. The winner gets $5,000 and gets to come to New York for Glamour's Women of the Year gala.
Will we get to see more of Shoshanna on the next season of "Girls"?
I don't know. To be completely honest all the seasons kind of bleed together for me. But her presence is always there, and that's the most important thing. She's a little bit like the moral compass of the show. She may be crazy and wild and do stupid shit, but she always has everyone's best interest at heart.
She also seems very different from the Shoshanna we knew in Season 1. Do you think she's going through a phase or growing into herself?
She's absolutely growing into herself, which is what I think is happening across the board with all the girls. They're all in their early 20s. And I think a lot of the very beginning of your 20s has to do with pushing boundaries and trying on different hats and sort of figuring out who you think you are, and then that can lead to getting burned sometimes, which she definitely did. And then it's a matter of moving forward in a healthy way, which is definitely what I think she was trying to do last season and what she's continuing to do this season. She's growing up.
Shoshanna really loves "Sex and the City," and it's pretty obvious that strives for that lifestyle. Are you a fan of the show? And what do you think when people compare it to "Girls"?
I grew up watching that show and loved it. It did something really incredible for women and for television, to have such a female-centric show. I think it was incredibly brilliant. I loved it and watched it over and over again. I really don't think there are many similarities, other than the fact that it's centered around four women who are experiencing growth in a decade of their lives, but they're two drastically different decades. I think that it's sort of an easy comparison, but I would say it's a different timeline. But we were honored to be compared to it.
Are you a Shoshanna? Or do you identify more with one of the other girls?
I'm definitely not a Shoshanna. I'm actually incredibly different from her. I don't know if I identify with one particular girl, I like aspects of all of them. I wouldn't say I'm one or the other.
Okay, well if you had to choose, who are you the most like?
I think there are probably parts of Shoshanna that are in me, and I identify with aspects of Hannah's desire to be an artist. I'm probably a little anal retentive in certain ways. I wish I was more like Jessa than I actually am, other than the fact that I own a lot of long, flowy dresses.
Has there ever been anything that's been written for your character that you said no to?
No. I think our writers are incredibly conscious and they're not going to do anything just to do it, they're only going to do what is going to serve the story and move it forward. I think we really feel like whatever they do we know is necessary, so whenever I've been asked to do anything kind of wacky I've gone with it.
Do you hang out with anyone outside the cast?
We all have pretty busy lives, you know? Lena's off running the world, Jemima [Kirke] has two kids and Allison [Williams] and I are trying to make careers outside of "Girls." I wouldn't say we hang out a lot, but we are very close.
Have you read Lena's book yet?
I literally just got it on Monday at her book party. I haven't read it yet, but I will be read it ASAP.
You and Lena both dyed your hair blonde recently. Was this planned?
[Laughs] No.
You were in some pretty great TV shows and movies prior to "Girls." What was your favorite project?
It's so hard to quantify, they were all so incredibly different. But "Girls" is definitely hard to beat.
What are you watching this fall?
My boyfriend and I are obsessed with "Scandal" and "Blacklist," and I am incredibly obsessed with "Nashville." We've also started watching "Manhattan" recently, which is really so good.
The Make Your Mark contest is live now at www.glamour.com/make-your-mark. Women can enter by submitting a brief essay and a photo or video that shows how they are making their own mark in the world.

REAL LIFE. REAL NEWS. REAL VOICES.
Help us tell more of the stories that matter from voices that too often remain unheard.
BEFORE YOU GO